.
Here I am, and I know it's real, but I genuinely feel like I'm in a movie. I am beyond amazed. 'Is that really real?' I ask, barely believing my own eyes. Yes, it is real. Scotland is real. The whole country looks like a fim set tome, and not just any old film set, either. I have somehow arrived in the magical world of Harry Potter. Scotland is beautiful enough to make you believe in magic. Do you remember Diagon Alley? I could swear I've been there. All of Edinburgh looks exactly like Hogsmeade. And Hogwarts is clearly inspired by Scotland as well. I guess it makes sense, after all, J.K. Rowling wrote her books in a café right here in Edinburgh, right next to the College, surrounded by a maze of little alleys that really stirs up the imagination. It kind of seems like the natural thing to do to write a fantasy book here.
.
[parallax-scroll id="58789″]
"I love J.K. Rowling, but I don't know if I'll ever forgive her fo introducing me to a world I can never really be a part of."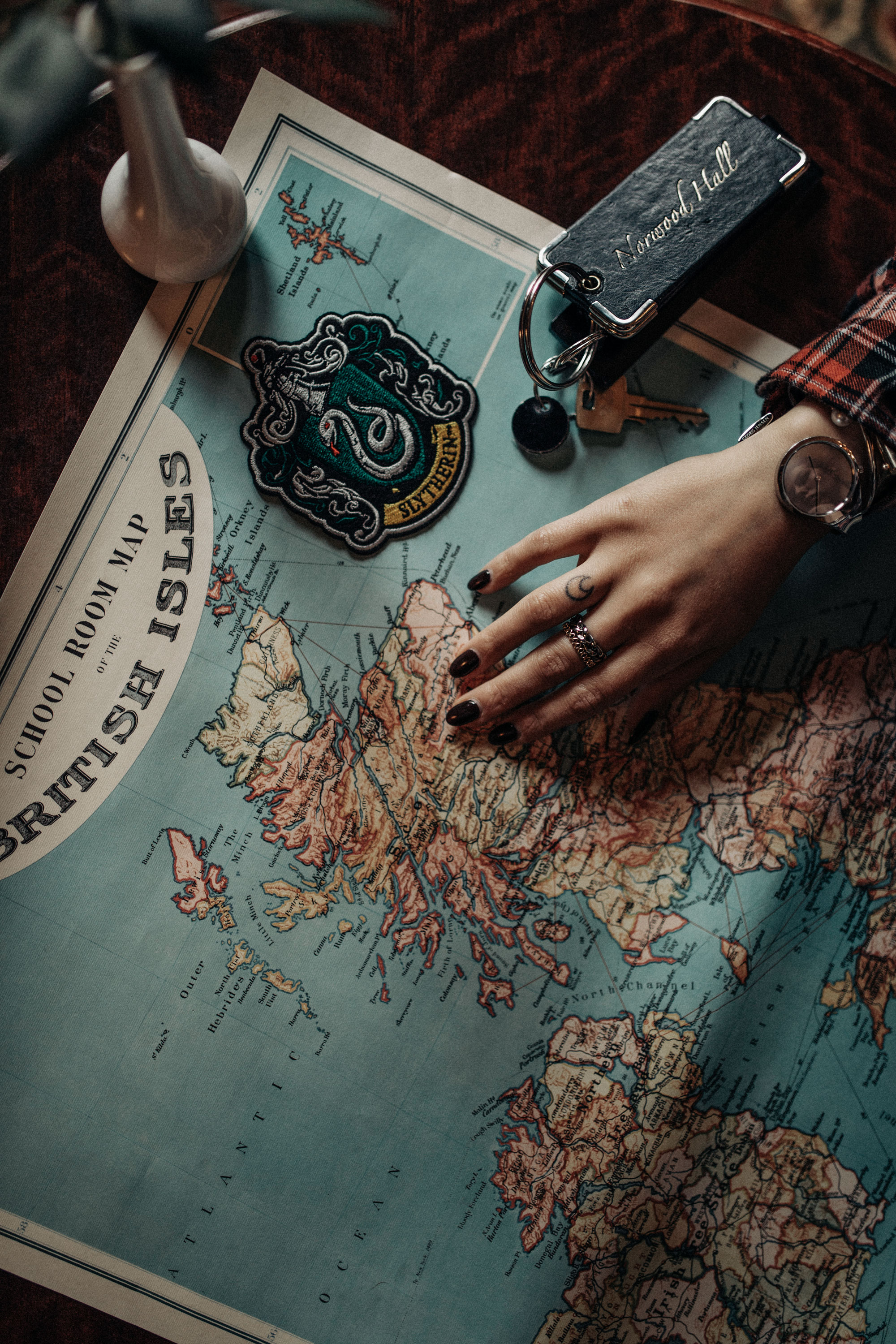 As for me, I read the first Harry Potter book when I was 11. Probably more accurate to say that I devoured it. It's been 17 years since then (oh god!), and Harry Potter has been with me since. How often did I wish not to be a muggle, how I would have loved to finally receive my admission letter to Hogwarts. To be quite honest with you, I'm 28 now, and I still haven't given up hope entirely. But Scotland invites you to enter the world of Hogwarts even if you're a muggle, which is exactly what I wanted. So I came all the way up here, to follow in the footsteps of Harry Potter! And being the huge and lifelong fan that I am, I'd like to take this as an opportunity to share some tips with you. So, without further ado, here are 5 things you need to see in Scotland if you're a true Harry Potter fan!
Glasgow University Already from the distance, Glasgow Uni looks truly impressive, with its towers and its emblem. It has the appearance of a fortress on a hill, with space for 23000 students inside its walls. But as soon as you enter this fortress, you feel like you stepped into a different world. Students with books under their arms hurry through a maze of corridors inside or sit in the courtyard to share a snack with fellow students. Others form crowds that listen attentively to classes in gigantic halls with high windows. Taking all that in, I would have loved to be a student again. The place just has that effect. Glasgow University is one of the very best of our world.
A Harry Potter fan shop This one's a real life, genuine Harry Potter fan shop – with a twist. You get magic wands and potions, a matching scarf (I'm from the house of Slytherin, by the way), and everything else you may need to be perfectly prepared for Hogwarts. But mind you, it can get pretty packed here with other aspiring Hogwarts students.
The real Hogwarts Express The famous Hogwarts express runs right through Scotland. The famous locomotive actually exists, and you can actually take a ride with it! The train is called Jacobite Steam Train, it starts at Ben Nevis and is bound for Loch Nevis from there. Unfortunately it only operates during certain seasons, which is why we couldn't take the ride to Hogwarts, after all, the Hogwarts express runs only twice a year as we know…
Edinburgh New College Another institution that reminded me a lot of Hogwarts – only a little smaller. This building complex allegedly also served as inspiration for J.K. Rowling, and having seen it I don't doubt thatg for a second. Stepping into the building, it all seems obvious. From the outside it looks like a little church, and on the inside you get the distinct feeling that nothing much has changed over the past 171 years. In fact, you're convinced that there must be some magic spells scribbled down in at least some of those old books on the shelves. Why are universities so magically pretty here?
The Elephant House This is the café where J.K. Rowling wrote here first book back in the day, which turned the place into an attraction in its own right. It's the birthplace of Harry Potter, after all, and as such a magical space. The café itself is not as rustic as many others here in Edinburgh, but you can really picture J.K. Rowling, sitting here, letting her imagination run wild….