.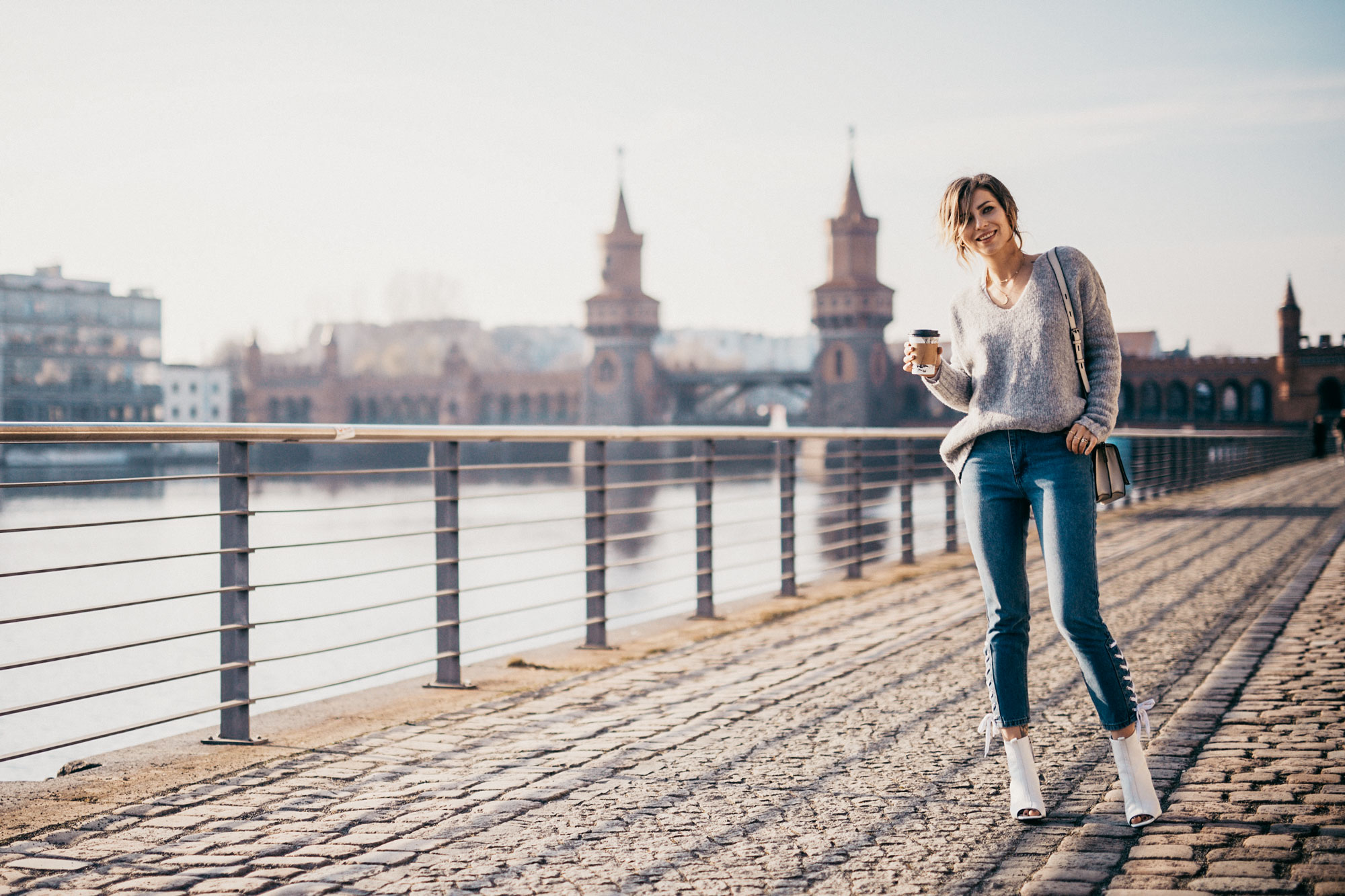 This week, my mum was in Berlin to visit me, which is why it was a bit quieter on the blog. It seems like many of you, dear readers, also enjoyed the good weather and spent much time outside. There's not really that much to tell you, actually, everything sort of revolved around my mum and there was not much time for other activities (I wonder if she'd agree).

I will probably have more to tell you next week, when I'll head down to the press days in Munich. Let's see what will await me there, I'll definitely take you with me with Instagram stories. Hopefully it's going to be an exciting trip :)

It was one of those spring days when the sun shines hot and the wind blows cold; when it is summer in the light and winter in the shade.
sweater: Edited the label
jeans: Edited the label
shoes: Topshop
bag: Karl Lagerfeld
Talking about Instagram!
Did you notice something?
Since a couple of days I have a new name – and it makes me so indescribably happy! I am no longer 'mashasedgwick' on Insta, just 'masha'! I would be super happy if you could also follow me on my new, 'old' account :)
Watched:

I saw a great 3D film withmy mum: A Beautiful Planet.

It's basically a documentary consisting of 3D shots from outer space. Absolutely mind-blowing to see the stars race towards you. We went to the Cinestar IMAX theater, and I was reminded how amazing a trip to the cinema can be. I should do it more often, really. Well, I already know what I want to see next!
Warning

We're implementing some changes on the website, which will basically happen in the background, but there's a possibility that some functions won't work properly at times. For example, the other day the comment section didn't work properly. It's going to take a little while still before the new layout is completely integrated, and like last time the changes may not seem all that drastic at first sight. We're essentially enhancing the usability, and there will also be one function that I'm particularly looking forward to :)

Proud:

I am a little proud of myself!
I mastered the 12 weeks challenge of Kayla Itsines BBTG programme! It really wasn't easy, and more than once I was ready to throw it all in, but now, three months later, I am so proud of myself for having pulled through!!

On the one hand, the twelve weeks passed really quickly, on the other it seemed like a real eternity. Not only am I proud to have finished the programme because of the athletic challenge, the organizational aspect was even trickier. With all the traveling it was hard to stay on track with it all.
I always had my workout gear in my suitcase to make sure I could stay on schedule in the hotel, and with very few exceptions it actually worked and I didn't have to adjust any of the individual exercises. But yeah, quite an organizational challenge, the whole thing!

Having said that, my body benefitted. I have some real muscles now, some target areas of my body feel super firm and strong now. I'm especially happy to see that I am now able to do exercises that I previously never thought I'd ever be able to do without fainting or getting a heart attack. I don't mean to say the BBTG is easy for me, it really isn't, but I see it as a personal challenge at this point, and decided to move on to stage 2! I'll write a proper review for you guys and will post it with the next round of monthly favorites at some point soon :)
New in:
As far as fashion goes, I went on a veritable, extended spree over the past week, but I also thought of my cats and found the best cat toy ever!!
But let's start at the top:
T-shirt
earrings
rug
music box
cat toy
nude dress
denim skirt
summer sweater
a new, engraved (!) scent