.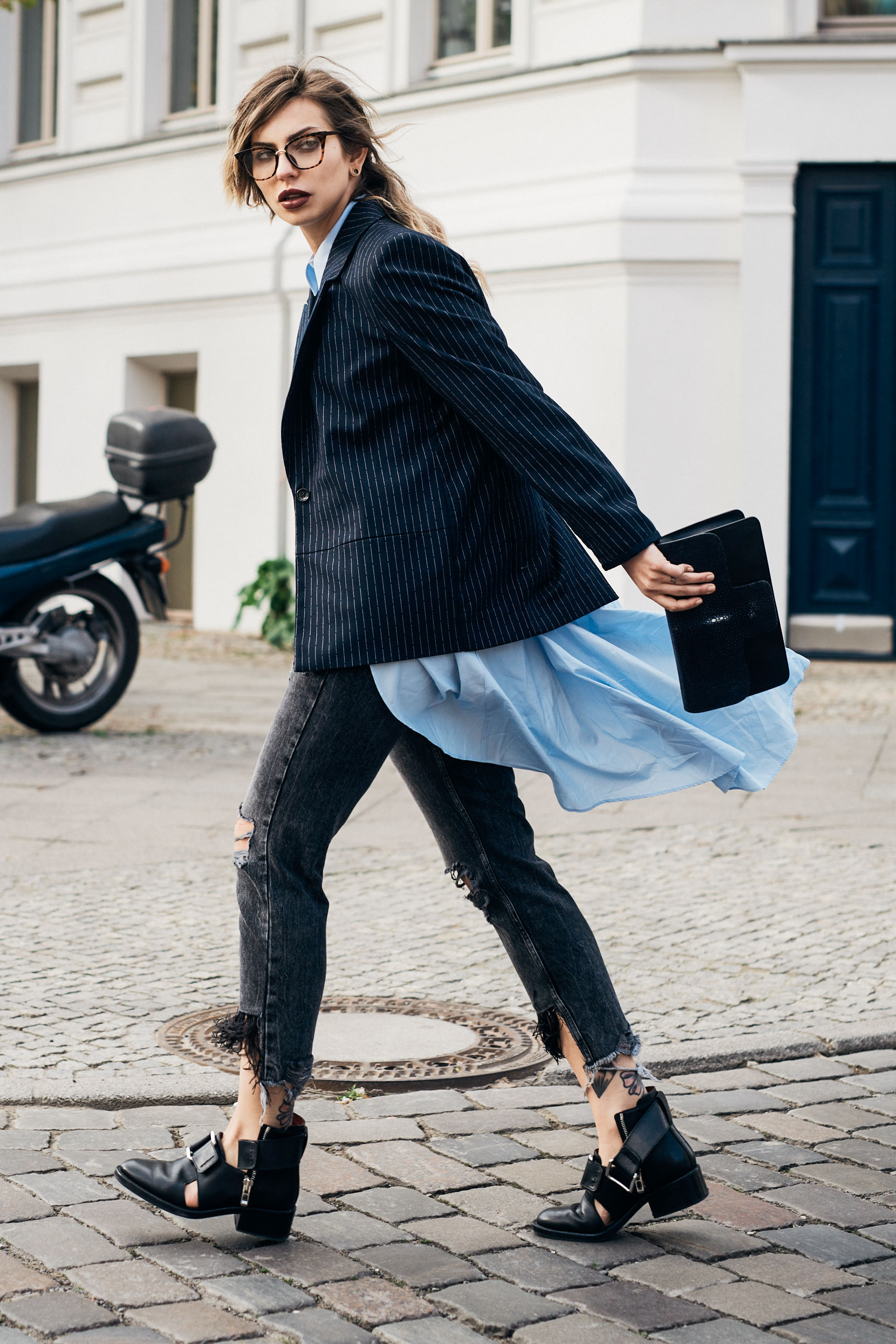 Bloggers from all over Germany poured into Berlin this week to attend the Press Days. It's basically sort of an agency marathon, where you hop from agency to agency to check out the newest collections by clients, to socialize with established contacts and to make new ones.
I quite like this period, even though it can be a bit stressful at tomes. Personally I really love seeing old friends and acquaintances again, and there's something very nice about strolling through Berlin as well. With so much focus on my offline life this week, I had very little time to post much online. Plus, it took me a bit longer than usual to clear and answer comments – sorry about that!

Next week will be a busy one as well. The Press Days will continue, and I have a very special shooting scheduled in Munich with one of my favorite bloggers and a German label. I'll tell you more about the who's and what's on Instastories .
Looking forward!!
Excited:
Last week I made the resolution to become more active on Youtube again. Words to action, and I already shot the first clip with Max -a beauty tutorial, what else!
Finding good sources of inspiration among all the other clips out there proved rather difficult, but after quite a bit of research I now have a pretty good grasp of what I want – and if we manage to get the result I envision it's going to be awesooooooooome :) One thing I did learn in my research: the Youtube market may be saturated, but definitely not with high quality content. There's room out there for new faces, for sure!
shirt: Zara
jacket: Baum & Pferdgarten
jeans: Zara
boots: 3.1 Phillip Lim
bag: Lili Radu
Read::
This week I had one of these lame days where nothing really seemed to work and everything was just a bit of a drag. One of those frustratingly chaotic days. I got annoyed by tiny things, lost my view of the bigger picture and also a healthy perspective on myself and was just thoroughly dissatisfied with the status quo. That day, my glass was always half empty, never half full. I don't know, sometimes I just have one of these weird days, and then all I want is for it to pass as quickly as possible. Well, last week I was fortunate enough to stumble upon this article here, and it really saved my mood.
The article discusses a study on happiness conducted by Harvard University over the course of 75 years. The conclusion, the formula for happiness, is as straightforward as happiness itself.
Suddenly it does not matter anymore whether a meeting didn't go quite as planned, or whether something else in daily life didn't work out as desired. The moment was restored, everything was in its right place after all, I had a clearer grasp on the bigger picture again. I refocussed myself and once again understood what really counts. We often lose sight of what's really important in life, because we get so distracted by trivialities. We set the wrong priorities and let ourselves get carried away to make bad decisions because we lose focus on what's essential.
The conclusion that the research team reaches may be too romantic, maybe too obvious, but I had to write my boyfriend a loving message straight away. I felt the desire to spend a nice evening with him and to go out for dinner together, to have some quality time instead of another kebab on the sofa and laptop on my lap. I was longing for a little bit of happiness, and that's exactly what I got that evening. I hope this article will have a similar effect on you, that it will make you smile like it made me smile!
Annoyed::
A club has moved into my building recently.
On top of the hotels, mini-market, kebab shop and restaurants this one's the latest addition to my list of noisy neighbors. I actually feel the bass from the kick drum below like heartbeats in my breast. Even in my sleep I hear a plethora of sounds pouring into my brain, seemingly from all directions.
Does anyone have any tips for me how to deal with that?
New in::
90's Dickies Shirt
geschnürte Espandrilles
bronzefarbene Pumps
merkwürdige Hose
Veja Sneakers
Statement Shirt