In my last post I typed up my personal wrap-up and shared with you what the year had in store for me. When I wrote the text I was in a state of inner restlessness, which made me quite emotional. Now, a few days later and in a much more relaxed frame of mind, it's easier for me to look back, to assess the year as it's been, and to risk an outlook on 2019. The future is uncertain, but it is in my hands to shape it. But before I tell you about my goals for the new year, I'd like to take a moment to talk about the one's I actually reached this year. I'd like to take a moment to appreciate all that's been accomplished in 2018, and I hope I'll be able to show you that it is indeed possible to stick to (some) new year's resolutions.
It's all a matter of motivation.
2018 – What I'm proud of this year
1
2
My achievements with exercise and sports
For two years now I've exercised multiple times a week, and it's still a big deal for me. Working out has become a routine for me, but I still need to overcome inertia every single time to get moving, not least because I give my all at every session. I started running this year as well, which is like an entirely new way of life for me. I managed to run a few kilometers almost every weekend this year, regardless of the weather. I'm actually almost at a point where I'm enjoying it, running has sort of a therapeutic effect on me. An hour of running is a bit like sleeping: you get a certain distance from the regular perspective, start to see things in a new light, and often you find that what weighs you down is not really as insurmountable a problem as it may have seemed. Getting started is a challenge in and of itself, every time anew, but exercise has become a fixture in my life, and I wouldn't want to miss it anymore. To all of you who plan to work out more in the upcoming year: do it! Go for it! Few things will give you more pleasure at the end of the next year than having stuck with this resolution.
A great team
Behind the scenes it was a bit of an emotional rollercoaster at times, but my new team gave me a new lease of energy. I am deeply grateful to work with the wonderful people I work with now, and to have a manager who I also count as a friend. Mixing work and private life can be tricky, but I'm happy to say that we're doing well so far. In fact, we're expanding our small but outstanding team, building a creative network of quality people in Berlin, with which work doesn't necessarily feel like work.
3
I became the MAC testimonial
Another professional point. I landed some crazy cooperations this year. One of them was my work with MAC. I became the face of MAC, imagine!! The video we shot in Paris was shared widely on Instagram, and it made me incredibly happy to receive so much positive feedback from you. I feel honored to be part of the MAC family! !
I got to act in a movie
OK, a short film. Still, it was a big deal for me. "Entering Red", the short film produced by Campari as part of its annual campaign is like a big Hollywood production – with Hollywood actors. Being part of a project of this scale, and getting to sneak a peek behind the scenes, was a first for me. My role is also a little bigger than that of a mere extra – but you'll see all that once I'm allowed to share the final result!
4
5
I got to design products.
Designing a product line! What a dream! It became reality for me again: I got to design jewelry, namely a collection inspired by nature that I am very proud of and that I love to wear myself. And then I had the opportunity to design my own glasses. I love the result so much that I don't ever want to wear any other model. It's stylish, complements my looks really well, and has large glasses, which I prefer over smaller ones, where the blurry edge is always too close. Designing a product I love myself is an indescribable experience and a real highlight.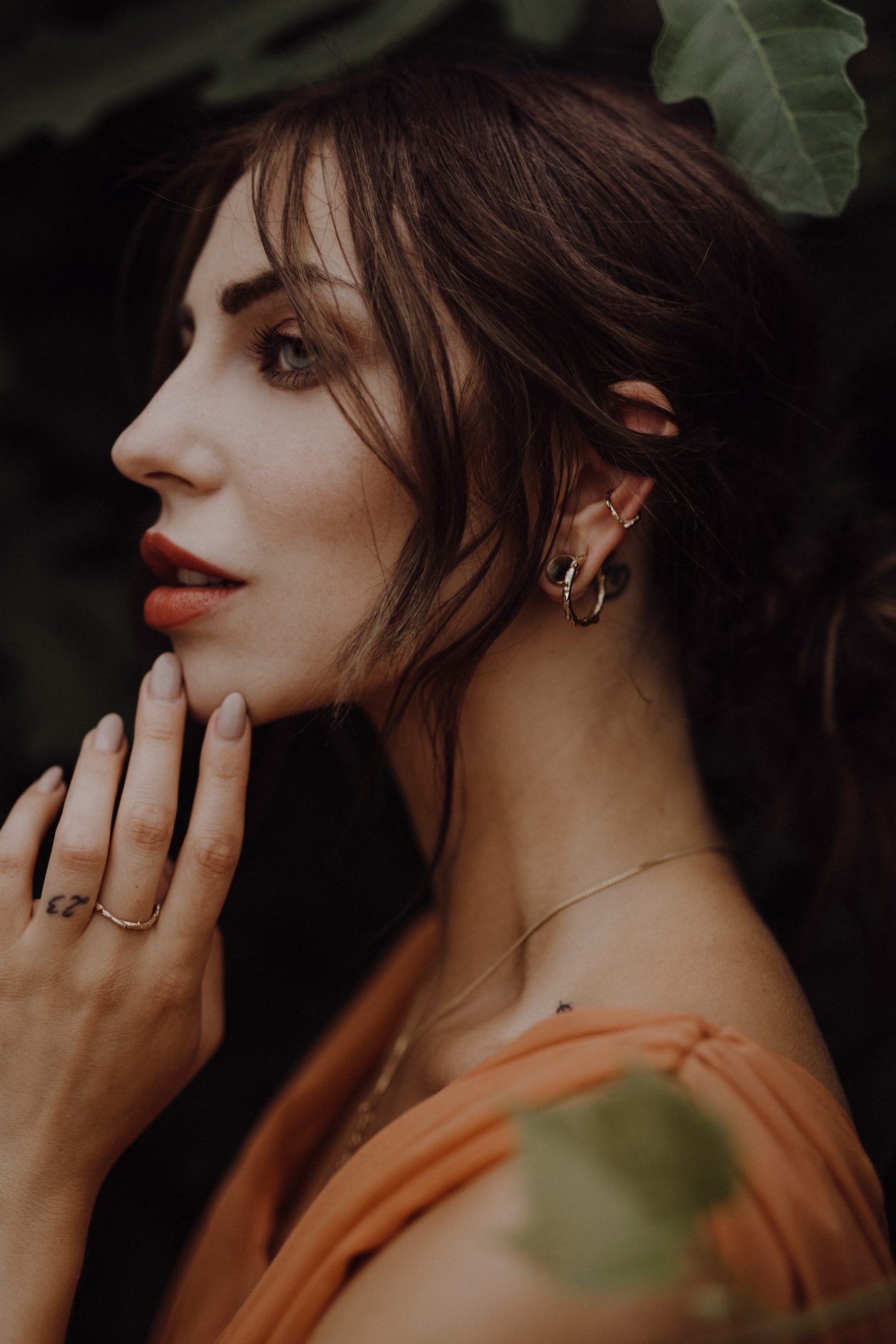 6
I got to shoot editorials
How proud I was when Elle Korea flew me to Seoul to shoot for Elle together with other inspiring personalities. All images were shot analogue, which was a real challenge. The spread in the current issue of Ramps, a car magazine, was shot digital, but it was no less challenging. I take the role of a Russian spy in the 60s, cruising around in a hot Porsche. The pictures? I'll share them soon!
Porsche as long-term partner!
I signed a one-year partnership with Porsche this year! What a partner, and what a milestone! As part of this cooperation I got to travel with Porsche, attended the Opernball and met the who is who of Porsche. Taking the next steps in this cooperation ranks among the things I look forward to most in the next year!
7
After reaching so many professional milestones this year, I also managed to make a resolution regarding my private life a reality (after previously failing over and over again): I now officially have a private life! I'm aware this may sound exceedingly trivial to many of you, but it's a really big deal for me. Balancing our private and professional lives is a big problem of our generation, which makes it all the more important that we get our priorities straight and cultivate the capacity to live in the moment. For many years, I have relegated my private life to the sideline, or else disected it publicly, until the concept of "private" had no meaning for me anymore. This year I set new priorities, which also meant that I spent more time with my partner than I did before. We visited museums together, attended open airs and festivals, and most of all we enjoyed life and being together. What more can one wish for in life?
Travel less, but better.
This may be another item in this summary to raise eyebrows. What's wrong with constant travelling, right? Well, I found it really upsets the sense of daily life, if the trip is too short. It's just not worth travelling somewhere for only day, where the travel time may be longer than the time spent at the destination. It's just too stressful. Then there's also the ecological argument: jetting to Munich and back, flying to Paris for a day – it's poison for the environment. For that reason I did my best to either cancel my short trips or to insist on train tickets whenever possible. Unfortunately, train rides are not always a viable option in Germany. I really hope things will improve in that respect. I, for my part, would really love to take the train more often and scrap all those flights. With all that said, I was happy to have had the chance to take those long-haul trips to Thailand, Greece, South Korea and Russia this year, in the knowledge that I spent quality time in those places and came home with quality content.
---
I changed my consumer habits
For half my life, shopping was among my absolute favorite spare time activities. This year my consumer habits have improved. Instead of blindly reaching for the credit card whenever an impuls flares up, I do a much better job at reflecting what I really need these days. My possessions used to weigh me down in the past, which lead me to a conscious conflict between the hunger for the new and self-imposed reduction this year. I tend to give away more now, and try to focus on buying things that really make a difference in my life. I ask myself, "do I really need this", and only buy when the answer is a clear YES.