So, are you guys excited to have your weekend stream swamped by girls (and boys) jumping and dancing with feathers in their hair at Coachella Festival? Or are you already annoyed at the mere thought of all the pictures from LA? Well I can tell you this much: it's not going to let off – on the contrary. Once this weekend swings around, there will be only one topic in my stream:
COACHELLA
It hasn't even started yet and I'm already annoyed. In fact, this would be the perfect weekend for a bit of digital detox, wouldn't it? I heard one question over and over again this past week:
'Will you be at Coachella too?' Like that would be the most natural thing in the world.
"No."
A flicker of surprise in the other's face.
No, friends, relax!
I WILL NOT attend Coachella this year.
And you know what? It was a very conscious decision.
The reason is plain and simple: I just don't feel like it.
I was at Coachella the last two years and had a great time there, but as so often, experiences are best the first time around and tend to be much less intense upon repetition. I already told myself last year that I wouldn't do it again. As nice and as great as the festival is, there are quite a few really annoying aspects about Coachella which are not necessarily to be expected from a music festival. Many of these aspects are not very well known, and I wasn't allowed to tell you about them. But this year – surprise – I wrote a massive anti-Coachella post for you guys. It's basically intended to be a healthy dose of realism, but I guess for some of my colleagues it will be more like a bitter pill.
Well, whatever.
So, here they are
my 5 reasons why it's better to skip Coachella.
Everybody's there
I am aware that many see that as a huge argument IN FAVOUR of going, but for me it's the opposite. Not only is every fashion blogger in the world there, Coachella is just over-crowded full stop. I mean, I am a social person, but with crowds that huge I start feeling uneasy. The population of an entire town crammed together on a couple of hectares. Last year it was difficult to move at times, 20.000 more people than expected (!) came to the festival. I don't know how many tickets are on sale, but I imagine it could be something in the region of 100.000 (could anybody find out how many exactly?).

Can you imagine that? It's scary, really. Squeeze party? Thanks, but no thanks! This takes the piss out of every football game. Free dancing, free movement? Forget it, it's an illusion.
Instead, the whole event is one huge platform to see and to be seen. Honestly, I can get that in Berlin as well, that alone is not worth the trip to LA.
1
2
I can't get wasted
Did you know that most of the fashion bloggers I know drink little or no alcohol? Well, I'm not one of them, especially not at a festival.
In fact, getting drunk is one of my favorite things to do on a festival, you know, just getting slowly inebriated with a cool beer or some other alcoholic beverage from a tattered plastic cup. There's nothing like reaching the perfect level of intoxication while sitting on trampled-down grass listening to my favorite band. Well, that's something you won't be able to do at Coachella.
Why, you ask? Because it's America!
If you want to consume alcohol over there you need to go to a specially designated area far from the regular festival grounds, what we'd call the arse of the world, a tiny, fenced in section. You can drink there, but while you still hold something alcoholic in your hand you can't leave the area and you're completely cut off from the festival. Anyways, you won't feel like spending much time there and you won't have much reason too – your drink is crazy expensive, the cup is tiny and there's too much ice in it. Unless you're a VIP, in which case your cups will be still small and filled to the brim with ice, but at least they'll be a bit more expensive – because you're a VIP.
3
Security everywhere.

5!!!! Let me spell that out again: F I V E. I counted five security gates the last time I was at Coachella. It felt a bit like being at the airport: only after a body-search and thorough scrutiny of the contents of my bag verified that I didn't carry any liquids (yep, including 'water' in a plastic bottle) or mint drops ('these are drops, not drugs), I was finally allowed to enter the festival grounds.
I have nothing against security control, on the contrary: I think it is more important than ever in times like these. But wouldn't two gates have been enough? I felt like I was processed in some sort of farm, handed from station to station. It took me almost an hour to get in, and I was super irritated at that point. Before that experience I always felt it's quite a hike to get to your tent from the stages at Rock am Ring, but Coachella topped it all, even with my VIP ticket.
Once you make it past the gates, there's more security inside – guarding every entrance, patrolling the entire area. As I say, I do get that it's important, especially with such huge crowds, but something gets lost in the process, something essential: the happy-go-lucky atmosphere of a regular festival.
4
Music is Priority No 2
Coachella offers an incredible line up with a wide range of artists, but many attend the festival more to be there than to hear the music.
'Look how much fun we'r having at Coachella!'
Celebrities are there to be photographed by paparazzi, fashion bloggers go to be photographed by street style photographers (not kidding, they don't even stop at a festival). The hope is to pop up in some magazine under 'festival styles'. It comes at a price: I don't think you will see as many designer outfits at any other festival in the world. A 2000 EUR silk dress and suede-fringe bag by Saint Laurent as festival gear? Sounds perfect, right? And we're not even touching on the feathers and elaborate make-up here.
Many attend Coachella for the music, no doubt about it. Still, it's hard to get in the mood when you look to your left and to your right and realize the only people dancing in front of the stage are girls with their selfie-cameras in hand, flower wreath filter activated (a must!), lip-synching into the camera to impress their followers.
Wow – you can sing along to Drake! You are a real fan.
People who go to festivals because they love the music and the classic I-don't-give-a-damn concert attitude will hate Coachella. Those who have an interest in music but always stayed away from festivals because it's all 'a bit dirty' will love Coachella.
The truth is, Coachella is not a festival in the real sense of the word. It only acts like one, it provides an opportunity for all the fashion dolls to have a festival-like experience without getting dirty. Coachella is everything but dirty. It's an entirely slick affair.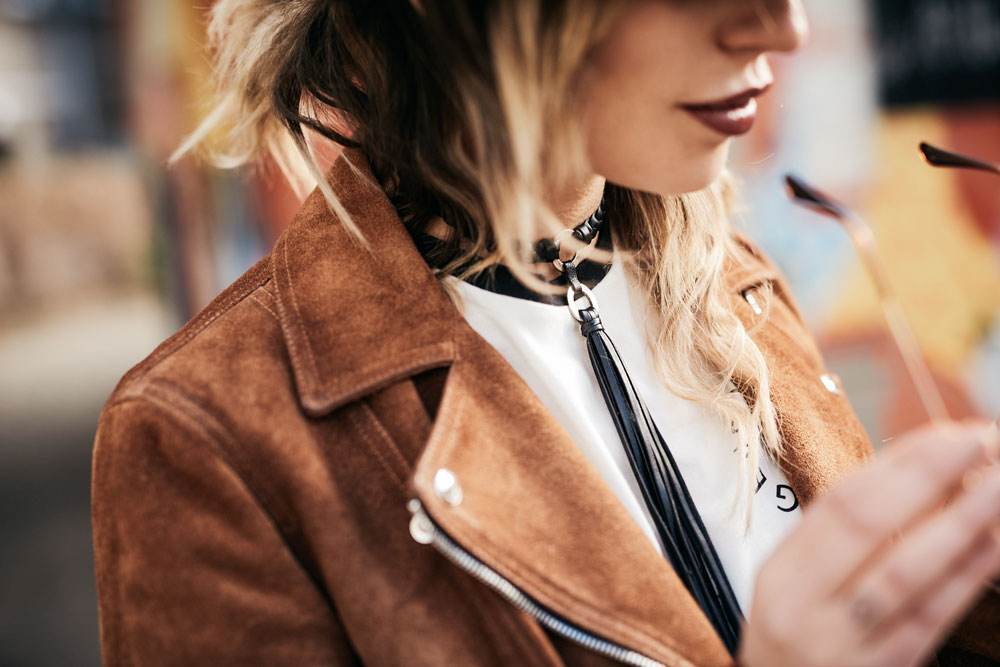 The costs.
And now I ask myself: am I really ready to spend roughly 6000 EUR and a total of 40 hours traveling time (both are best case scenarios) only to be part of the Coachella craze and to force even more Coachella pics upon my followers? My answer is: no.
It's just not worth it, at least not for the third time in a row. The ticket alone costs between 1000 – 1500 EUR, plus flight, accommodation and food. It's really expensive, and if on top of it the feeling of exclusivity is disappearing, then what remains? While most bloggers recoup the money through cooperations and may even fly home with a bit of profit, I just really don't see the point. I want a festival to be an experience, I don't want it to feel like an assignment. I wanna go to have real fun, not to act happy for a client when I'm completely stressed out because I'm forced to upload 100 pics with endless hashtags to the point that I lose my followers because they're so annoyed with the overload.
What would be the point in that?
5
One last word:
Of course it's not all bad – Coachella has many genuinely awesome sides, and it can be great fun if you go with the right people, which is why it does make me a bit sad to see my whole crew there without me. But you will hear and see enough of the festival's positive sides in your streams over the next couple of days, so I decided to provide a bit of a counterweight to the hype. This is just a little reminder that social media often shows only one said: the one that is paid for.
Being part of the madness is fun, and you don't think all that much about spending 20$ on a cheeseburger, you go with the flow. Thing is, who ever tells you that Coachella also has some annoying sides? Exactly.
So, yeah, that's why I wrote this post. I hope it also provides some comfort to all of you who really wanted to go but had to stay home, all of you who did not manage to fulfill their Coachella dreams this year. You know, maybe it's better this way, maybe the festival can't really live up to your exorbitant expectations at thins point anyways. Are the expectations the issue, or is it the festival? I'm not sure. What I will say, however, is this:
There are so many great festivals out there which are completely worth it! The Sziget in Budapest comes to mind, Afrika Burn is another one, or one of the many amazing festivals we have in Germany, be it Fusion or Hurricane. I, for my part, always had so much more fun at festivals that are actual festivals with fans and not primarily people who showed up for some perceived prestige or to showcase their festival styles – that we can do anyways :)