.
Fashion Week is wrapped up, time for my traditional review of the latest and upcoming trends. It was quite interesting this year, it almost felt like the designers had coordinated their shows – the trends they presented were either very similar or complemented each other. I was also surprised to see how a few trends that have been with us for quite a few seasons have suddenly disappeared.

The same goes for the designers themselves – some were less convincing than others, were not courageous enough or did not show sufficient development of their previous work, while others surprised, even dazzled with their collections. And isn't that what Fashion Week is really all about?

So, without further ado, here are the 8 most important trends as seen at Fashion Week Berlin:
Function Wear
Probably the biggest surprise was the wave of sportiness on the runway. I'm not sure I evere saw so much athletic wear in presentations. The designers really managed to meet the needs of daily life and combine them with fashion. I saw loads of designs that were essentially function wear and outdoor styles. Raincoats, water-repellent materials, waterproof trousers – the latest fashion is apparently geared towards the capricious spring season. I'm all for it, as I barely own any stylish and weather proof clothing at all. Great to be able to confront rainy weather in style!

Seen at Strenesse, Marina Hörmanseder, Dumistrascu, Vladimir Karaleev
Transparency
Tender textiles revealed a lot of skin this season, made strict outfits (e.g. by Hien Le and Hugo Boss) sexy, added an airy touch to feminine outfits (e.g. Nobi Talai) or served as contrapuntal accents (e.g. the collars by Dorothee Schumacher). Most designers worked transparent materials into sporty outfits, which added a sexy lightness to the prevalent outdoor image by allowing curves to gleam through. If you think about tender fairy dresses reading these lines, you're mistaken. Unless we're talking about cool pixies hanging out on the sports ground.

Seen at: Hien Le, Strenesse, Nobi Talai, Steinrohner, Marcel Ostertag, The Abyss
Waist
The focus is shifting up towards the middle of the body again. After a long phase of oversized sweaters and outfits, which hid more of the feminine curves than they revealed, the trend is finally going back to accent the waistline again. Practically all designers focused on the waist, be it with high trousers or belts (in some cases several of those!). The message seemed to be: show your curves and be proud of them :)

Seen at: Dorothee Schumacher, Marcel Ostertag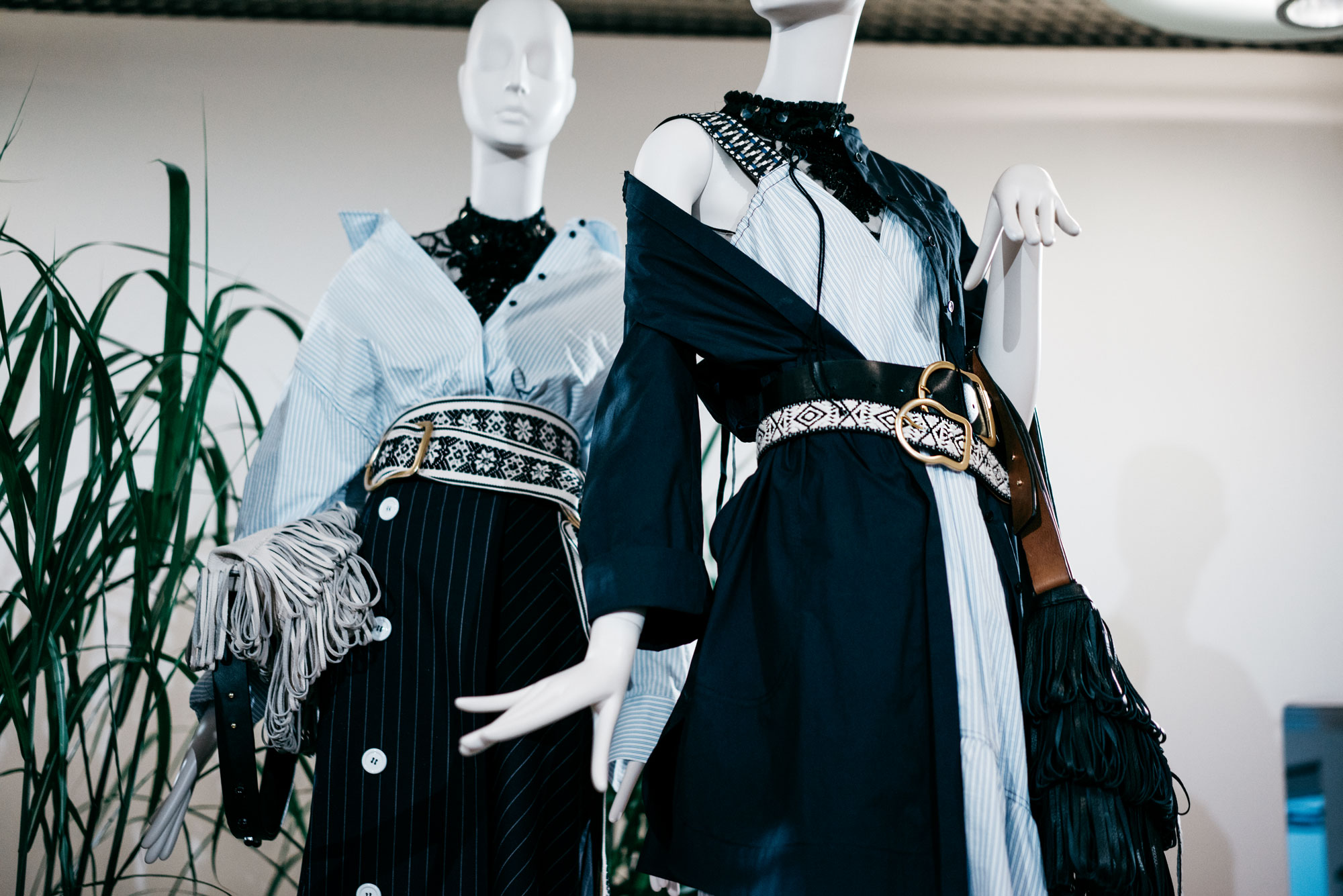 90's
It still feels a bit weird to relive my childhood and youth in fashion, but here we go: it's alreadybeen 20 (!) years since the 90s – and now they're back! William Fan brought us a bunch of cool kids waiting at a bus stop, Last Heirs had his models move to the groove of 90s music, rave gear and all.

Seen at: Last Heirs, William Fan,
Stripes
It was a tough battle between floral prints and stripes, but the latter ultimately took the crown as the single most ubiquitous design. We saw stripes in all shapes and forms, from tender pastel tones to strict contrasts. And for those who didn't already know, Odeeh proved that stripes work extremely well in combination with – more stripes! If that's too much stripes for you, you can also combine them with check patterns, as seen at Antonia Goy. The designers really made a point this season: stripes may be a lot of things, but they're never boring!

Seen at: Odeeh, Antonia Goy, Dorothee Schumacher, Iris von Arnim, Mykke Hofmann
Statement Shirts
I'm really pleased to see that statement shirts remain a talking point – literally. Whether political statements (Dorothee Schumacher) or cheeky admonitions (Mykke Hofmann) – the cool shirts have become an integral part of our wardrobes and sometimes do all the talking for us.

Seen at: Mykke Hofman, Dorothee Schumacher, Gesine Försterling, Prabal Gurung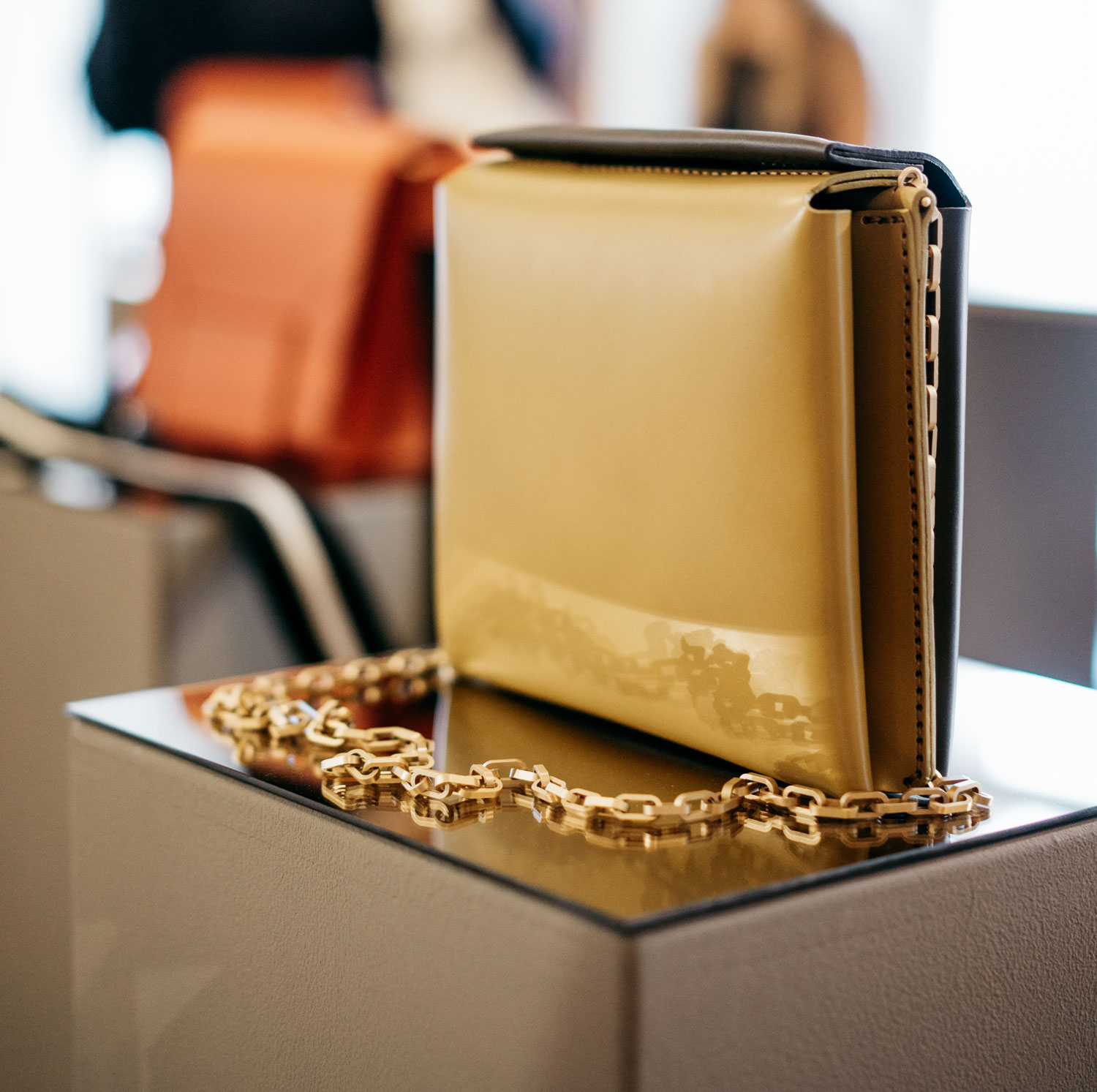 Yellow
If I had to single out one trend colour, it'd have to be yellow. Most designers worked with this happy color one way or another. The spectrum was quite wide and ranged from popping, full yellow (Marina Hörmanseder) to mustard tones (Dawid Tomaszewski), providing a happy contrast to all the rain gear we saw.

Seen at: Strenesse, Marina Hörmanseder, Dawid Tomaszewski, Hien Le, Vladimir Karaleev
Cut outs
Somehow cut-outs never get old! On the arms or the belly, cut-outs provide an element of surprise that spices up every design. Sometimes it's just plain sexy to have a naked ankle or shoulder gleam out, as seen in Nobi Talai's designs. Personally, I am also a big fan of the approach taken by Antonia Goy: sleeve buttons can be closed or left open, it's all up to you!

Seen at:Last Heirs, Antonia Goy, Nobi Talai
The evergreen: Ruffles.
Laces have been a central trend for a good few seasons now, and are really here to stay it seems. Who would have thought? This season, they were once again a very visible asset in many collections and provided a contrast to the often minimalistic cuts.

Seen at: Laurel, Marina Hörmanseder, Prabal Gurung
Biggest surprise:
Antonia Goy (daring, but cool!)
Favorite collection:
Dorothee Schumacher (the layering!!!)
best location:
Dawid Tomaszewski (a Penthouse in the neighbourhood of Kronprinzenpalais with a view on the palace and the cathedral)
personal highlight:
I had the opportunity to try myself out as a stylist and created three looks with trend-items by fair participants for Premium/Show & Order, all for a very special fashion show. The theme was diversity, and the aim was to create wearable looks, tailored to end-users without model bodies, i.e. pretty much everyone. It was a challenge, but I loved the concept straight away and fully support the message advocating more diversity in the fashion world. It was a great experience styling three beautiful ladies for the show.