Yippie! Es gibt eine neue Kategorie: Hotels!
Auf den Gedanken kam ich leider spät, aber hey, besser spät als nie. Wie ich darauf kam? Ist ja gar nicht so abwegig, wenn man unheimlich viel Zeit in schönen Hotelzimmern verbringt. Manchmal fühlte ich mich besonders wohl, manchmal weniger. Aber da ich selbst noch keine vorzeigbare Wohnung habe, wo es Sinn machen würde euch rumzuführen (aber hey, ich hatte heute die erste Wohnungsbesichtigung, wo ich sagen würde, jap, da will ich einziehen also drückt mir beide Daumen für diese Traumwohnung, dann gibt's auch bald eine Roomtour!) zeige ich euch ein bisschen wie es in den Hotelzimmern so von innen aussieht, denn eins muss ich sagen: die meisten Hotelzimmer in denen ich bin sind echt klasse und wahnsinnig schick! Einziehen? Jederzeit!
Doch außer den Bildern werde ich generell ein bisschen vom Hotel erzählen, was sagt ihr dazu? Denn selbst wenn ihr später dort nicht übernachtet habt ihr immer noch Random Wissen (oder auch nicht.). Weil das ein neues Thema ist, brauche ich unbedingt euer Feedback und ggf. Verbesserungsvorschläge. Achso, und interessant wäre auch wie ihr das g e n e r e l l so findet :)
Heute fange ich mit Moskau an, dem Metropol, um genau zu sein. Ein besonderes, weltberühmtes Haus mit einer langen Geschichte und deswegen auch das erste Hotel in dieser Serie :)
Yeay! Say hello to the new category: hotels. As I spend so much time in hotels, I'll give you a feedback from now on and hopefully some inspirations for your next trip or your interior.
I hope you'll like it, so I hope for your feedback!
Today we start with the Metropol in Moscow, one of the most famous hotels in the world.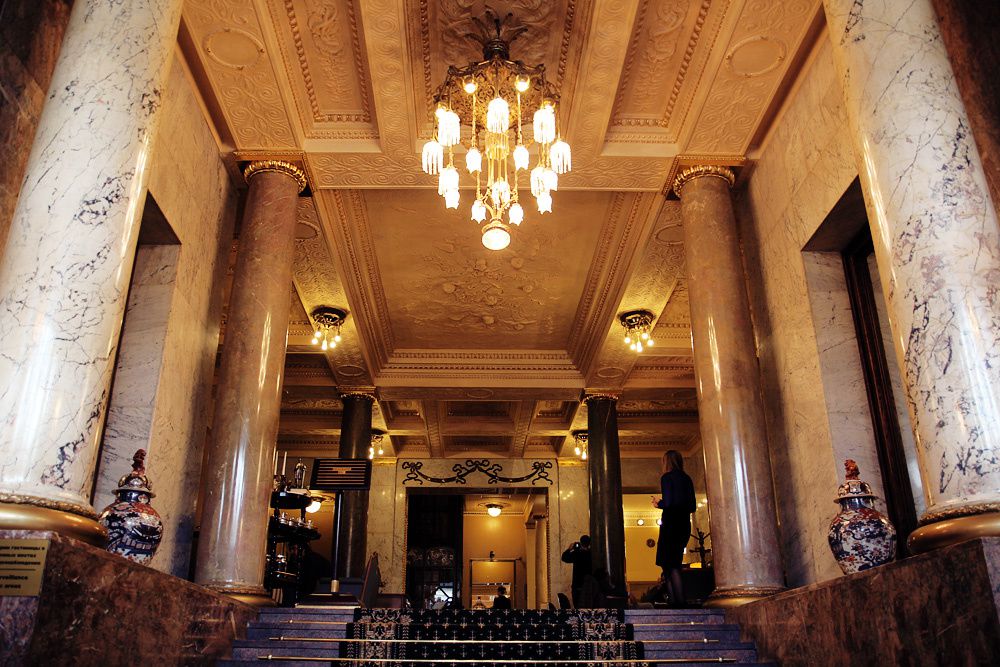 Das Hotel / The hotel
Das Metropol gehört zu den ersten (Luxus)Hotels in Moskau und ist ein imposantes Gebäude quasi zwischen dem roten Platz und dem Bolshoi Theater, also einer sehr noblen Nachbarschaft. In seiner über 100 jährigen Geschichte beherbergte es bereits Berühmtheiten wie Bernard Shaw, Bertold Brecht und Michael Jackson. Als ich übrigens dort war, hatte Boris Becker dort auch ein Zimmer und saß mit im Frühstückssaal. Der Typ sah echt fertig aus…
Das gesamte Hotel ist sehr prunkvoll mit Antiquitäten ausgestattet. Großartige Gemälde, teure Tiffany Lüster, Bronzestatuen und selbst das Glas am Fahrzeug ist Kristallglas (Auf meine Frage ob das Kristallglas sei, meinte die Mitarbeiterin "Natürlich!" als wäre alles andere abwegig und als hätte ich die dümmste Frage der Welt gestellt). Man kommt rein und der WOW-Effekt ist garantiert.
(4/5 Sternen)
The Metropol is one of the first (luxury) hotels in Moscow and it's an imposing building between the Red Square and the Bolshoi theater, so it's a very posh neighborhood. In it's more than 100 years old history, it has hosted celebrities such as George Bernard Shaw, Bertolt Brecht and Michael Jackson. When I was there by the way, Boris Becker was there, too, and sat in the breakfast room.
The entire hotel is very beautifully furnished with antiques such as great paintings, expensive Tiffany chandeliers, bronze statues, and stuff like that. You walk in and it's the WOW effect.
Zimmer / rooms
Es gibt über 300 Zimmer, doch ich muss sagen, von meinem bisherigen Hotelerfahrungen gehörten die Zimmer im Metropol nicht unbedingt zu den Besten. Die Einrichtung wurde lange nicht mehr modernisiert und obwohl es sauber war, fand ich es ein wenig muffig, wisst ihr was ich meine? Quasi wie, als wenn ihr Sonntags zu eurer Oma fahrt. Blöd fand ich auch, dass man die Fenster nur auf Anfrage aufmachen durfte, sodass es sehr stickig wurde. Gut geschlafen habe ich dort jedenfalls nicht, denn das geht bei mir nur bei offenem Fenster.
(3/5 Sternen)
There are over 300 rooms, but to be honest I prefer modern rooms. On top of that I couldn't open the window and as I can only sleep well when the window is open, that was really bad.
Die Zimmerausstattung / the rooms
Frühstück / the breakfast
Gefrühstückt wurde im großen (Opernsaal) und es war einfach großartig. Es gab wirklich alles was das Herz begehrt, sämtliche Wurst und Fischsorten, Getränke, es fehlte einem wirklich an nichts. Mein persönliches Highlight waren die frischen Pfannekuchen, zusammen mit Lachs und Kaviar – unglaublich lecker.
(5/5 Sternen)
We had breakfast in a huge (opera) room and it was just great. Everything you wanted was there and my personal highlight were the pancakes with salomon and caviar – so tasty!!
Besonderheiten / specials
Wie schon erwähnt hat das Hotel eine wahnsinnige Geschichte zu erzählen von Kriegen und Zerstörung, von Besatzungen, aber auch von Freiheit und von Liebe.
Ein wichtiger Teil der russischen Geschichte spielte sich genau hier ab, zwischen diesen Wänden und man kann es förmlich spüren und ausmalen, wie die Bolschewisten das Hotel besetzen und im Frühstücksraum bei einer Zigarre die weiteren Schritte besprachen, wie sich die berühmtesten Paare hier kennengelernt und geheiratet haben und wie Michael Jackson in seinem Zimmer am Klavier saß und einsam spielte. All diese Dinge, sie sind nicht so weit weg, wenn man sich in diesem Räumen bewegt und Geschichte fühlt und atmet.
As already mentioned, the hotel has a interesting story to tell about war and destruction, but also about freedom and love. An important part of Russian history took place exactly here, between those walls and you can feel it literally and imagine how the Bolsheviks occupy the hotel and discussed the next steps in the breakfast room with a cigar ,how famous couples met and married here and how Michael Jackson was sitting in his room alone at the piano and played. All these things, they're not so far away when you're here and feel it.