.
I need to get out of here.
There are moments in life when the only way forward is escape and adventure. They tend to be moments when you feel like you need a break of your own life. In those moments no destination can be far enough. One city, above all, promises adventure and distraction: New York!

With that in mind, I didn't think long and booked a trip. And suddenly I found myself in the city of dreams. I was ready for adventure, and it all started in 11 Howard.

The 11 Howard is located in the heart of Lower Manhattan somewhere betweenSoho, Chinatown and Little Italy, the perfect spot to experience New York off the beaten tracks of tourism. The venue is notable for its interior, which is not typically American at all – more Scandinavian, actually! It was designed by the renowned Design Studio Space Copenhagen under the lead of creative director Anda Andrei. Basically, the place is a dream come true for all fans of &tradition, the danish interior designer brand. All rooms are furnished with some highlight pieces of the FLY collection by &tradition. I am in live with this mixture of typically Scandinavian minimalism and modern New York industrial. It's difficult to imagine a more stylish starting point for a city adventure.
Location:
If you know your way around New York, even just a little bit, you'll be aware that Soho is the perfect area for a base camp from which to explore the city. The area is adjacent to Lower Manhattan, and one of the liveliest in all of NY. You basically can't move for amazing restaurants, and the next amazing club is always just a short walk away. Else you can easily stroll over to the Financial District and enjoy window-shopping in the shadow of impressive skyscrapers. Or there's the One World Trade Center, Ground Zero, etc. If you plan to visit another part of the city, there's a metro stop at practically every block. The one closest to 11 Howard is the one in Canal Street, from where you'll be in Brooklyn, Uptown or wherever else you may want to head in no time at all.
Rooms:
High ceilings, big windows, terraces with a view – these outstanding features grab your attention straight away, but 11 Howard offers so much more. Entering the room, you noticw the wonderfully minimalistic yet luxurious and tasteful style, a trademark of SPACE Copenhagen. And then you realize how much care went into the furniture and entire interior. Pure luxury! After a long day in town, when I get back to my hotel room, I can't wait to rinse off the dust of the day in the huge shower with its brass fittings. I take a glance at myself in the enormous mirror and then get into the comfy queen size bed by &tradition. If you can afford it, I hugely recommend a room with a terrace. One word: skyline!!!!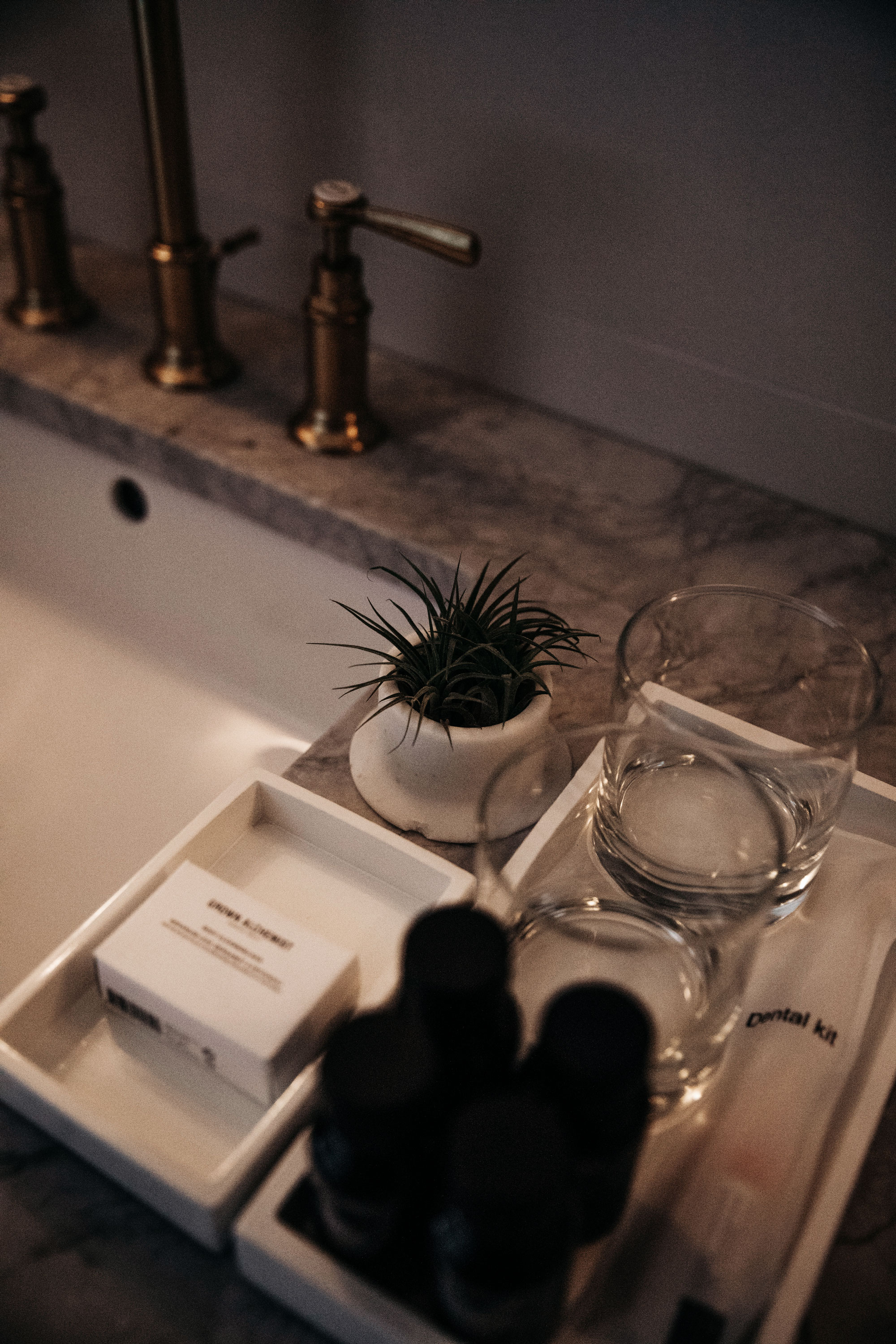 Hotel:
I was welcomed incredibly warmly at 11 Howard. A team of friendly, competent staff receives you in the lobby, which once again shines with outstanding interior design. The design team SPACE Copenhagen has outfitted the reception area with its trademark minimalism, to incredibly stylish effect. The staff proved helpful and empathic whenever I needed help, no matter what time of the day. As far as the areas inside the hotel are concerned, the cocktail bar on the first floor is a particular highlight. It's a continuous couch landscape with dark blue velvet covers, wonderful designer furniture and a bar in 50s style. An incredible opulence. Also, have you ever been in a hotel with its own library?

Conclusion:
There are definitely more affordable options than the 11 Howard out there. But if you are looking for comfort and relaxation in an outstanding location, look no further. The hotel has a minimalistic yet luxurious line and is located exactly where you want to be in New York. And if you're short of insider tips on what to do in the city, the staff is always there for you. My stay in New York was one of the most beautiful trips I had in a long time. After one week in this incredible city I definitely feel much better than on the morning I left Berlin – and I think that is the best conclusion I could have possibly arrived at.
In cooperation with &tradition
Photos: Theresa Kaindl