With drum roll and fanfare, here are my monthly favorites for April!
This has become one of my favorite categories, every month I'm looking forward to covering this broad mix of products and topics. Let's dive right in!
Favorite sports:
Kayla Itsnes – BBG Programm
With this one I knew straight away I needed to cover it! When I started this program at the beginning of the year, bursting with motivation, I didn't know whether I'd pull through. Don't get me wrong, motivation was really not a problem, on the contrary, but sometimes every-day-life is the biggest enemy of a good resolution. 12 (actually 14) weeks later I can say: I successfully completed stage 1.

The old adage still holds true, especially for exercise: every beginning is difficult. Very difficult. And it did not necessarily get easier in this case. The BBG program is structured like this: you train 3 times a day for a period of 12 weeks, each session takes 28 minutes (in theory). On the other days you do LISS. Every training session consists of 2 x 2 rounds ith 4 exercises each, i.e. 16 in total. Every round takes about 7 minutes, i.e. 28 in total. The plan also includes a dietary component, but I must admit that I didn't really engage with that at all.

You can do the program at home, I usually exercised after getting up in the morning, before breakfast. Many of the exercises require some kind of training devices, but you can re-appropriate many pieces of furniture you already have at home for that purpose. That said, I did get myself a proper mat and dumbbells. In the beginning I suspected this may eventually be a deal breaker, as I didn't envision myself bringing these items along with me on my trips, but I found that most hotels I stayed in had a little fitness area, so I had the chance to continue without many interruptions. If there really was no other way I skipped the odd session and made up for it with an extra work out at the earliest opportunity. Another adage was confirmed: if there's a will, there's a way. Kayla's program is available as app and as e-book, so I always had it with me.
I don't want to mislead you: the program is relatively easy in the beginning and gets pretty hard pretty fast. I tested my boundaries in the process, and it usually took me an hour to get through all the exercises.

Quite frequently I was pissed off reading and re-reading that a session ould take me 30 minutes – which I found rather utopian. I had sore muscles for weeks. I jumped until my legs trembled, and then jumped some more. Kayla's program brings real results – but at a price. For me it was the right thing – it is easy to understand and the exercises are straightforward. There is a decent amount of variation (exercises are usually combined in new ways), and it is hard. Exercise days without burpees, jumping lungs or something ese involving jumping are few and far between. How I hated Kayla at some points for expecting me to be able to do these exercises. All that in half an hour, on top of it (wishful thinking!). But as the days go by you do start to feel that the exercises get easier. For the first time in my life I now feel a certain urge to exercise my body, and I feel something's missing when I don't work out. It's a completely new attitude towards life, really, and the reason why I am in no doubt that I'll complete stage 2 as well.
Favorite app: Clips

Apple launched a new app!
It's called Clips and is designed to shoot cool videos on the fly and to share them. Makes it even easier to shoot videos quickly in the future, and to create great looking content for Instagram . I am really enthusiastic about it, and have started to use the app to produce more special content for 'special days'. The app is incredibly intuitive and the video functions (filter, sticker and backgrounds) are easy to grasp. It's free, just download it in the App Store.
Favorite blogger: qmike
Some bloggers/Instagramers out there definitely deserve more followers. Like TONS more followers. One of them is qmike – one of my favorite bloggers, someone who truly inspires me. I discovered him a few years ago on Lookbook, and I love what he does. Qmike manages to create a perfect blend of fashion, art and photography, and I just love his aesthetic sense. I don't usually follow men's blogs with all that much dedication, but he's really doing an incredible job, and frequently motivates me to invest more time in a story or picture. On top of it he makes me want to live in London :)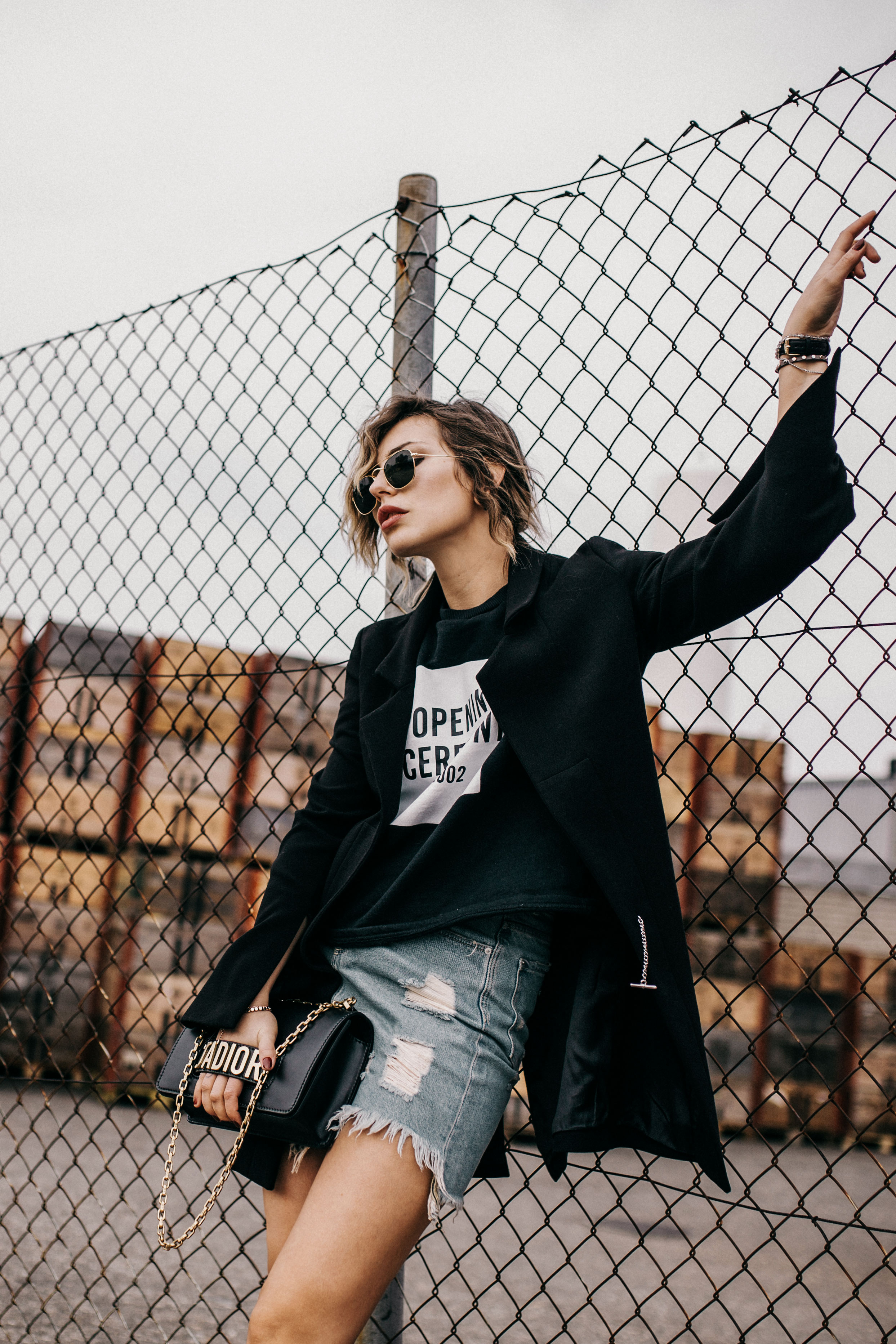 Favorite bag: J'adior
It was my birthday present to myself, which makes it something special: my J'adior bag. Barely a day went by that I didn't take out my bag since I got it. I love it to bits. I never spent so much oney on one bag before, and I regret nothing. It actually took my time before I made the decision to buy it. First I pondered the right model, went to many different stores and scrutinized every model that somehow caught my attention. In the end my decision fell on this beautiful piece instead of on a classic. I didn't really have Dior on m bag radar all that clearly – before finding the J'adior I only really knew the Lady Dior, which is a little too, well, ladylike for my taste. But with the new collection under a new head designer, Dior managed to become more contemporary again without sacrificing its classic identity.
Favorite cream: Glamglow
'Not another moisturizer!', you may think to yourselves. Well, I get it, but hear me out: the Glowstarter by Glamglow has become my current favorite in terms of skin care, full stop. Initially, I was a bit skeptical towards Glamglow, but I have become a huge fan by now and swear on their masks. Well, the company now has skin care in its range, and it is really great- Not only is the texture super comfortable, the cream has a certain kind of shimmer that really makes your skin glow with perfect light reflections. Plus, it smells like tasty sweets. But those are ultimately superficial aspects, the point is that it is really effective: the cream moisturizes extremely well and nurtures the skin with natural active ingredients like the patented TEOXI, rich oils, shea butter and a pampering lipid complex. The product has just launched on the market, and I haven't been able to find a link in Germany yet, but if you come across it somewhere and decide to give it a go I'd be very curious to hear what you think about it.
Favorite lipstick: Dior
7. No monthly fav's without lipstick! You know me, I love to experiment when it comes to the color of my lips. My newest obsession are the lipsticks by Dior: the Addict Gel Lacquer sticks. The clue is in the name -I am hooked. Contrary to my usual suspects, these are not matte, in fact they are as shiny as it gets, but instead of bringing the dreaded smeary or liquid consistency these lipsticks feel light and creamy on my lips. And still you get the effect of almost liquid looking lips. They are really, really shiny and make for a nice contrast in my mainly matte palette. The lip gloss is available in 17 colors, of which 924 is my favorite: a beautiful, deep red. I particularly love the nostalgic feeling that I get from wearing these lipstick: they have sort of a classic smell and good 'taste' and remind me of times when I used to steal lipstick from my mom – not the other way around like today!
"show me your mascara and I tell you who you are"
Favorite mascara: Guerlain
6. In my experience, mascara is a polarizing subject. Some girls prefer round silicone brushes, other's go more for the classic brush shape. Some like it curvy, others like it flat. It's also a matter of habit, of course, and not every mascara is right for every girl. I found my new mascara favorite in Guerlain, and hardly ever reach for any other product at the moment. I'm just completely happy with it. The mascara by Guerlain has a little sphere at the end which makes extremely precise application possible. On top of it, the silicone brush never gives off too much color.

Favorite sunnies: Ray-Ban
Just in time for the spring season I have a new favorite pair of shades: the Ray-Ban Caravan. An awesome model, a little masculine, exactly how I like it: the Caravan is a cool antagonist to the more classic models. Ironically, I wasn't that into it in the beginning, but you know how it sometimes goes, true love is often at second sight.
9. I've never been much of an IKEA fan. Maybe it's because I felt I saw the same models over and over again, wherever I went. I just didn't feel particularly inspired by that seemingly ubiquitous range of shelves and cupboards. I tended to look at IKEA as more of a last resort, nothing that I'd really go for as my first choice. Well, that was true until I learned about Collections. Similar to other brands (e.g. H&M), IKEA offers temporary collections. They got me with it, I frequently catch myself checking out the latest collection on offer, to the point that I actually enjoy my IKEA visits. One item I got from the PS 2017 Collection is the self-watering top. Not only is it practical, it's also extremely stylish. I mean, seriously, who would think of IKEA seeing this?
Favorite collection: IKEA PS
.