Was passiert eigentlich wenn du eine Kamera dabei hast, die keiner bemerkt?
Dieses Experiment bin ich durchgegangen, denn HTC hat eine kleine Kamera auf den Markt gebracht, die RE, die so secret ist, dass einfach keiner rafft, dass du da eine Kamera in der Hand hälst – und damit auch noch Bilder (und Videos) machst!! Ein weiterer Vorteil: man kann Selfies mit Menschen machen, ohne dass sie es bemerken.
Hätte ich mich doch an Ornella Muti rangetraut….

Jedenfalls ist so ein Ding ganz schön praktisch, vor allem auf der Fashion Week und vor allem dann, wenn sich die ganzen Modemenschen ganz unbeobachtet fühlen.
Doch nicht nur zum Ausspionieren ist die Kamera eine gute Idee, sondern auch zum schnellen und spontanen Bildermachen. Man muss auf keinen Ein-/Ausknopf drücken, sondern nur auslösen – und schon ist das Bild im Kasten. Man muss nicht mal genau zielen wie ihr an meinen Bildern seht, denn durch den Weitwinkel bekommt man alles drauf.
Aber kommen wir doch zu den Random Facts und Impressions..



Random Facts
– ihr erinnert euch? Hals über Kopf habe ich Stylight mittendrin verlassen und bin ohne Umwege zu Holy Ghost gerast.
Dort sollte ich eigentlich von der Kollektion berichten, doch stattdessen kam ich mit Bonnie und Strify genau in dem Augenblick an, als die Show vorbei war… wie ärgerlich! Um noch einen kleinen Blick zu erhaschen bin ich Backstage gegangen und habe die Designerin getroffen. So ärgerlich!! Den Stücken backstage nach zu urteilen war es eine großartige Show und ich habe mich grün und blau geärgert, dass ich nicht dabei war!!

– den entspanntesten und unterm Strich auch den schönsten Teil der Woche hatte ich beim Blogger Bazaar Loft. Eigentlich wollte ich nur mal kurz vorbeikommen und Hallo sagen, stattdessen haben wir uns nur einmal kurz aufs gemütliche Sofa gesetzt und sind komplett versackt. Irgendwie waren alle da, alle waren nett und freundlich und auf einmal waren 4 Stunden rum.

– habe ich schon erwähnt, dass ich zu dem Zeitpunkt die letzten 4 Nächte immer nur 3-5 Stunden geschlafen habe? Da ist so ein Sofa halt unwiderstehlich…

– und dass Tanja mir sogar extra Borsch gebracht hat?? *.*

– im übrigen würde ich mich über noch mehr Blogger Bazaar Lofts freuen! (Wink mit dem Zaunpfahl!!!)

– sogar Bryanboy war da und fands klasse!

– beim Fashion Blogger Cafe war ich dagegen nur ganz kurz, aber dafür genau pünktlich zu Alice' Show. Die war aber auch klasse! Aus Alice wird mal eine große Designerin!

– und Ricci war Model!! (Erkennt ihr ihn auf den Fotos?)

– Abends ging es dann zum Shop the Runway von Fashion ID. Der letzten Show im Zelt.

– und es waren kaum Bloggger da! Hab mich voll einsam gefühlt…

– dafür war Marlon Roudette da und hat vor meiner Nase gesungen ♥

– der Preis für die beste Goodie Bag geht übrigens mal wieder an Styleranking!


During the last days of fashion week I had a small camera with me, the Re camera from HTC and I had so much fun with it! People didn't noticed that it's a camera, because it looks so secret and so I took lots of pictures everywhere!
The perfect little thing for fashion week to follow your day :)


Random Facts
– Remember? I rushed out of Stylight and the reason was Holy Ghost! I wanted to see the show sooo badly! Unfortunately it was just over, when we arrived, but I went backstage and watched a few models running around and I met the designer! Isn't she just a beauty?

– one of my favorites during the fashion week was the blogger bazaar loft! It was a great atmosphere and although first I wanted to go home asap and only say hello to the girls we stayed there over 4 hours…

– did I mention that it was like home being there? I reaaally enjoyed the time with the girls..

– even Bryanboy loved it

– the prize for the best goodie bag goes to… styleranking!





Alice Präsentation (habt ihr Ricci entdeckt?)


Bei Fashion ID


Backstage bei Holy Ghost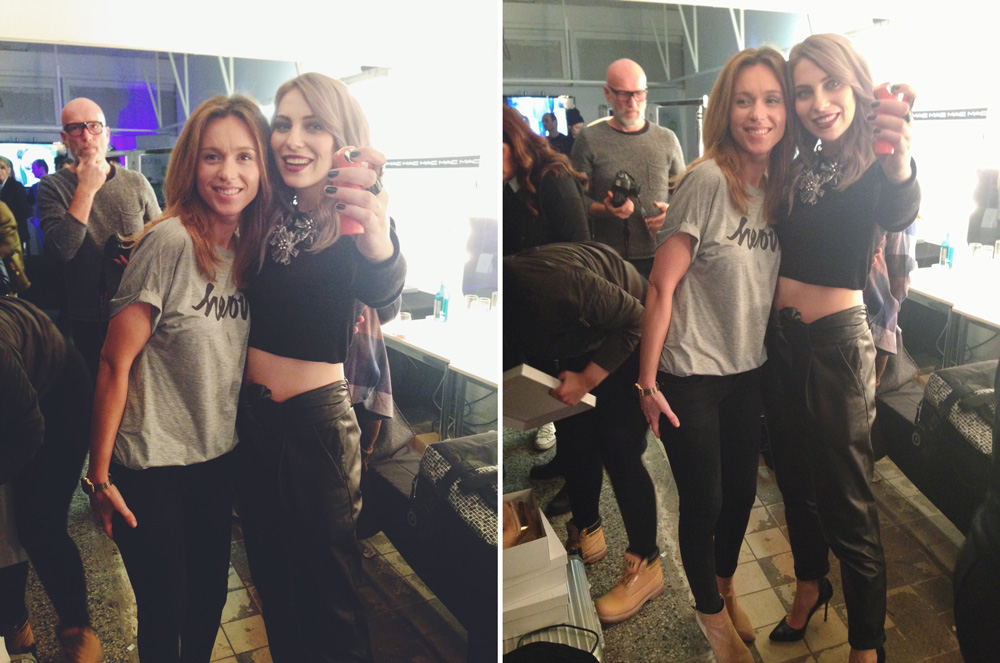 in Kooperation mit HTC