Wisst ihr, mir ist mal wieder aufgefallen, dass ich schon lange mehr kein "extremeres" Make-up gezeigt bzw. getragen habe. Seit ich blond bin bevorzuge ich eher helle und natürliche Töne, trage kaum schwarz und betone eher Lippen als Augen. Früher war es genau andersherum: da durften die Augen schön dunkel sein und die Lippen dafür rose oder nude.
Zeit fürs neue Jahr wieder Smokey Eyes und Nude Lips wiederzuentdecken!
Gesicht
Fürs Gesicht benutze ich meistens am Anfang dieselben Produkte: eine getönte Feuchtigkeitscreme(Pure Radiant Tinted Moistuizer, Farbe Alaska) und den Radiant Creamy Concealer (Farbe: Vanilla), beides von Nars, transparenten Puder (Prime & Fine) von Catrice und meinen Augenbrauenstift von Anastasia (soft brown). Für meine Wangen benutze ich den Bronzer und Rouge aus der Real Cheeky Party Holday Blush Palette von Benefit. Diesmal benutze ich auch zwei unterschiedliche Highlighter: den High Beam von Benefit für meine Wangen und den cremigen Watt's up Highlighter, ebenfalls von Benefit für Nasenrücken und Lippenherz. Ich persönlich bevorzuge Highlighter von Benefit, weil er sich jederzeit gut übers Make-up legen lässt.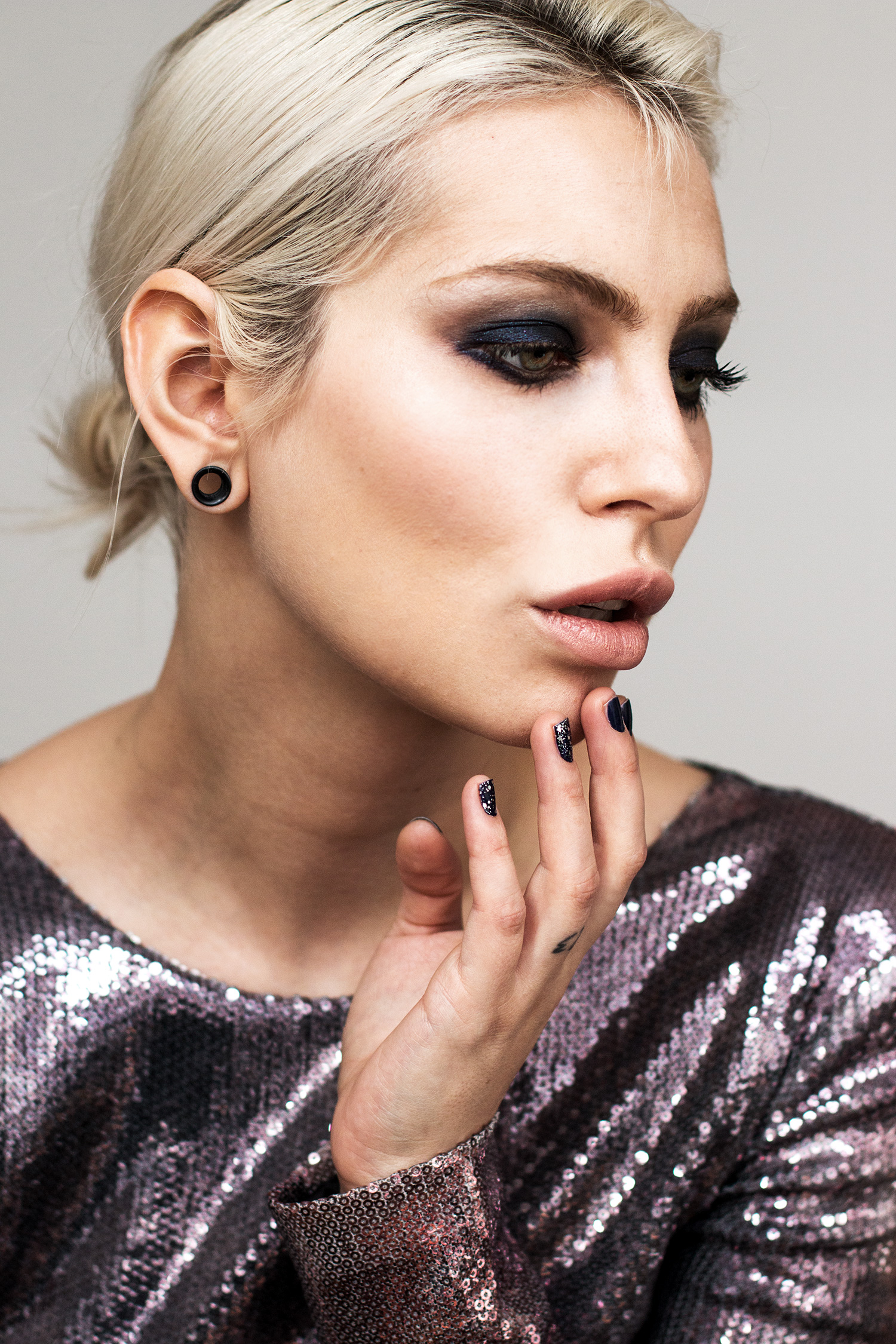 Augen
Für meine Augen benutze ich eigentlich nur den Cream and Powder Eye Color Lidschatten aus Noir Collection von Tom Ford, der aus zwei unterschiedlichen Komponenten besteht: eine Art Creme, fast wie Eyeliner und ein glitzernder Lidschatten in derselben Farbe. Die cremige Konsistenz verteile ich großzügig aufs gesamte Lid und bilde damit die Basis. Anschließend lege ich den Lidschatten drauf und verblende ihn an den äußeren Kanten. Im Grunde mache ich fast das selbe unter den Augen: ich ziehe mit einem dünnen Pinsel einen Strich und verblende ihn ein wenig. Um den Kontrast zu verstärken ziehe ich einen Eyeliner in den inneren Augenlidern. Zusätzlich betone ich meine Augen mit einem Highlighter unter den Augenbrauen. Das gibt dem Ganzen mehr Tiefe. Am Ende nur noch großzügig schwarz tuschen (zB. mit der Bad Gal Mascara von Benefit).

Lippen
Für die perfekten und Nudelippen ziehe ich erst einen Lipliner in einer ähnlichen Farbe wie meine Lippen (zB. Von Mac) und trage anschließend einen Lippenstift in einem Nudeton (zB. von Dior) auf. Damit die Lippen weniger glänzen und länger halten benutze ich Highlighter Puder (zB. Von Lancôme) auf den Lippen und mattiere sie.

You know, I just realized that it's been a while since I posted a slightly more 'extreme' make-up, or even since I wore some. Since dyeing my hair I prefer lighter and more natural tones, and tend to not reach for black as much. I also tend to accentuate the lips more than the eyes. It used to be the other way around: usually darker around the eyes, and rose or nude tones for the lips.
It's about time to revisit the smokey eyes and nude lips for the new year!

Face
For the face I usually start with the same basics: a toned moisturizer (Pure Radiant Tinted Moisturizer, color Alaska) and the Radiant Creamy Concealer (color: Vanilla), both by Nars, transparent powder (Prime & Fine) by Catrice and my eyebrow pencils by Anastasia (soft brown). For my cheeks I use the bronzer and rouge included in the Real Cheeky Party Holiday Blush Palette by Benefit. For this particular look I also use two different highlighters: the High Beam by Benefit for my cheeks and the creamy Watt's Up Highlighter, also by Benefit, which I apply on the bridge of my nose and center of my lips. I personally prefer the highlighter by Benefit, as it is always easy to apply on top of any other make-up layers.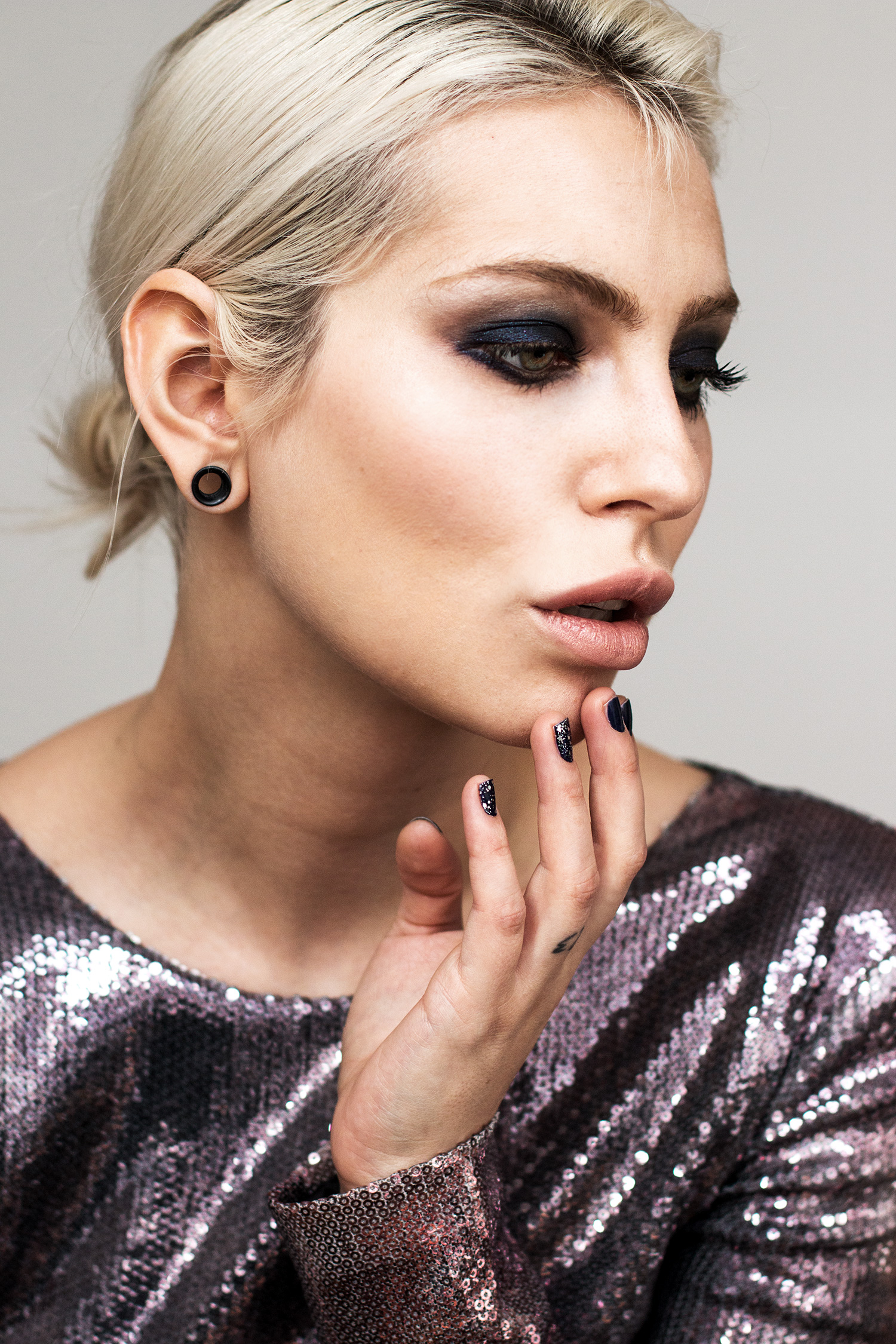 Eyes
For my eyes I actually only use the Cream and Powder Eye Color eyeshadow from Tom Ford's Noir Collection, which is composed of two components: a kind of cream, almost like an eyeliner, and a sparkling eyeshadow in the same color. I lay the groundwork by generously applying the component with the creamy consistency over the entire eyelid. Then, I add the eyeshadow and blend it at the outlines. I basically repeat the process underneath the eyes: I draw a line with a thin brush and blend it a little. To heighten the contrast I strengthen the outlines of the inner eyelids using an eyeliner. I draw even more attention to my eyes by using a highlighter underneath my eyebrows, which creates a sense of depth. Towards the end I use generous quantities of black mascara (e.g. the Bad Gal Mascara by Benefit).

Lips
To achieve the perfect nude lips I start by outlining my lips with a lipliner. I take care to use a color that is close to the natural color of my lips (e.g. the one by Mac) and then proceed to apply lipstick in a nude tone. To make sure that my lips don't shine too much, and to make the lipstick hold longer, I use a highlighter powder (e.g. by Lancôme) on my lips and matte them.

Я уже довольно давно не показывала вам «экстремальных» вариантов макияжа. С тех пор, как я стала блондинкой, я отдаю предпочтение светлым и естественным тонам, почти не ношу черное и подчеркиваю больше губы, нежели глаза. Раньше все было с точностью до наоборот: глаза могли быть очень темными, а для губ я выбирала розовые или телесные оттенки. Сейчас, под Новый год, самое время вернуться к макияжу Smokey Eyes!

Лицо
Для основы я в большинстве случаев использую тонирующий дневной крем от Nars (Pure Radiant Tinted Moistuizer, цвет Alaska) и консилер (Radiant Creamy Concealer цвет: Vanilla), также от Nars, прозрачную пудру (Prime & Fine) от Catrice и карандаш для бровей от Anastasia (светло-коричневый). На щеки я на наношу бронзирующую пудру и румяна из палетки Real Cheeky Party Holday Blush Palette от Benefit. На этот раз я использовала также два разных хайлайтера – High Beam от Benefit для щек и кремовый хайлайтер Watt's up, также от Benefit, который я нанесла на спинку носа и над верхней губой.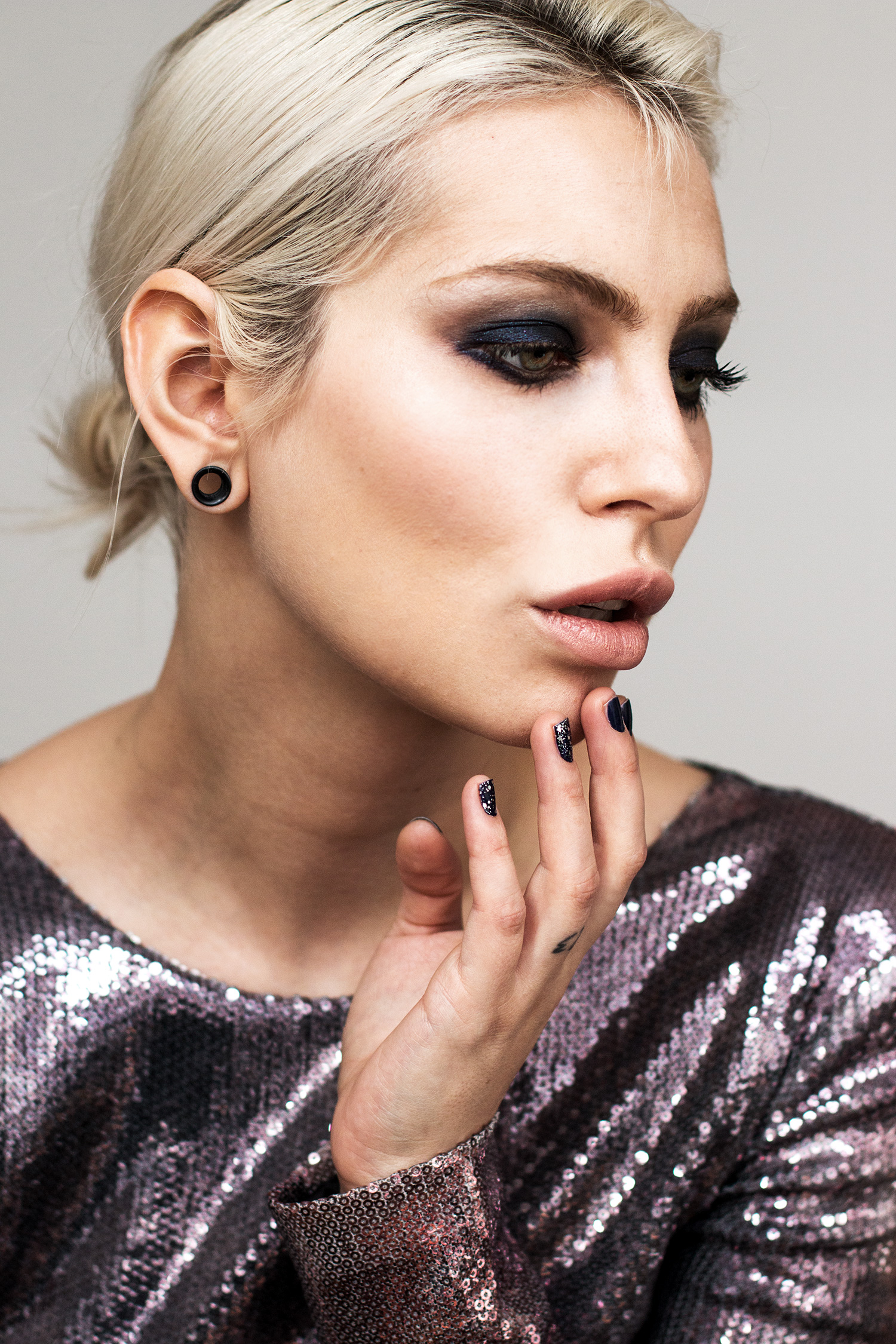 Глаза
Для глаз я использую только тени Cream and Powder Eye Color из коллекции Noir Collection от Tom Ford, которые состоят из двух разных компонентов: тени с кремовой текстурой, напоминающие подводку для глаз, и перламутровые пудровые тени того же цвета. Тени с кремовой консистенцией я обильно наношу на все веко, создавая основу. Затем я наношу пудровые тени и слегка растушевываю их по краям. Практически то же самое я делаю под глазами: провожу линию с помощью тонкой щеточки и немного ее растушевываю. Чтобы сделать макияж более контрастным, я наношу подводку на нижнее веко. Кроме того, чтобы подчеркнуть глаза, я наношу хайлайтер под бровями. Это придает взгляду глубину. В завершение я крашу ресницы черной тушью (например, Bad Gal Mascara от Benefit).

Губы
Вначале я использую контурный карандаш оттенка, совпадающего с естественным цветом моих губ (например, от Mac), а затем наношу помаду телесного цвета (например, от von Dior). Чтобы цвет губ был более матовым и держался дольше, я использую пудру-хайлайтер (например, от Lancôme).