Endlich Coachella!
Seit ich das erste Mal vom Coachella gehört habe – DEM Festival – wollte ich schon immer mal hin. Entsprechend groß war die Freude, als ich das Go! Bekommen habe. Mir wurde kurz schwindelig vor Glück.
Einmal zum Coachella – ein Traum wurde wahr.
Aber entsprechend groß waren die Erwartungen und auch das Bild, das ich im Kopf hatte war bereits eingebrannt und das sah ungefähr so aus: viele Stars, geile Styles, tolles Wetter und geile Bands – und wisst ihr was? Meine Erwartungen wurden nicht nur erfüllt, sondern auch übertroffen in vielerlei Hinsicht! Zwar gab es auch vieles, das ich mir anders vorgestellt hätte, aber so oder so war es ein richtig geiles Festival das es sich zu besuchen lohnt.
Damit ihr euch ein besseres Bild machen könnt, hier ein paar….

Coachella Random Facts

– Wir hatten VIP Tickets und es hat sich richtig gelohnt – allein schon wegen dem Gelände.
Die VIP Areas sind noch mal hübscher auf dem Gelände und erinnern ein bisschen an Alice im Wunderland. Überall sind bunte Lichter und Liegen aufgestellt und selbst jeder Busch ist perfekt ausgerichtet – richtig chillig!




– Mein Highlight war allerdings der Rosengarten direkt neben der Technobühne. Ich mein, das ist einfach mal ein riesiger Bereich, voller Rosen, einem idyllischen Brunnen und einer herrlichen Blumenwiese. So richtig verwunschen und märchenhaft.

– Und neben an legt DJ Snake auf.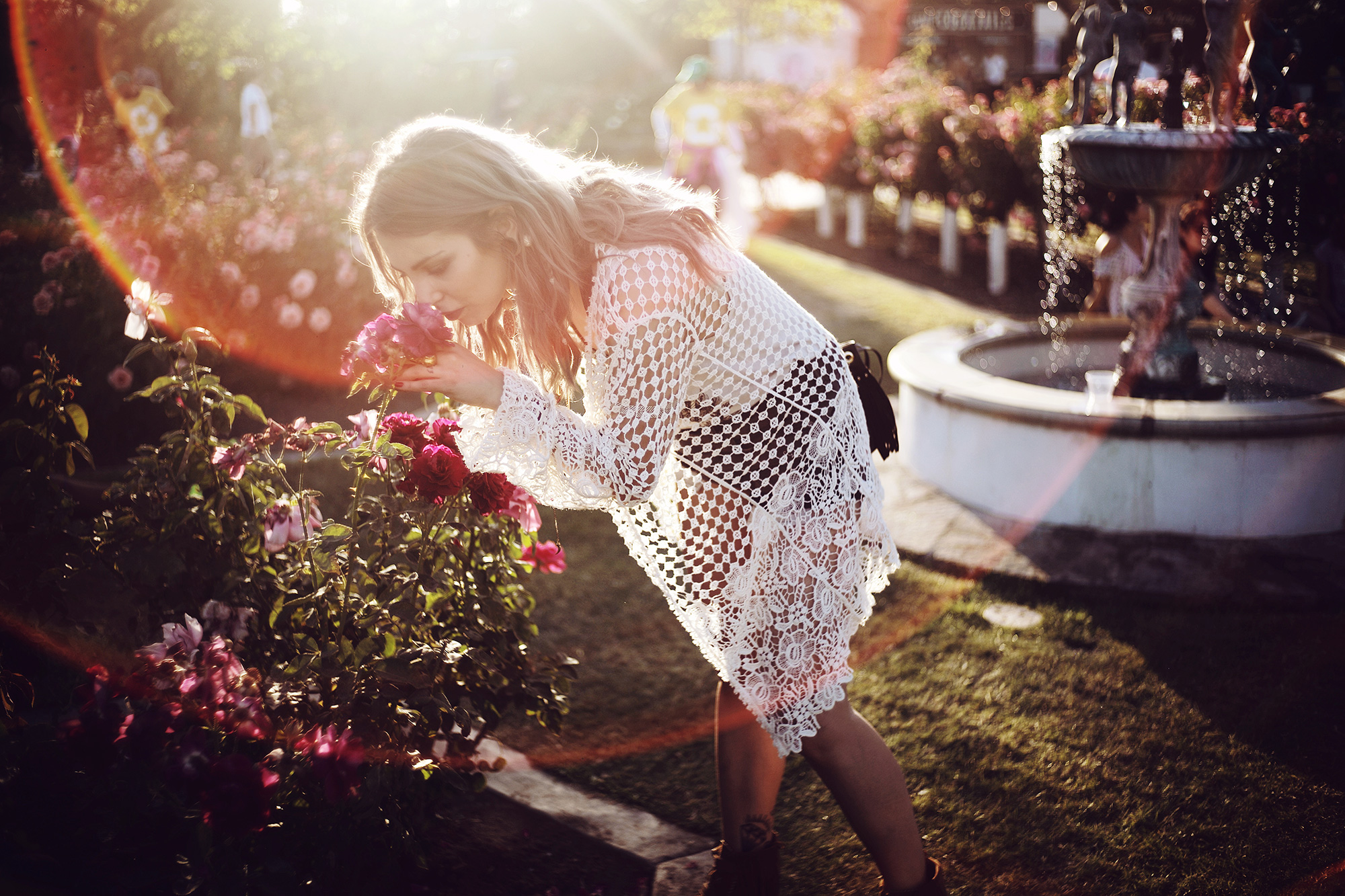 – Leider habe ich super viele Acts, die ich eigentlich sehen wollte verpasst, weil ich Abends entweder so müde war, das ich früher gegangen bon oder wir es partout nicht geschafft haben in der Gruppe rechtzeitig am Festival Gelände zu sein, aber es war trotzdem ziemlich klasse immerhin ein paar krasse Acts wie The Weeknd, Marina and the Diamonds und ACDC zu sehen.

– Vor allem war es so laut, dass man das eh nicht überhört hätte – selbst wenn man wollte.

– Tatsächlich ist es gar nicht so krass heiß, wie man immer denkt, auch wenn wir mitten in der Wüste sind. Tagsüber in der Sonne ist es ziemlich heiss, aber meistens weht ein kühles, angenehmes Lüftchen, das zum Abend hin immer stärker wird und man Abends auch ernsthaft eine Jacke braucht, weil man sonst richtig friert.




– Nicht nur die Tickets fürs Coachella sind richtig richtig teuer und auch viel teuerer, als in Festival Tickets in Deutschland, sondern auch das Essen ist unheimlich teuer. Ein Burger kostet 11$, ein Eis 10(!!)$. Selbst ein Glas Wein kostet 10$! Ich bin ganz schön arm geworden bei meinem Appetit…

– Und dann schmeckte alles auch noch so mega geil!!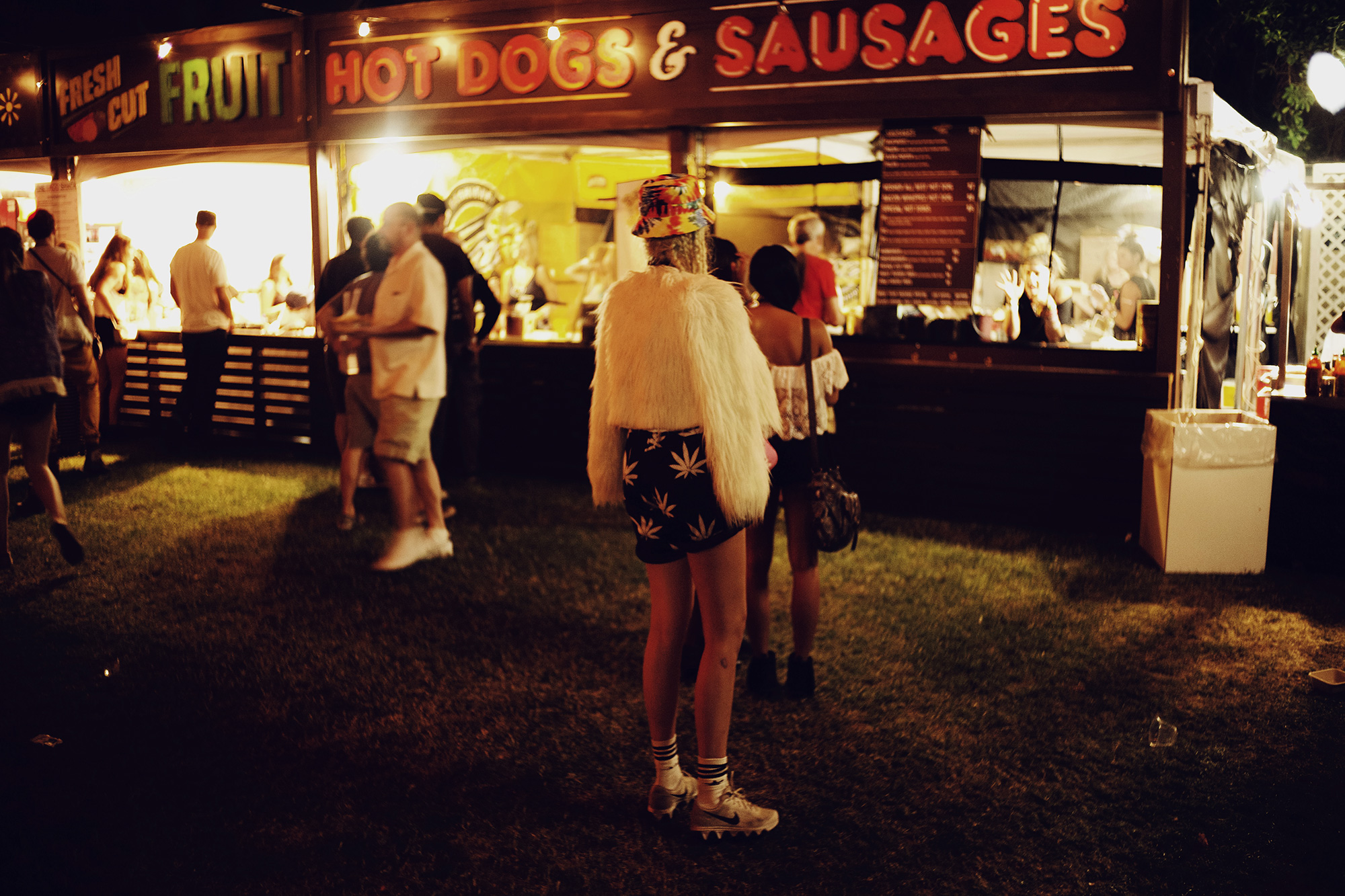 – Wusstet ihr, dass es das Coachella schon seit 1999 gibt?

– Um überhaupt zum Coachella zu kommen muss man gefühlt eine Million Sicherheitsschleusen passieren (ich glaube 6 waren es ingesamt), alle paar Meter eine, damit sich BLOSS Niemand reinschleichen kann. Generell waren diese Sicherheitsschleusen fast überall, aber naja, wenigstens habe ich mich sicher gefühlt :)

– Absolutes No-Go: man konnte die Getränke aus der VIP Area nicht mit rausnehmen und es gab auch nur so extra Drinking Spots, die man nicht verlassen konnte. Auf dem Gelände selbst durfte nämlich nichts getrunken werden.

– Generell durfte auch kein Alkohol aufs Festivalgelände mitgenommen werden.

– Also keine Tetrapack-Gaffer-Aktion für Masha.

– Aber das Gelände an sich war SO schön und cool! Überall standen Kunstinstallationen rum, Lichtspiele oder auch mein persönliches Highlight: ein Glaskasten voll mit Bürotischen und Büroatmosphäre auf mehreren Stockwerken mit Menschen, die eine Nilpferdmaske trugen und voll abgetanzt haben zu minimalen Sounds. Das klingt jetzt mega irre, aber ich sag es euch: in Wirklichkeit war es noch verrückter.




– Leider konnte ich keine Snaps auf dem Gelände machen (was mir erst nach paar Tagen aufgefallen ist), weil die alle direkt blockiert und gelöscht wurden. Total doof!!




– Noch fast spannender als die Bands war das Beobachten der Stars auf dem Coachella.
Wir haben sämtliche Topmodels von Jordan Dunn, Alessandra Ambrosio, Rosie Huntington und Gigi getroffen, aber auch Paris Hilton, Katy Perry, Bradley Cooper, Kate Bosworth, Cody Simpson und nicht zu vergessen: Bill Kaulitz :P




– Eigentlich braucht man sich einfach nur auf einen beliebten Platz in der VIP Area setzen und früher oder später latschen sie einfach alle an dir vorbei.

– Sowieso hatte ich das Gefühl in einer neue Welt einzutreten, wenn ich auf das VIP Gelände betrat – wie eine Blase voll mit schönen Menschen!

– Generell ist das Coachella nicht so richtiges Festival, wie man es sonst so kennt, sondern fast wie eine weitere Fashion Week, denn es geht auch nur ums Sehen und Gesehen werden. Alle sind mega aufgestylt, tragen superteure Kleidung und die Fotografen und Paparazzis lauern vorm VIP Eingang, um ein paar coole Styles zu schiessen.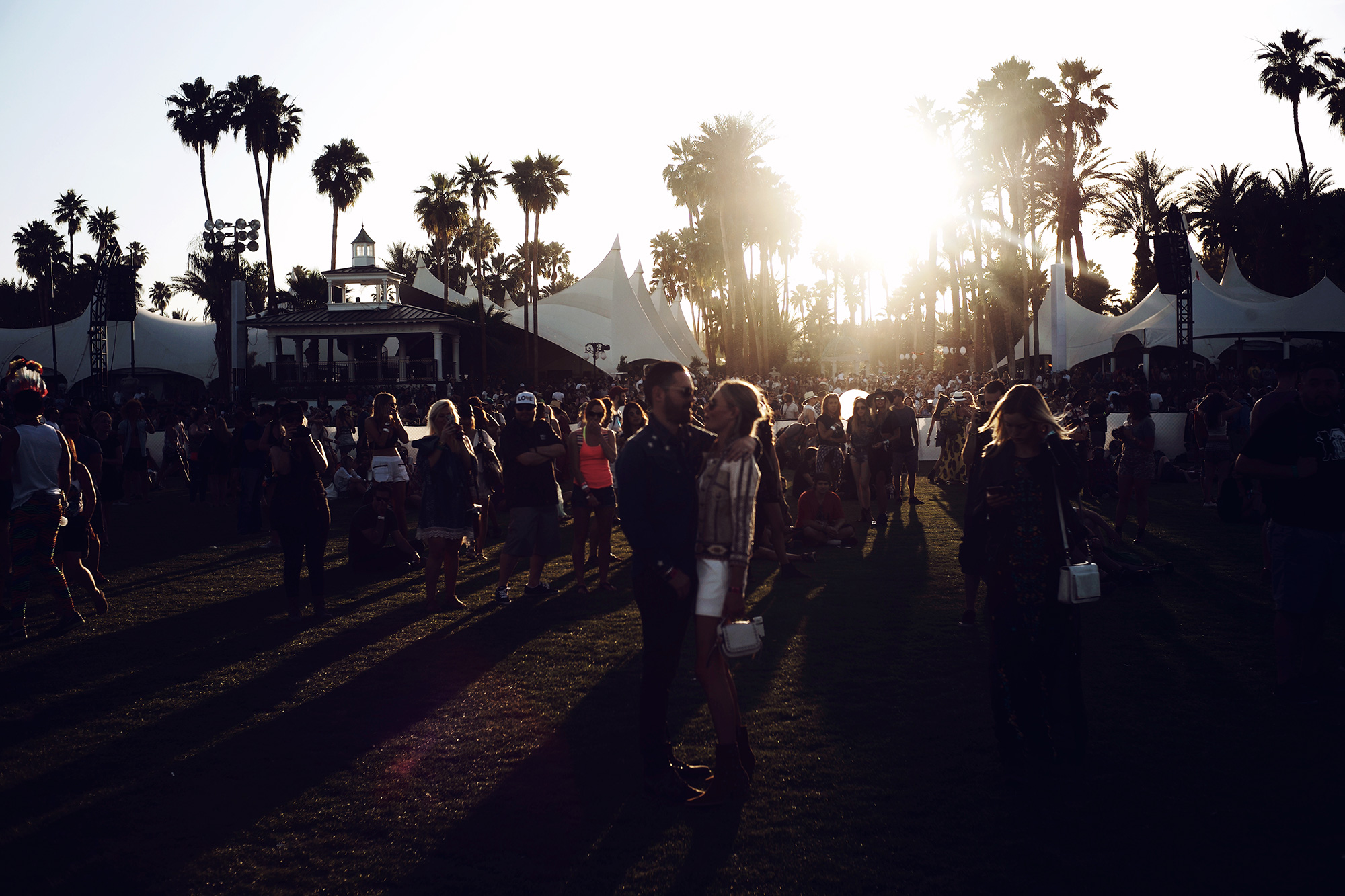 – Und die Stars machen auch noch mit! Stellen sich extra demonstrativ hin, küssen ihren Freund umringt von Fotografen, tun so, als würden sie nach Freunden Ausschau halten oder telefonieren, selbst wenn es gar kein Netz gibt.
Wer also denkt, dass diese Fotos nur zufällige Schnappschüsse sind, irrt sich leider.
Alles ist gewollt und gestellt. Welcome to the Fake World!




– Im Übrigen mussten wir immer eine halbe Stunde extra einplanen, weil wir ständig auf der Suche nach unseren Autos waren, denn gefühlt jeder Zweite war ein weißer Cadillac.
Aber unser hatte am meisten Sexappeal – und er hupte zur Begrüßung.

– Nach dem Coachella war ich so vollgepumpt mit Eindrücken und Outfit-Inspirationen, dass ich am liebsten jeden Tag im Festival-Look rumgelaufen wäre.


So, das war es auch mit meinen Eindrücken vom Coachella, aber natürlich bin ich noch längst nicht fertig, denn noch sind wir in LA und erleben ganz viele tolle Sachen, aber darüber berichte ich dann nächste Woche :)


Coachella, at last!
Evers since I heard about Coachella for the first time – the mother of all festivals – I wanted to go. You can imagine how amazing I felt when I received an invitation! I was so happy I got dizzy. Coachella – a dream come true.
So, my expectations were huge. I had a clear idea how it was going to be: tons of stars, kick-ass styles, great weather and incredible bands. And you know what? My expectations were more than just met… what I experienced in many ways far exceed what I hoped for. Even if there were a couple of things that I pictured quite differently, Coachella is definitely an amazing festival worth checking out.
Here are some random facts for you guys, so you get a better idea!

Coachella Random Facts

– We had VIP tickets and they were totally worth it – for the area alone. The VIP sectors are much prettier than the open visitor areas. They actually reminded me a little of Alice in Wonderland. Colorful lights and stretchers everywhere, all perfectly arranged down to the last bush – super chilled.




– My highlight was the rose garden right next to the Techno stage. Imagine! A huge are filled with roses, a picturesque little fountain and a wonderful flower meadow. Haunted and magical.

– And right next to it you hear Dj Snake spinning the tables.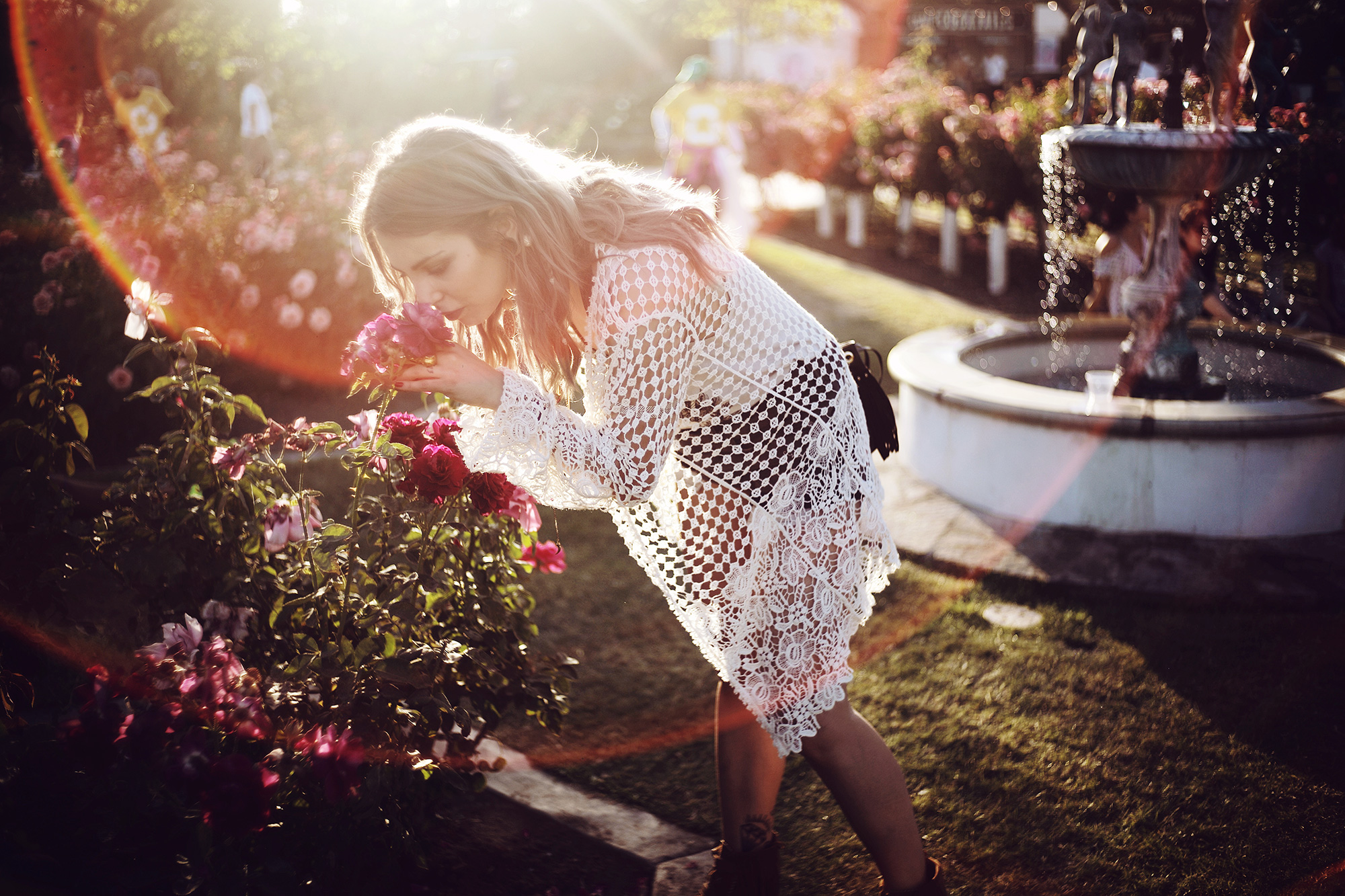 – Unfortunately, I missed loads of great acts that I wanted to see. Either because I was simply too tired in the evening, or because we didn't make it to the shows in time. But it was amazing to see artists like The Weeknd, Marina and the Diamonds and AC/DC.

– Actually, the shows were all so loud that I couldn't really miss anything anyways.

– It is not as boiling hot here as I always heard, even though we were in the middle of the desert. Of course it is hot in direct sunlight, but most of the time I felt a cool, pleasant breeze on my skin, that turned into a proper wind in the evening. I needed a light jacket in the evening to not freeze.




– At Coachella, not only the festival tickets themselves are really expensive, much more so than in Germany. Food is crazy expensive too. A burger costs 11$, an ice cream 10(!!)$. Even a glass of wine will set you back 10 bucks. With my appetite, I turned pretty poor there…

– And then everything tasted so amazing.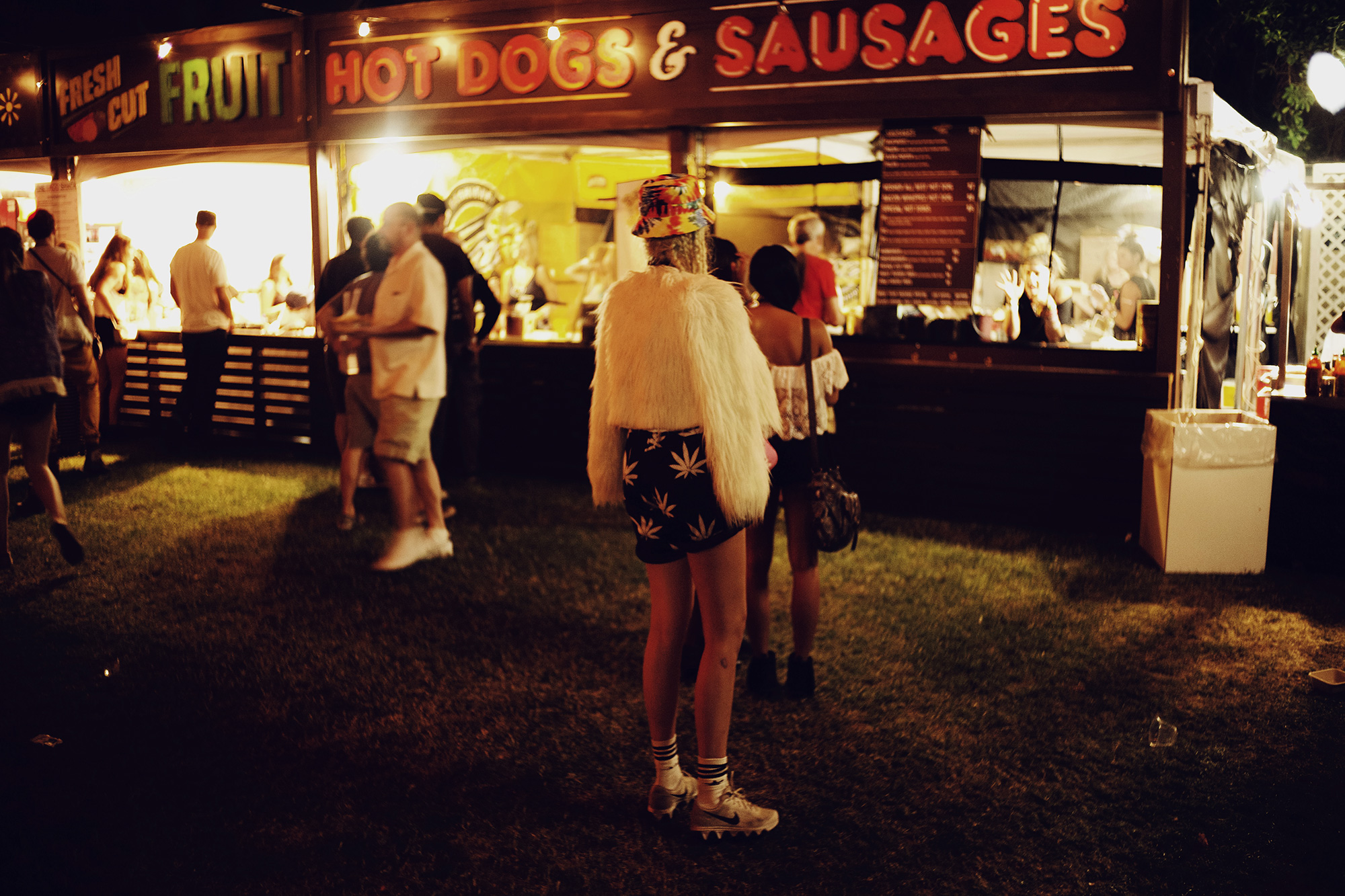 – Did you know that Coachella exists since 1999?

– In order to even get in it felt like you had to pass a million security gates (well, maybe it was closer to 6). One every few meters, to make sure that NO ONE sneaks in. These checkpoints were really everywhere. Oh well, at least I felt safe :)

– Definitive no-go: it was not allowed to take drinks out of the VIP area and the festival area is dotted with dedicated drinking spots, outside of which the consumption of alcohol was forbidden.

– Bringing alcohol onto the festival premise was forbidden as well.

– In other words, no wine from the box for Masha :)

– But the festival area itself was SO beautiful and cool. Wherever you looked there were art installations, light shows and – my personal favorite – a huge glass box decorated as an office interior over multiple stories, filled with people wearing hippo masks and going nuts to minimal sounds. It sounds insane, but let me tell you, it was even crazier seeing it in reality.

– Unfortunately I could not take any snaps during the festival. All pics were blocked and directly erased. Sucks!

– Almost more interesting than the bands were the celebrities that came to Coachella. We saw the whole league of top models from Jordan Dunn, Alessandra Ambrosio, Rosie Huntington and Gigi, but also Paris Hilton, Katy Perry, Bradley Cooper, Kate Bosworth, Cody Simpson and – let's not forget him – Bill Kaulitz :P

– All you need to do is get yourself a nice seat in one of the popular spots in the VIP area, and sooner or later you'll see them all passing by.

– Entering the VIP area always felt like entering a new world. A bubble filled with beautiful people.

– All in all, Coachella is a festival very much unlike others. It is almost like another fashion week event of its own, definitely about seeing and being seen. Everyone is beautifully styled, wearing crazy expensive clothes, and there are Paparazzi practically camping outside of the VIP area to snatch pictures of the hottest styles.

– And the stars are even playing along! Posing, kissing their boyfriends surrounded by photographers, acting like they're looking for friends or making calls even though there's not even a cell phone signal. So, if you see pictures and think you're looking at spontaneous snapshots… you're mistaken, unfortunately. It's all planned and acted out. Welcome to the fake world!




– In other news, we found out that we always had to schedule an extra half hour as we were constantly looking for our cars. Every other ride seems to have been a white Cadillac like ours. But ours had the most sex-appeal – and greeted us with a honk when we opened.

– After the festival I was so full with impressions and outfit inspirations that most days I felt like continuing with festival outfits day after day.

And that's all from Coachella, dear people. We're heading back to LA now, looking for more adventures. Stay tuned for more news and stories from the road next week :)