So, girls, is your figure ready for the summer and bikinis?
I can finally answer this question with YES this year!

If you've followed me for a while you probably noticed some changes over time. A lot has changed for me over the past year. Not only in terms of personal development, also physically. And I have regular exercise to thank for that. Last year I committed to HIIT training, and now I feel better than I ever have in my life. And it is visible and noticeable. It's not even primarily about the fact that I lost quite a bit of weight, I just feel more at home in my body in general. I am more flexible, more mobile, and yes, I think I look better.

A new attitude towards life has taken hold of me completely.
And I love it.
This body is earned. Not given.
Whereas I used to be rather judgmental with myself, and highly critical towards my own body, which also meant that I complained a lot, my relationship to my body has changed entirely. I really like my body now. And the more I move it, the more I like it. I really like the fact that a well trained body shows the muscles. It's a different look to being 'merely' skinny. The muscles are better defined and sculpt the body, signaling that this body is in use. But did you know that there are different kinds of muscles?
In collaboration with Peek&Cloppenburg
(Es gibt zwei unabhängige Unternehmen Peek & Cloppenburg mit ihren Hauptsitzen in Düsseldorf und Hamburg. Dieser Artikel beruht auf einer Kooperation mit der Peek & Cloppenburg KG, Düsseldorf, deren Häuserstandorte ihr unter www.peek-cloppenburg.de findet)
And if you're thinking about styling up your exercise experience, Peek & Cloppenburg recently opened a new POP area dedicated to real movement and athleisure. The Pop(-up) areas, which you find in all of the Weltstadt-houses in Berlin, Cologne, Düsseldorf, Frankfurt am Main and Vienna are filled with new lines and collections by different labels every 6 weeks. On my pictures I'm wearing the KORAL active wear label from London, which I only just discovered. They make extremely cool and edgy sports-wear. No frills, the word is extra sleek.

The pop-up areas are like little self-contained universes with well curated selections of LNDR, S'Well, Happy Plugs, Puma, Landré, Taschen and Grace Flowerbox garments and accessories. That's what I call motivating. The best thing about the athleisure trend is how wearable and comfortable the garments are in everyday life. In other words, whenever your lazy side wins you still won't have to feel too bad.
There are 'long' muscles, which optically stretch the body, and 'short' muscles, which appear broader. I prefer the former over the latter, even though – or maybe because – I have the feeling that my body is somewhat predisposed towards building the second kind more quickly. Short muscle mass is prevalent in body building, and it really makes you look packed. Long, slender muscles, on the other hand, appear more defined and make you look trained and slim.
So, how to build those 'long' muscles?
First you need to be aware that everyone of us has a different amount of muscle fibres. Some of us a naturally predisposed towards strengths, others more towards stamina. But apart from genetics, it also makes a difference how you train.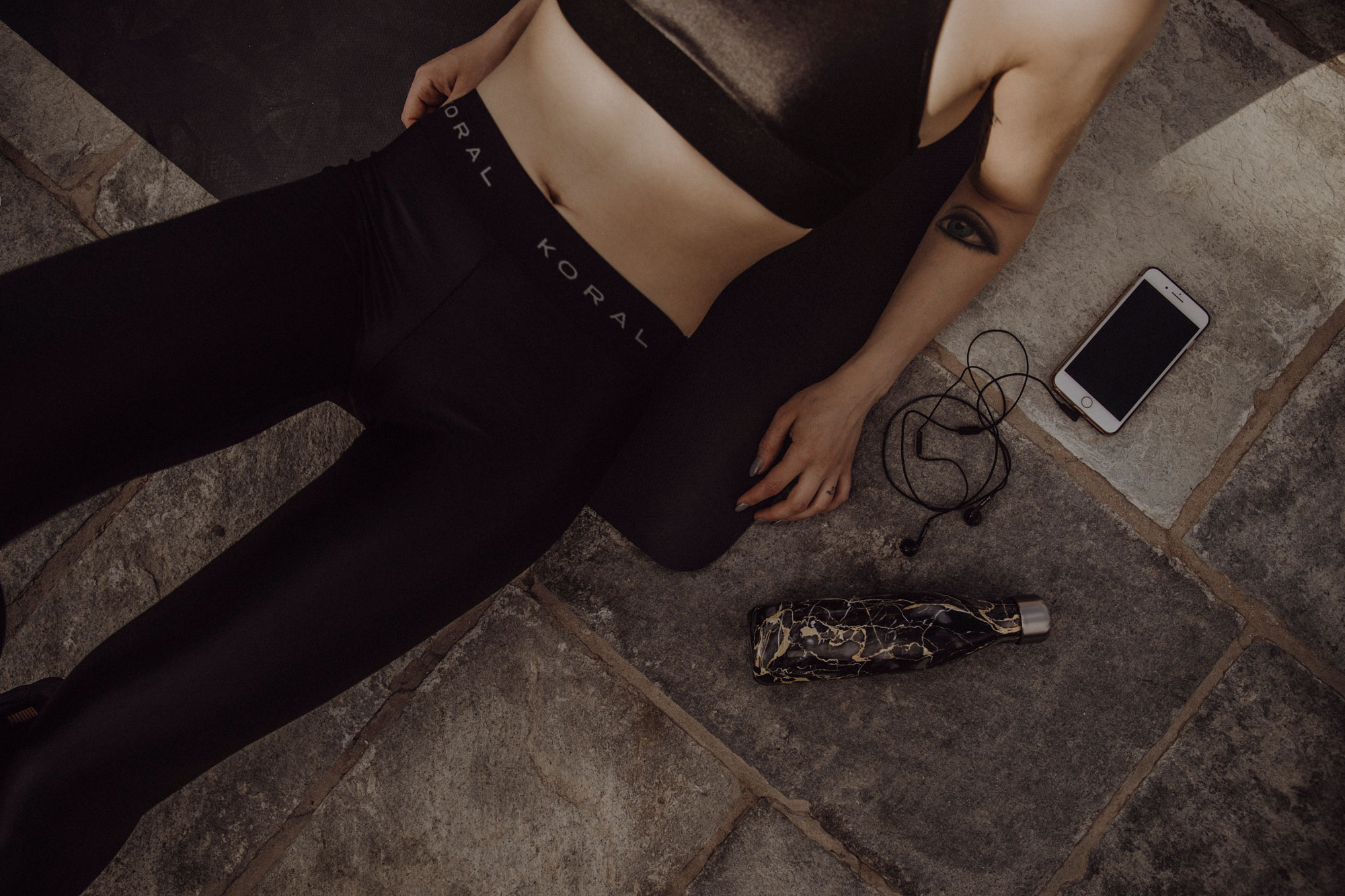 Building those coveted slender muscles requires perseverance, above all. You have to play the long game here, short spikes in activity won't help, as these particular muscles are built through consistent and regular training. That's one of the reasons why I'm such a fan of the HIIT training method, enough so to have worked out consistently for 3 days a week for a prolonged period by now.

The HIIT training combines endurance workout with intense muscle building exercises. I have tried a wide range of exercises over the past year and half, and one stood out as particularly challenging throughout: Burpees – the basis of every HIIT training, and the exercise I love to hate.

Burpees involve the whole body, really challenging your organism in its entirety. They essentially consist of a combination of squats, jumps and push-ups. But burpees have another advantage: they are modifiable, allowing you to target specific areas even more intensively. I though I'd share some recommendations for your (and my) next workout here, so, let's take a look.
Burpees
Stomach
Reverse Burpees
In this exercise you do kind of a backwards roll and then jump. It's important to use the momentum of the roll from the stomach area to get up. If you do it right, you won't have to use your hands and land on your feet.
Burpees with Lay down
This one is similar to the push-up variation, with the difference that you go down all the way to the ground, flat on your stomach, and then you stretch the arms all the way out before pushing yourself up again.
LEGS
Burpees mit High Jumps
The objective of this exercise is to jump as high as you can with your legs.
Burpees with Double Jumps
This is a variation of the exercise above, in which you jump twice instead of once.