| sweater: 5preview | jeans: dr.denim | clogs: sandgrens |
Überraschung!
Heute gibt es den ersten Teil einer neuen Theme Week!
Bis Freitag zeige ich euch jeden Tag einen neuen Look mit einem Teil aus der aktuellen Kollektion eines absoluten Lieblingslabels, diesmal 5Preview.
Geschossen wurde die Serie vom Fotografen Len-Eric Schnering, ein junges Talent aus Berlin.
Weil eben nicht nur ich, sondern ganz Berlin und auch 5Preview sehr vielseitig ist wollten wir eine klassische, herbstliche Seite interpretieren. Eine, die man vielleicht von allen Komponenten nicht erwarten würde, eine die überrascht, aber auch erfreut.
Und los geht's – ich bin gespannt!
Surprise! Today starts another Theme Week in collaboration with 5Preview and shot by photographer Len Schnering Eric, a young talent from Berlin.
Isn't that cool? So here we go!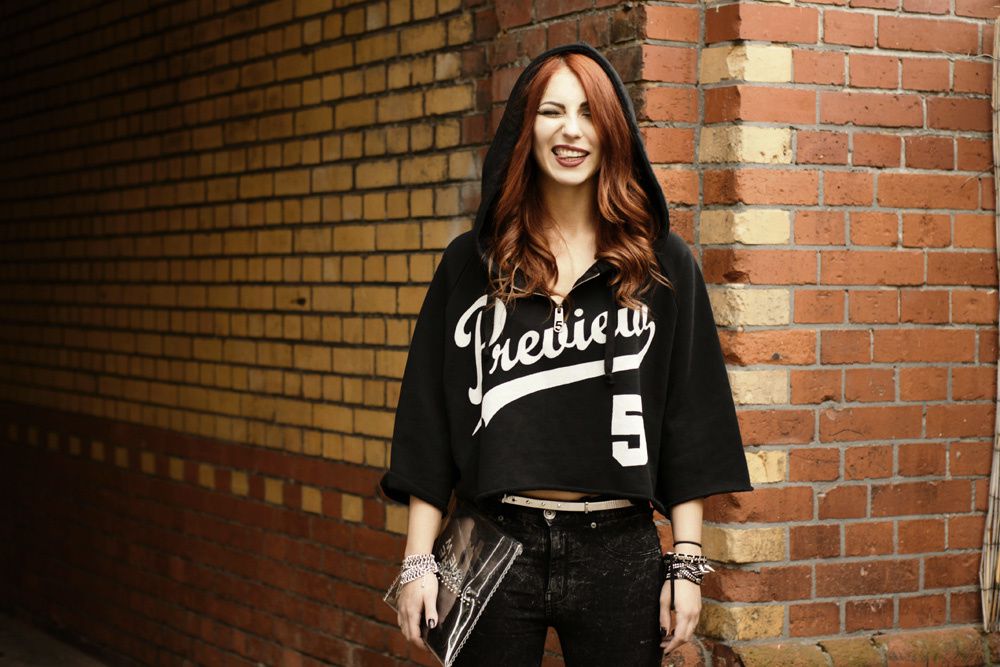 Über 5Preview:
5Preview gehört zu den Labels, dessen Fan ich seit der ersten Stunde bin. Erst 2008 gegründet ging das schwedische Label sofort durch die Decke, weil seine ironischen und coolen Designs sofort viele Menschen ansprachen, ja, auch mich – ganz klar! Entsprechend fühlte es sich an wie ein Ritterschlag, als ich mit ihnen kooperieren durfte!
Mittlerweile macht 5Preview nicht nur coole Shirts, sondern ganze Kollektionen für Frauen, Männer und Kinder, bleibt seiner Linie dabei aber immer treu.
Was ich daran besonders liebe sind die coolen und innovativen Schnitte, die Liebe für die Farbpalette schwarz/weiss/grau, die ich absolut teile und die wahnsinnig gute Qualität.
Bis heute ist es eins meiner absoluten Lieblingslabels und hat deswegen seine Daseinsberechtigung in der Theme Week mehr als verdient.
About 5Preview:
5Preview is one of the labels that I follow since the first hour. Founded in 2008, the Swedish label immediately went popular, because of it's ironic and cool designs. When we started to collaborate together I was more than happy about that!
What I love most about the brand are the cool and innovative cuts, the love for the color palette black / white / gray that I share and the good quality. Today it's still one of my absolute favorite labels and therefore I'm very happy to show you a theme week with items from the new collection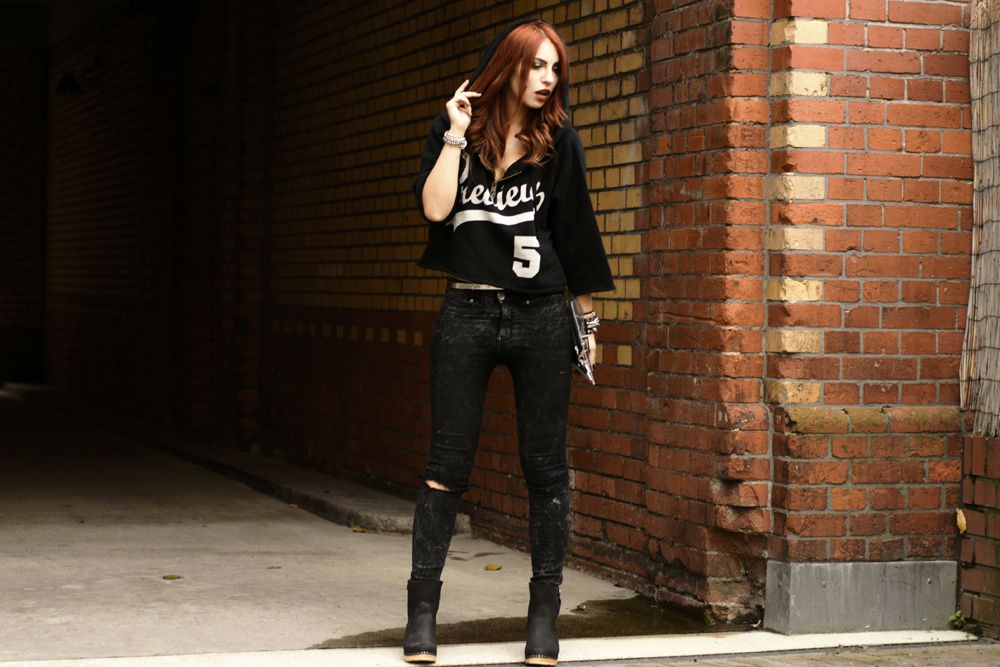 Über den Fotografen:
Len-Eric Schnering ist eigentlich Fotograf, wobei uneigentlich seine große Liebe die Regie ist. In seinen jungen Jahren hat er schon der ein oder anderen Kurzfilm gedreht und sprudelt über vor kreativem Talent und Ideen. Er interpretiert die Dinge gerne neu und legt Wert auf die perfekte Mischung aus Ästhetik und Kunst.
Er kommt eigentlich aus dem Süden Deutschlands und ist erst vor Kurzem nach Berlin gezogen, eine Stadt, die sowieso besser zu dem Freigeist passt und wo ich ihn auch getroffen habe. Ich habe ihn tatsächlich erst vor Kurzem kennenlernen dürfen und das obwohl es seit Jahren Linas bester Freund ist. Verrückte kleine Welt, oder?
About the photographer:
Len Eric Schnering is a photographer with a big love for the film. In his younger years, he has already shot one or another short film and he's full of creative talent and ideas. He interprets things new and creates in his work the perfect mix of aesthetics and art. He comes from the south of Germany but he moved to Berlin recently, a city that fits better anyway to the free spirit and where I have met him for the shoot. Funny, that I've met him only today, although he's Lina's best friend for years. It's a crazy little world, right?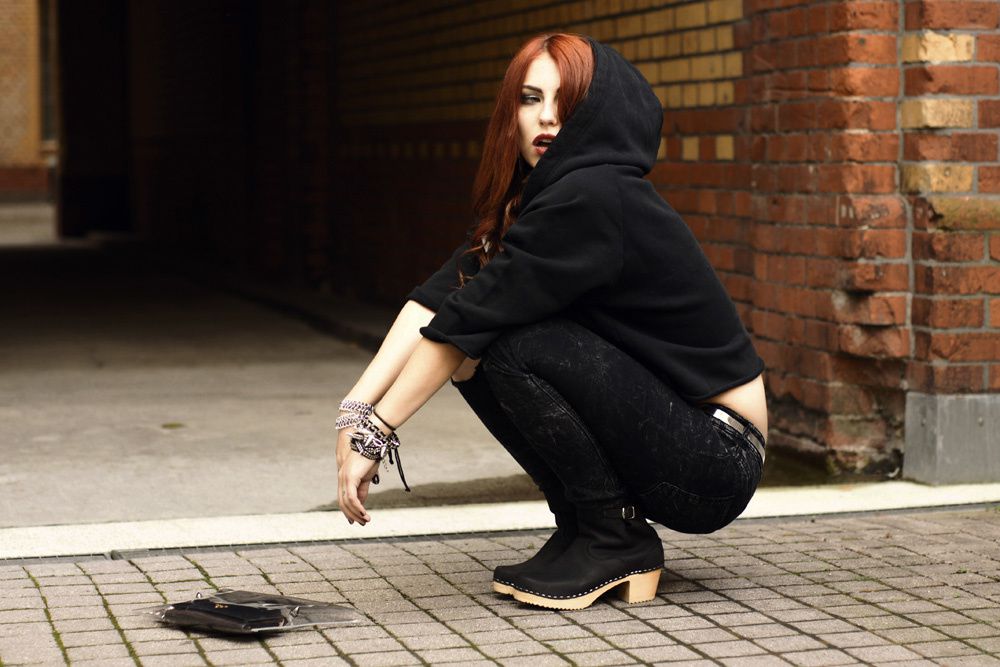 Zum Outfit:
Ich zeige euch heute direkt mal eins meiner Lieblingsoutfits aus der Serie:
Der kurze, bequeme Pulli in Kombination mit der Jeans gibt dem Ganzen eine coole, sportliche Note. Damit das Outfit sich auch genauso anfühlt wie es auch aussieht, trage ich schwedische Clogs dazu, die nicht nur tierisch bequem sind, sondern auch gut aussehen und gut für die Füße sind. Insgesamt passt das Outfit perfekt in den Herbst, weil der Pulli von innen kuschelig ist, die riesige Kapuze notfalls bei spontanem Regen hilft und einfach alles schön dunkel und bequem ist.
Ich bin gespannt, ob es euch genauso gut gefällt wie mir :)
The outfit:
Today I start with one of my favorite outfits from the theme week: The short, comfortable sweater in combination with the jeans gives the whole thing a cool, sporty look. To keep this look like that I wear Swedish Clogs, that are not only super comfy, but also good-look and are good for the feet, too. Good deal! I'm curious if you like it as much as I do :)