.

TK Maxx challenged me recently with the following question:
'What are your 10 Fashion Facts?'

In principle, I am an intuitive person, and I don't live by rules or guidelines all that much. But when it comes to fashion I sometimes catch myself adhering to principles that more often than not influence my buying decisions and serve as great overall orientation.

These principles take the shape of guidelines like 'never combine brown and black'. Just an example, I actually like this combination quite a lot. Well, you get the idea, I have a few set ideas that I tend to bear in mind, and I also have a bunch of 'safe' combinations that I always feel work and that I tend to go for. More often than not these consist of classics, and why not buy those a bit cheaper? That's one of the advantages of having found your style: you know what you want and are less dependent on trends of the season. Some favorite peaces are with you for many seasons, and tend to become part of your repertoire, just like the guidelines themselves:


10 Styling Guidelines
The Feel
Probably most important for me is the feel of a textile. First and foremost, my clothes need to feel good. I have a soft spot for high quality, flowing textiles, which I tend to wear with the biggest enthusiasm. Cotton, cashmere or silk – the quality of textile and the cut are crucial for me, especially when it comes to timeless pieces.
Mules are the new sneakers
In my humble opinion, flat shoes barely ever look as good as high heels, which tend to elongate the legs. That said, walking on high heels all day just because they look great is not really realistic for me. Beautiful, flat shoes to the rescue! Fortunately the choice is huge, ranging from boots to sneakers and – increasingly – mules. Since I bought my first pair of mules I have developed a veritable obsession by this shoe style, and wouldn't want to miss it anymore. When I run out of ideas I tend to go for mules – they are stylish, comfy and add a note of coolness to every outfit. Exactly what I need for my looks!
The Logo Bag
No outfit without a pretty bag!
Most of all, l love to invest in bags and shoes. Not only do bags have the advantage that they tend to be timeless and that you don't need to worry about sizes, a bag can actually upgrade an entire outfit.
My favorite category are small to medium sized black bags with golden details and not too overpowering logos. That said, I am also a huge fan of eye-catching statement bags (see point 5 above). The bag should be of the highest quality, ideally by a cool designer. I am also quite critical regarding the exact size. I own few really large bags, and tend to reach for smaller models with just enough space for the essentials (wallet, keys, cell phone, lipstick, battery, maybe a camera). I have pretty much transitioned from linen bags to designer bags over the past couple of years.
Isn't a growing bag collection just one of the best things about growing older?
Trench-coats round off the outfit
As far as my style is concerned, I love to combine English and French elements, or, in other words, femininity and a bit of rock'n'roll. Which clothing item is central to both styles, you ask? The trench-coat!
French and English girls love it – and so do I. A cool, classy trench-coat rounds off every outfit, looks extremely cool and on top of it is really practical! And there's more than the classic brown: light grey and olive tones can look amazing and can really help to spice up your outfit in an unpretentious way.
I love striped shirts
I do not tend to wear that many patterns, but there are two exception which I love a lot and which ALWAYS work: plaids and stripes, especially plaid blazers and stripe shirts. If you were to glance into my closet you'd be surprised how many striped tops in all conceivable shapes and colours I have in there. The reason is simple: when I run out of ideas what to wear I tend to fall back on a stripe shirt and well-fitting jeans, which I then combine with accessories. Not only is this outfit incredibly comfy, it is also a real allrounder, suitable for every occasion and still never boring.
The red Clutch
In my opinion, every wardrobe needs to include a small, red bag. In my experience, such models work with most outfits and add a cool yet elegant note. It's a bit like that little dot of paint that makes the difference between an ok painting and a masterpiece. I own several red bags, which have helped make many an outfit shine. The best thing is how timeless red bags are. If you invest cleverly, you will find your small, red bag to be a trusted companion for a long time to come.
Hats are where its at
If there's one item that I'd consider under-appreciated then I'd say hats. A good hat is more than a piece of felt to cover your head. Ideally, it is an eye-catcher that doesn't give away too much about the girl who wears it. Maybe it's the slight sense of mystery that makes hats so exciting. Hats have been around for centuries, and have for long periods suggested wealth and status of those who wear it. In many phases, hats were essentially reserved for men. Personally, I like to use hats to create a sense of elegance or bobo-chic. And I also like to reach for one when I'm not 100% happy with my hair.

Nude is the new black
Ok, I may be exaggerating here, black and greay are by far the most prominent colors in my wardrobe after all. That said, my appreciation for nude tones has grown enormously. Just like black, nude seems to work in combination with pretty much everything. Where black tends to create a hard contrast, nude is often the softer, more tender option. Nude is especially prevalent in my collection of shoes, where it is the most prominent color after black, followed by all kinds of more colorful models. So, while nude may not quite be the new black, it is definitely an amazing alternative.
The right cut
I used to have a much clearer idea about which items don't work for me at all. Today I know: everything is wearable as long as the cut (and the material) is right. A good example are white trousers. I wasn't much of a fan, white trousers tend to look rather unflattering and have a weird image, after all. But even white trousers can look good and contribute nicely to my style, when they come in the right cut. In my case, the perfect cut would be slightl over-sized, mum-style, with a nice fit on the hip, as opposed to super-tight jeans for sausage-style legs. The same is actually true for dressers, blazers, etc.
There's only one catch: what constitutes a great cut is highly subjective, and what looks good on one girl may not necessarily work for the other – every figure is different. But I know this much: there is the right cut for every body shape.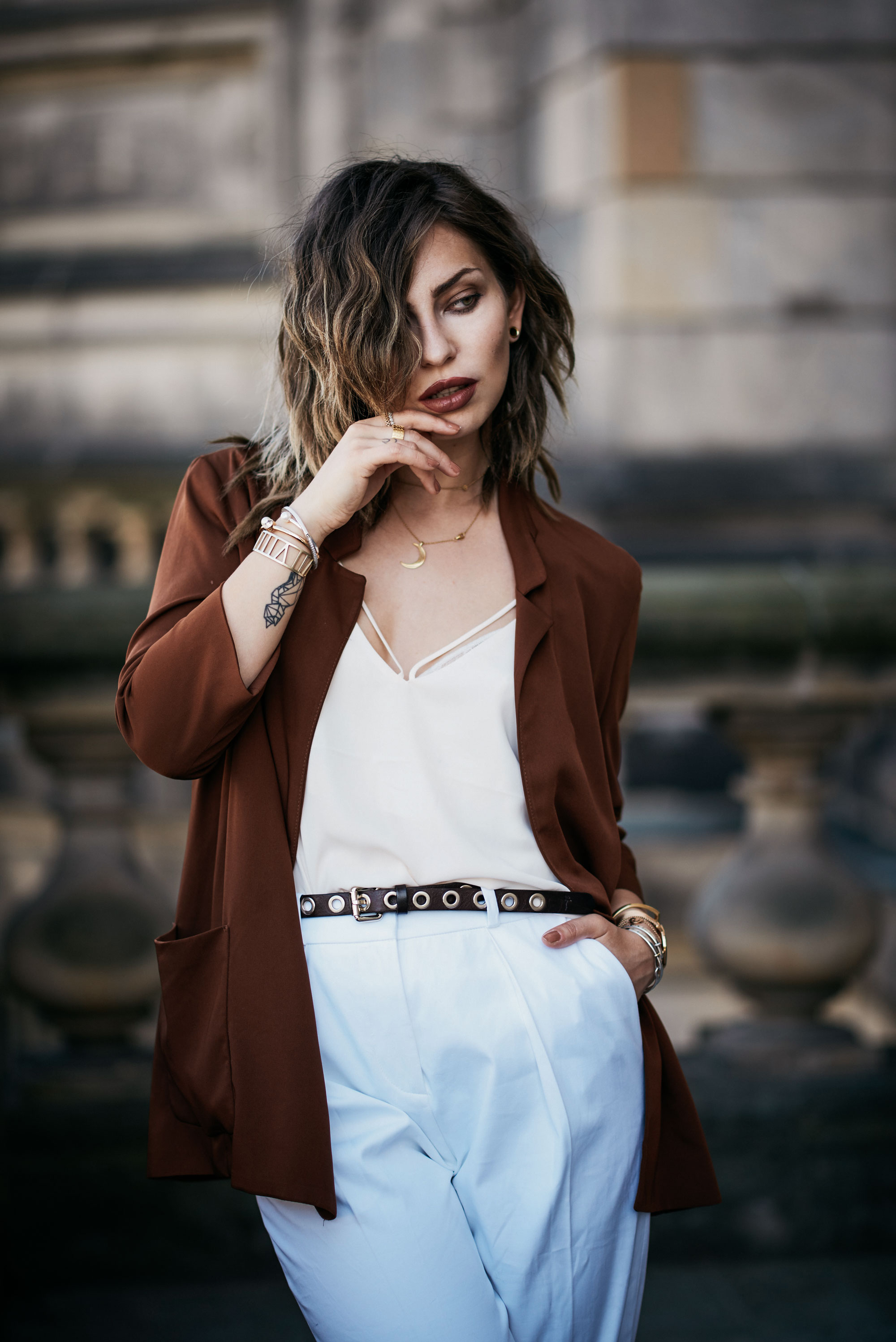 Sun glasses are the cherry on the cake
Shades are indispensable in summer. But how often do we reach for the same model, safe in the knowledge that it works with everything, while it would be so much more exciting to match sunglasses to the rest of the outfit, just like shoes. I do love my standard model, which I know works whatever may come, but I love statement glasses just as much, especially when they are matched with the outfit and round the whole look off. You can never own quite enough sun glasses. Even though shades are subject to trends, they do not tend to go in and out of question on a seasonal basis. I own several models, and make a point in holding on to the really cool ones!
Übrigens: I am, of course, of the opinion that quality counts, and that it should always be a consideration when you purchase an item. Unfortunately good quality items tend to cost a lot more than pieces bought in the typical fashion chains. And that's exactly why I am such a huge fan of TK Maxx. The store's concept is simple and straightforward: top brands, including real designer labels in the gold section, are up to 60% cheaper in a range of segments (women's wear, men's wear, children, accessories, shoes and even interior). In the store, the treasures are arranged by categories first and sizes second. This has the huge advantage that discovering new brands becomes easy and fun. From my own experience I can tell you that my TK Maxx shopping sprees have always yielded results, and I have never left empty handed. Whether classics or real trend items, the range on offer is so huge that you are sure to find the right style and size for the right budget. Even when I don't know what I am looking for I tend to find what I need. And let's face it, that is why we love shopping, isn't it?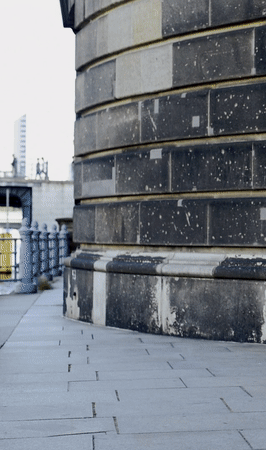 in Cooperation with TK Maxx