.
Here's a little thought experiment – how do you imagine the perfect companion for every situation? He has to look good, be sexy. That much is a prerequisite, for sure. But the inner values count too: he has to be flexible. After all, you want to share experiences, get around, embark on adventures together. He should be charming, rather than over-powering and showy. He should convey the impression that he faces life in the city with a wink. At the same time, he needs to pack power – who wants a lethargic partner? But above all, the perfect companion should be:SMART!

To all the girls out there: if you were reading this hoping to find answers how to find the perfect man: sorry, that's not what this post is about. I am obviously not qualified to hand out tips in that respect. But if you're looking for a companion to take you wherever you want to go, no matter the time of day, then you should get a smart fortwo cabrioconvertible!
And we spent some unforgettable summer evenings together.
.
There's a widespread belief that you don't really need a car in Berlin. Sure, we have a great public transport network here, which actually takes you from A to B pretty swiftly within city limits, and you know how crazy traffic can get in this town. At times it's pure chaos. But the thing is, I find that more and more I long for a little bit of quiet and comfort every now and then. My life is hectic enough without the usual hustle and bustle of the city. Fashion Week here, shooting there, the odd video production, meetings with clients – and then I haven't written my next blog post yet and am way behind with my accounting. It really can be quite tough sometimes.

With all of these things going on, having my little companion by my side was a joy and a real lifesaver this summer! No endless waiting at tram or bus stops, no dependence on taxis. And size matters in this respect, too, the fact that my buddy is so compact is a huge advantage in the chaotic city traffic of Berlin. Parking is a breeze, it fits practically everywhere, crossly, if need be, and turning round with it while driving feels like sitting in a gyro instead of a car. Turning radius? Zero! Another huge plus is the low consumption. Combined fuel consumption: 4.2 l/100 km, combined CO2-emission: 97 g/km. In other words: outstanding!

Ok, so there is a lot to love with this little guy, but the cherry on top is the fact that its a convertible! Every summer evening is improved by the sensation of the evening air blowing through your hair, the feeling of the last rays of sun on your face as you head with a friend towards some exciting destination to end the day relaxed and in style. My little companion really helped me to make the most of this all-too-short summer, and was with me on the most beautiful evenings I spent this season. Quite a few locations are simply so much easier to reach by car, which sets a much more relaxed tone for the entire evening than the whole odysee of public transport and long walks to the venues. Some locations are pretty much only fun if you have the option to go by car. So, without further ado, here are

5 great places

in Berlin to visit by car!
Klunkerkranich
I am in love with the outstanding view you get in this venue! Honestly, if the U7 metro line wasn't such a disaster, I'd be at Klunkenkranich much more often. Luckily, with my Smart I just didn't have that problem anymore. The venue, which is located at the top of the multi-story car-park of Schönhauser Arcaden mall, offers a fantastic view over the city. The atmosphere is further enhanced by the great music these guys put on. An absolute MUST!
Café am neuen See
To gaze out at the water with a cup of coffee, to stroll along the pier, or watching the sun settle behind the trees with a glass of wine in my hand: the Café am neuen See has become something of a guarantee for awesome summer evenings. It is located right at the waterfront, with a beer-garden behind the house, and one of the nicer views onto the city. The café itself is furnished with a a lot of wood, which gives it an incredibly warm and cozy feel. A huge recommendation!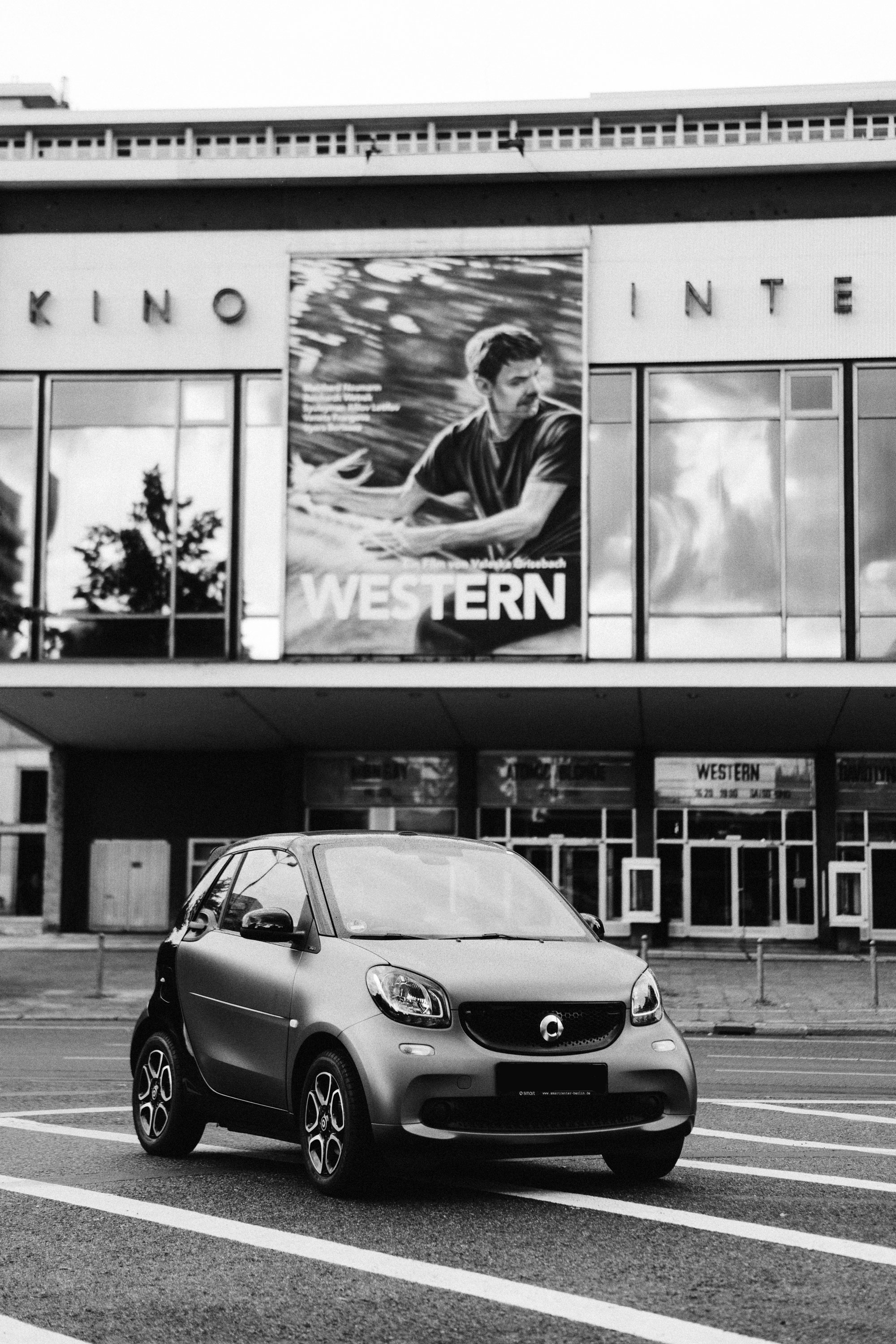 Kino
International
What to do when it rains? How about the movies? Even if you're not much of a movie aficionado, Kino International is well worth a visit. The 50s interior, the wood-paneling, the spacious foyers and most of all the huge panoramic glass front make this famous cinema building truly unique. And to top it off, Kino International shows a fantastic selection of arthouse movies!
Westhafen
Who ever said there are no ports in Berlin? Westhafen is another venue right at the waterfront, albeit in a slightly more central location. If you prefer a more tranquil and relaxed hangout place over the many party venues, this one's for you. Quite often there's not that many people here. It's absolutely perfect, especially arriving with your trusted companion.
Vabali Spa
If you always felt like taking a trip with the Orient Express, this one's definitely for you. Jump in the car and set the navi to Vabali Spa. I love the beautiful sauna landscape with the dazzling oriental style outdoor pool: richly decorated wooden ornaments, wide open rooms and halls, framed by arcades with wooden pillars, lovingly designed, opulent private rooms – you name it. Getting there with public transport is a bit of a mission, especially getting back – who wants to get on the metro after such a spa experience, which is essentially a mini holiday. A car, on the other hand, makes this one a breeze and a no brainer! I recommend a visit from the bottom of my heart!
in Cooperation with Smart