"You look like Blondie."
When I wore my hair in a blonde bob, I used to hear this compliment quite frequently – and it never failed to make me happy! As you may imagine, Debbie Harry is one of my absolute favorite icons – both musically as well as in terms of fashion. Apart from her iconic hair style (she will always be associated with her blonde bob!) and her music, I love her attitude, which is best summed up like this: 'I don't give a f***.' If you've been reading my blog for a longer time (or if you know me in person), you have a rough idea of the phases and trends I went through, and how little there is that I didn't do yet (especially when it comes to dyeing my hair!). But no matter how many looks and hair styles I tried, there is one constant: I stay true to my attitude. I don't really care what others think about my style.
The thing is, if you opt for a radical look early in life (in my case my over-the-top emo style), you learn quickly to ignore the looks you get on the street, until you don't even notice them anymore. I always liked my style, and that's what matters. Over the years I have adjusted and changed my look many times, and while on some days it may someti seem downright tame now, especially compared with some of my previous styles, it's still not important to me how anyone else reacts to my fashion choices. Too sexy? Too risqué? Too black? I don't give a f***. What matters is that I like it.
.
[parallax-scroll id="60233″]
"The only person I really believe in is me." Debbie Harry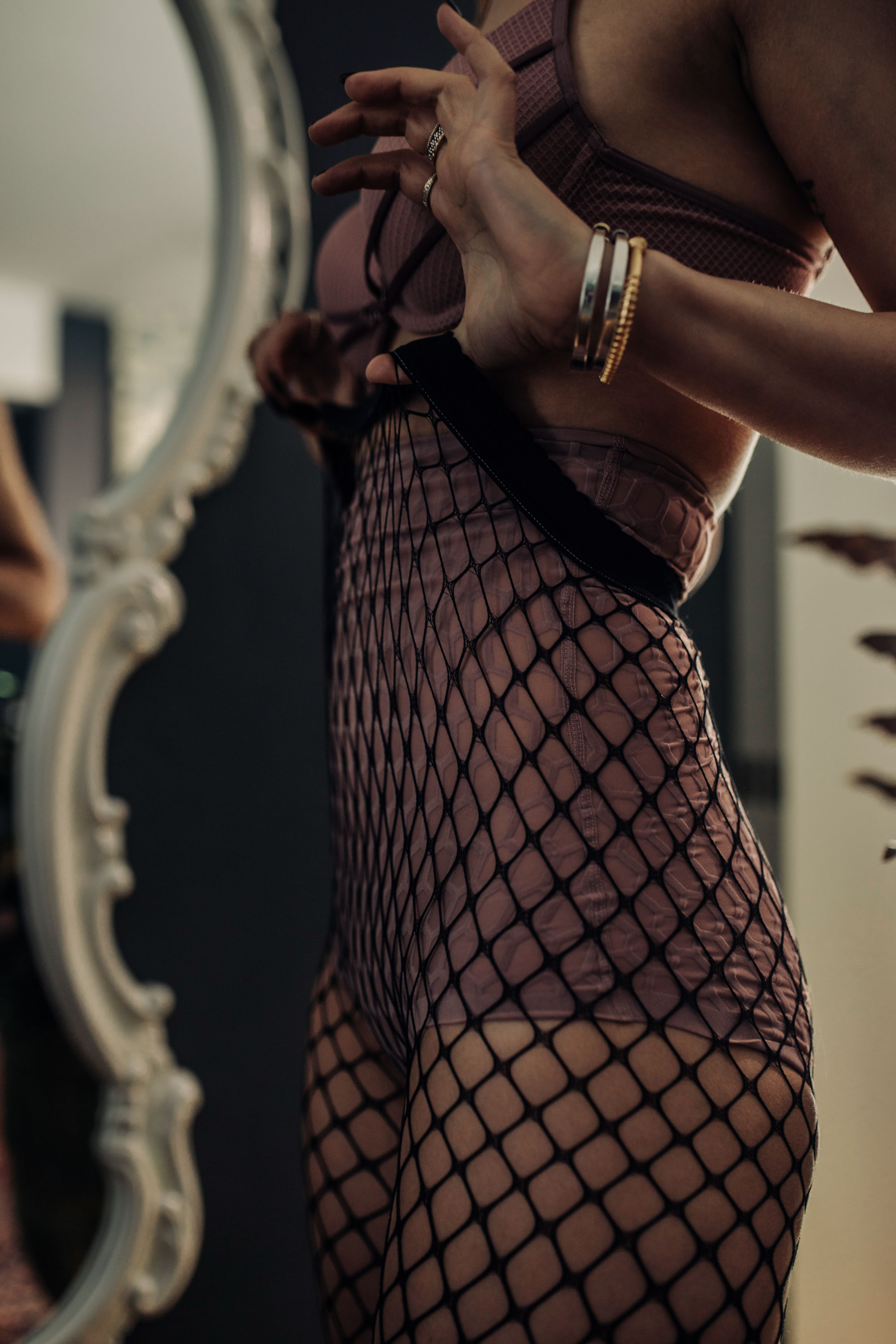 That sums up the most important lesson I learned from Blondie: The moment you stop wanting to appeal to the mass, you can start to enjoy your looks on your own terms. It's the ultimate freedom: wearing whatever you want, being the person you want to be. I mean, honestly, why bother being like everybody else?
Do fashion icons like Debbie Harry listen to what the crowd says? I don't think so. Do I regret my radical styles from back in the day? No way! Do I regret the many chances I underwent over the years? Most definitely not.
On the contrary: trying everything I did lead me to who I am today. It lead me to myself. I know exactly who I am, what I like and what suits me. I stay true to myself. I have learned this, among others, from teachers like Debbie, Gwen and Jane, and I am grateful to them. So, naturally, I am stoked to see that Wolford has dedicated its newest collection to these rock icons. Wolford, of all brands! The label that's always been my mothers favorite! I think I may have inherited my love for Wolford from her.
To this day I spend quite liberally on tights, probably because my mom always used to tell me that cheap tights make the whole outfit look cheap. In fashion, as in life, it's all about the details. The same is true for bodies and other fashion items, by the way. In my experience, Wolford looks classy and feels comfortable on the skin, with the durability to get you even through long and stressful days. I think Debbie would approve!
In collaboration with Wolford