.
It's not even the weekend yet, and I already find myself in some hip and trendy bar. I guess that's what you do these days, during the week seems to be the new weekend, at least that's how the walking Chanel bag explained it to me just five minutes ago. It's Fashion Week, after all, and I am surrounded by people whose closet is as big as my entire room, but whose biographies fit onto a grain of rice. There's laughter and chatter everywhere. The mood: fake exuberance. In this environment, there is no such thing as an honest talk over a beer – instead you get fake babbling with oysters and champagne.
I'm somehow in the middle of it all, yet also not really part of it.
I am uneasy, as so often amidst superficial small talk about beach clubs and the endless loop of who-knows-who. I tend to avoid beach clubs if I can (I never understood why you would confine yourself to a few square meters of beach and maybe even fight for a beach chair, with a practically empty beach just a few meters down), and I have never been a fan of pointless conversation. I am aware that this may contradict the stereotype of the typical fashion blogger. There's a widespread belief that fashion bloggers are always brats with rich parents. And it's often true. Many girls have wealthy parents, and define their identity through that wealth. To an extent that's just natural.
The thing is, if you run a fashion blog, high end brands will only want to cooperate with you if you are already wearing high end. And in order to wear high end you need to own high end – and always the latest shit, no less. As an average student without a 4 digit monthly budget just for fashion it is impossible to keep up. And those few fortunate ones with money to back them can always lean on mum and dad. There are other examples too, of course. Young women and men who distance themselves from the wealth of their parents, in an attempt to build something with their own strength. I have nothing but respect and admiration for that specimen. It is a very rare one. Not only in fashion circles, by the way.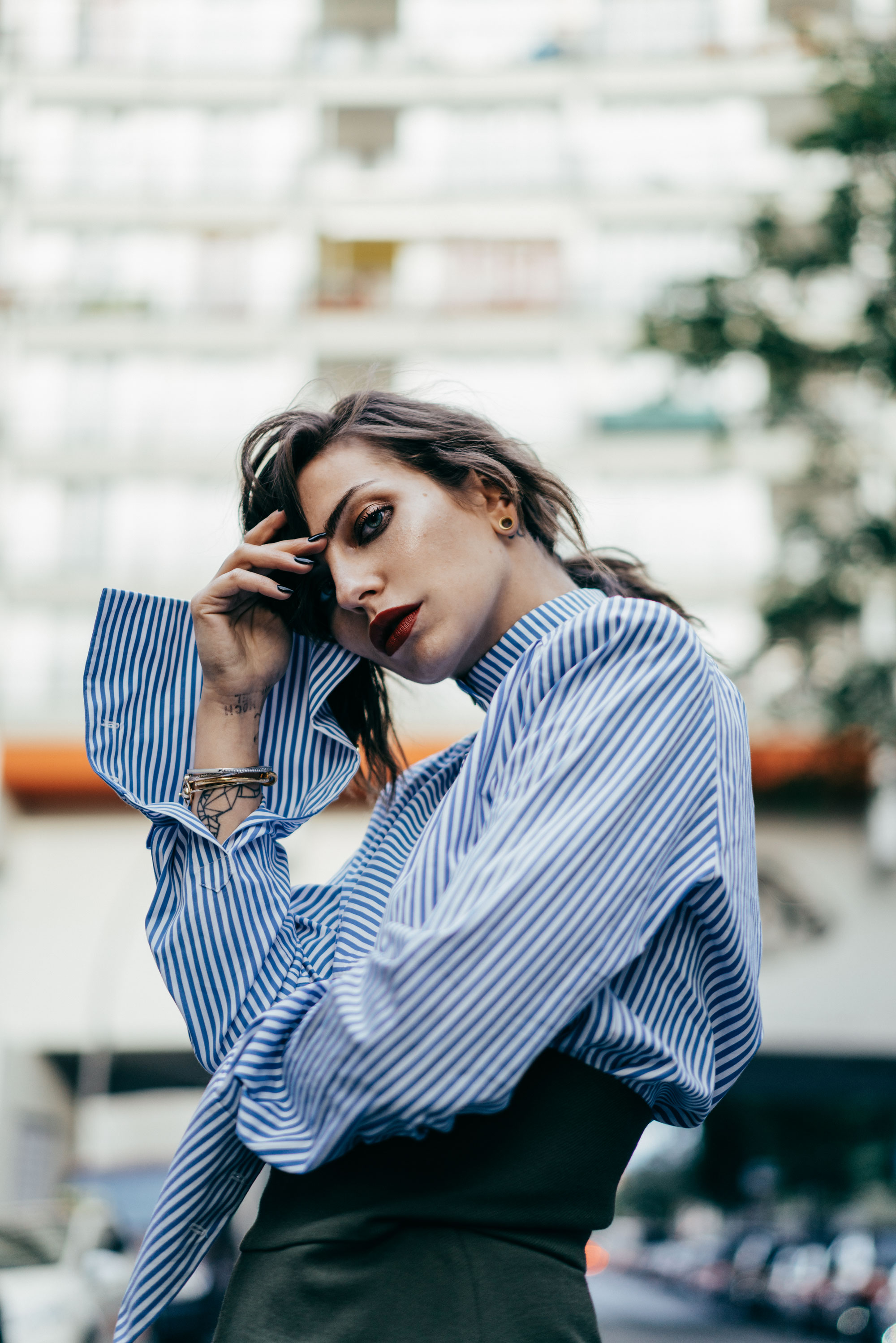 shirt: Antonia Goy jacket: Baum & Pferdgarten shoes: 3.1 Philip Lim
A young man walks up to our table. She introduces him to me. 'This is Phillip'. Later she would whisper: 'His father is on the board of XY enterprises'. I feel sorry for Phillip. Does he know that this is how he's being introduced. Is this maybe all he knows? I find the whole thing very distasteful – and that even though I like Phillip, he's a nice guy, regardless of who his father is. I wonder whether Phillip has real friends. You know, friends that will be there for him once the flow of money and champagne ceases. Maybe even someone who'd happily share the bill. I wonder if he is asking himself those same questions, looking down from the top of the wage pyramid, where fate or coincidence has placed him.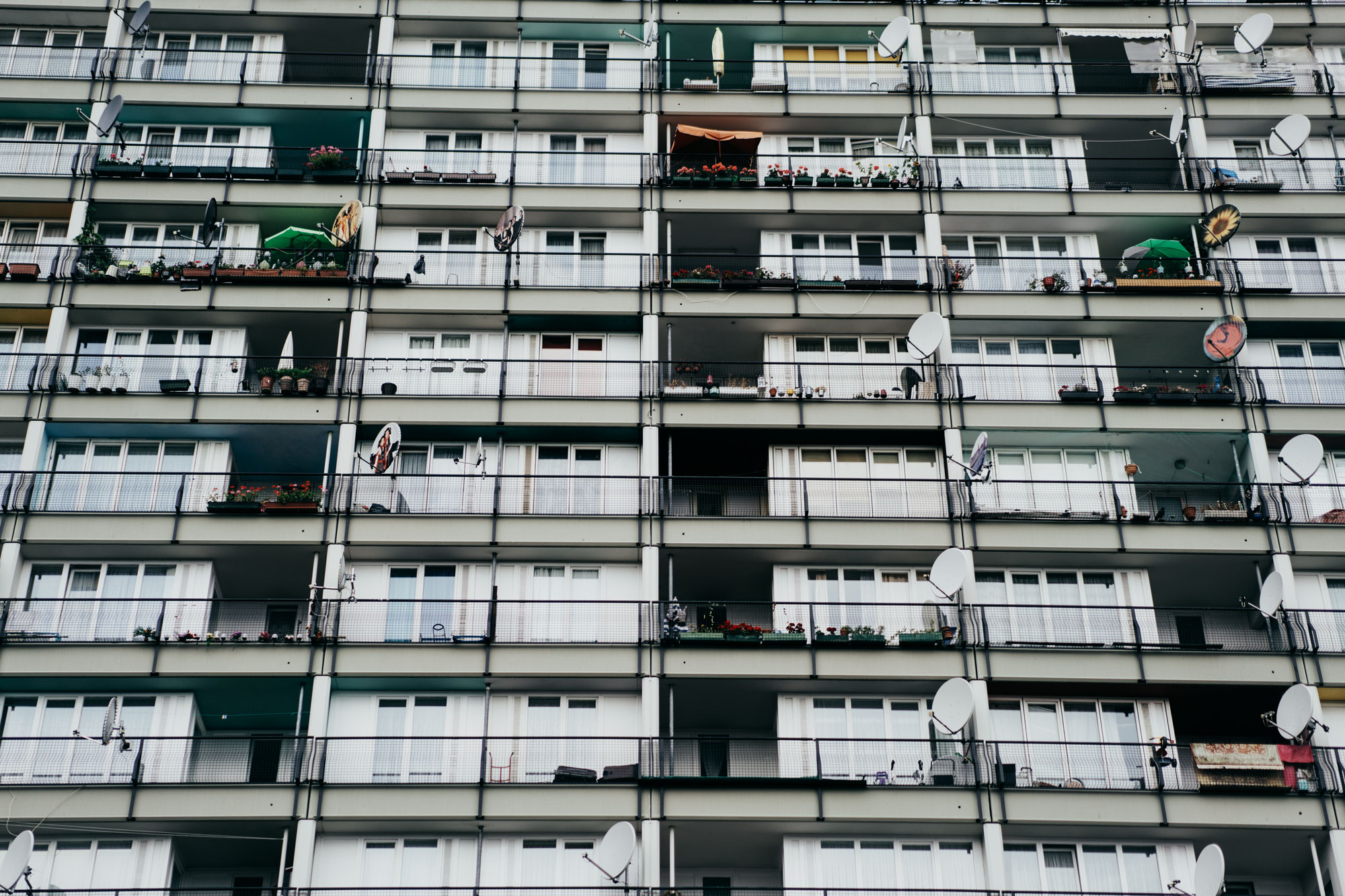 jumpsuit: Antonia Goy shoes: Saint Laurent
My childhood was similar to that of many millions of other kids. I attended a public school, wore clothes by H&M and Benetton and went on beach holidays in Turkey with my parents. We were a typical middle class family. Average. We lived in a relatively spacious 3 room flat, which we were happy with. The special moments of my childhood were not defined by toys or consumption, but rather by things like baking christmas cookies together. I only really became conscious of money after school. As student I lived off roughly 800 EUR per month, of which I had to pay food, rent, enrollment fees and all the other expenses of life. I worked my ass off for a few bucks. And you know what? It wasn't a bad experience at all. Well, maybe sometimes. But it definitely taught me to appreciate the value of money. I still know exactly how much 50 EUR are worth, and I definitely remember the feeling of having to save for ages to afford something I wanted. I didn't attend boarding school, and I didn't eat lobster as a kid. I'm still not skilled at eating lobster, in case you're wondering, but I don't eat it anyways, so there's never a chance to embarrass myself.
dress: Baum & Pferdgarten coat: Antonia Goy shoes: Karl Lagerfeld x Vans
…you will never influence the world by being like it.
That said, I do enjoy peeks into the lives of the rich – I mean, who doesn't? Who wouldn't be interested in eavesdropping at celebrity parties? And still… whenever I am on one of those events, I feel like a square among circles. I just don't seem to fit. It's just not me. All I have, all that justifies my presence at such parties is the fruit of my own labour. These days I buy a designer bag without thinking twice, but I am always conscious of the fact that I could have lived for two months off that money back in the day. In those moments I feel a pang of pain. For a split second I feel like I am betraying my old self.
In the end it is always about truthfulness towards yourself. I don't want to have to act like I prefer oysters, when there's a Schnitzel on the menu. I don't want to wear Gucci just because the trend dictates I do. I was always more comfortable with the harder path. I need variety and contrast. I prefer heading up to Scotland in my Givenchy boots to go on a road trip in tricky terrain than floating alongside life in a drunken stupor on a yacht in Ibiza. At the end of the day, the question is what makes ME happy, and it can be phrased in three ways: Do I WANT this? Do I want this? Do I want THIS?
Happiness, for me, is not champagne, and it is not found on a celebrity party. Drinking wine with friends on a balcony, philosophizing about what truly makes us happy – that's more like it.
Photos: Fee-Gloria Groenemeyer
Tipp: Get up to 25% off with the Code "EOTS17" on Shopbop.com!