.

Do you remember the professional shooting that I offered as a prize together with Smashbox in a recent give-away?

We invited a reader and her best friend to Berlin for a professional styling and shooting. It was a great experience for me to meet some of my readers, to get to know them a little better. We found that we all had much more in common than we would have thought, and the supposed boundaries between us are really pretty fluent. Sure, there was some nervousness in the beginning, and especially for my readers it was a bit of an unusual situation, but I feel we did great together (and I snuck onto a couple of photos as well).
The whole meeting was for a relatively large group of influencers and their readers, so I got the chance to hang not only with readers of my own blog but also with others. It was actually really interesting to see the people behind some of the accounts, there were quite a few influencers who I hadn't met myself yet at that point.
The real star of the day was the primer by Smashbox.
I must admit that I didn't really have primers on my radar not all that long ago, it tended to be more of an afterthought than anything else. Instead, I often focussed on the make-up itself rather than the foundation, but I have since come to understand that – as in so many other areas – a great basis is often underrated.

Primer is used to facilitate the make-up process and to make it last. The good thing: Smashbox offers a range of primers, for example the Primer Oil, which is enriched with precious oils, or the Photo Finish Foundation Primer. And here's the best thing: you can even combine primers. In my routine, I now apply the Primer Oil, wait a moment for it to absorb into the skin, and then I use the Foundation Primer.
Smashbox clearly values a good make-up basis, the range also includes primers for eye-shadow, concealer (perfect for circles under the eyes!) and lipsticks. Plus, there are different primers for different needs. Whether you wish for smaller pores, a gentle correction of your skin tone or longer-lasting make-up – Smashbox has you covered with the right primer, guaranteed!
Well, in my case, primers have become an indispensable part of my make-up routine, and I often use several primers in combination, especially for shoots, when my make-up really needs to be flawless. I also got the chance to sample a couple of other Smashbox products as well, for example a grey lipstick which I just had to try and which had a pretty polarizing effect on the set. I also got to wear some of the new eye-shadow colors. My idea was to got for a more natural make-up with lots of glow, with some contrast from the lipstick.

Mission accomplished!
How do you like the result?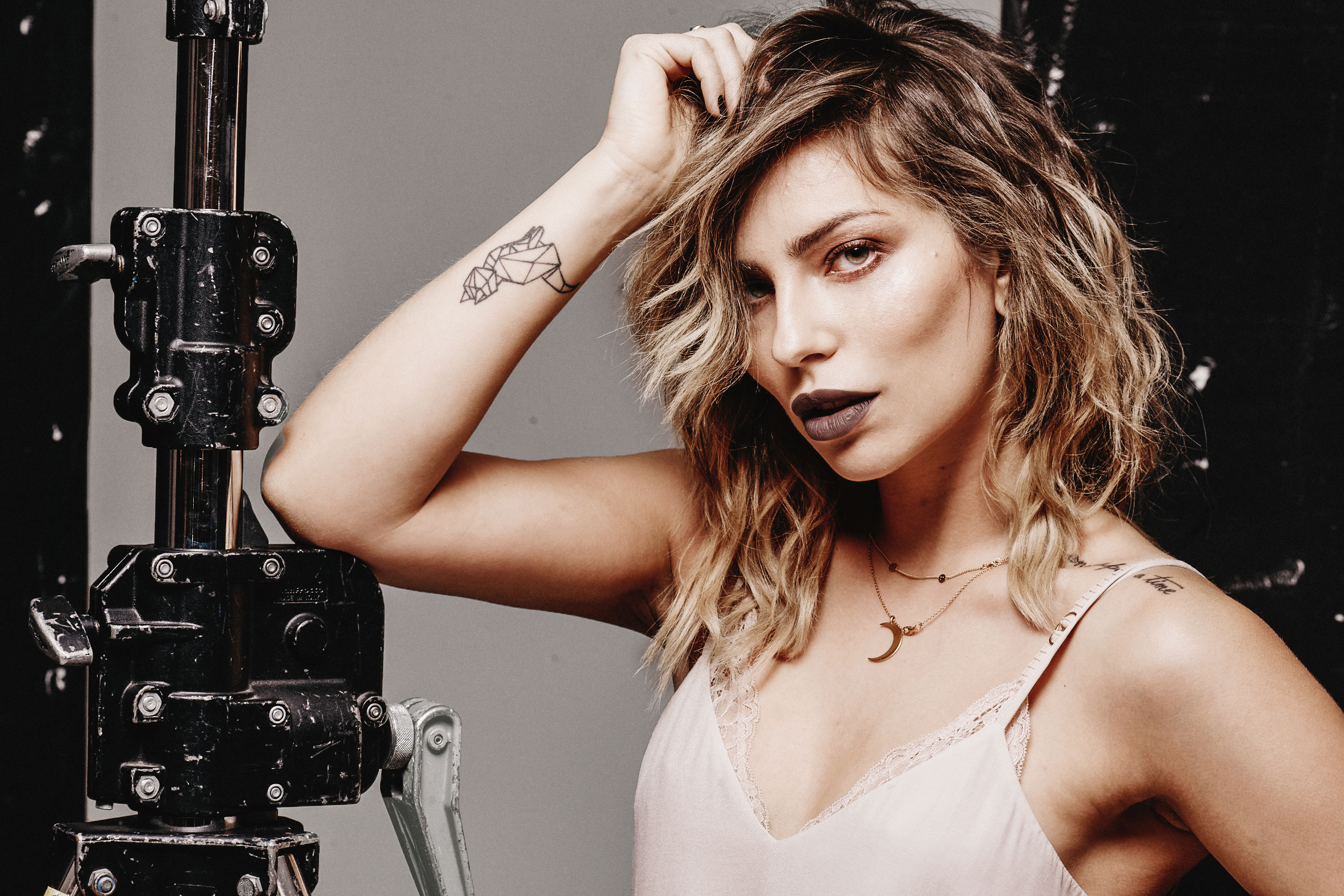 in Kooperation mit Smashbox