It is on us to decide.
We are called to speak up for the environment, our liberty, our future.
The climate policy is one of the most crucial components in it all. The facts (link) are crystal clear, we are not at the brink of a climate crisis, we are already experiencing it. Global warming is real, and we are fast approaching the point of no return. You can read about the dramatic consequences here (link). In short: life as we know it will not continue, and if we don't act we may gamble away not only our lifestyles, we as a species may disappear altogether.
To make sure we don't reach this point of irreversibility, we need to change our entire economic system from the ground up. If we don't do it, no one will. We are the last generation with the power to really change something. Empty phrases like "the market will solve it" are no longer sufficient. Our present situation makes it all too clear: the market is broken. Our economic system is geared towards profit maximization, and predatory exploitation of our planet is still increasing, growing in our society like cancer. In order to combat this potentially fatal disease, we need new regulations and, where necessary, bans. There may not be another way. What does it help if some individuals do their best to reduce their consumption of meat and their use of plastic? And how should one avoid the use of plastic in one's life in the first place? Regulations need to be tightened across the board, in order to at least attempt to solve the problems we are facing. Otherwise we may not be able to overcome these challenges. Personal and entrepreneurial freedom – yes. But not at the expense of our environment. The politicians who act in the short-term interests of lobbies will likely not even be around long enough to live to see the consequences of their actions. For us, however, our future is at stake.
Which is why it is on us to choose a peaceful Europe.
A free Europe.
We are the future.
Freedom is only an option if you choose it. We live in such a state of abundance that we often forget_ democracies are formed by citizens who live in it. If we leave the vote to radical forces, Europe will drift into radicalism.
Do we really want to be governed by a radical right again?
Democracy is a luxury, maintaining it a responsibility. It requires active engagement, a consequent choice. "The others will fix it" won't cut it.
Every single one of us is responsible.
The significance of this election is huge. We are called to opt for a democratic Europe. Let's face it: how big are our perceived problems in light of the fact that our entire natural and societal habitat is at stake?
With that in mind,ask yourselves, when you cast your vote:
Do I want to leave in a society in which the city streets are congested by SUVs, or in one where modern mobility concepts are finally implemented?

Do I want to live in a society in which refugees drown in the mediterranean, or in one where solidarity is upheld?

Do I want to live in a society in which the environment is a top priority, or in one where all is geared towards profit, no matter the long term cost?

Do I want to live in a society in which sustainable innovation is fostered, or in one in which exploitative corporations are subsidized as they are now?

Do I want to live in a society of permanent surveillance, or in one in which I can live freely? Do I want to live in a society of equals, or in one characterized by discrimination? Do I want to live in a society in which animals and plants are treated with respect, or in one which negates the fact that we share this planet with other life forms?

And remember that you're not only voting for yourself. You are also voting for those who don't have a voice (yet): you vote for your younger siblings, for your children, for animals who don't get a say but who share this planet with us. We have come to the point of decision:
are we going to take the red pill, or the blue one?
---
How to vote?
In Germany, the European election takes place on Sunday, May 26, 2019. Germans and EU citizens who live in Germany have a vote if they are at least 18 years of age, if they meet the residency requirements, if they are not excluded from the elections for some reason, and if they are registered as voters in their home municipality. The vote can be cast in person or by mail, also from abroad.
Where to vote?
If you are eligible and choose to vote in person, you cast your vote in a specified polling station, which depends on your registered address. You are informed about the location of the polling station in a polling card, sent to you in advance. If you are eligible, you can also request a postal voting card, with which you can cast their vote via mail or in another electoral district (if, for example, the polling station specified for you is not barrier-free).
Who to vote?
Apart from studying party programs, there is also a range of tools that help you to find out which political party is most in line with your personal convictions: YourVoteMatters (my favorite) Voteswiper (also covers smaller parties outside of Germany) Wahl-O-Mat (the classic) Note: since no restrictive clauses are in place yet, it can be worthwhile to vote for smaller parties, which may only win one or two seats in the European parliament, but whose voice will be heard on the big table, like for example Julia Reda or Martin Sonneborn.
---
Templates for Insta Stories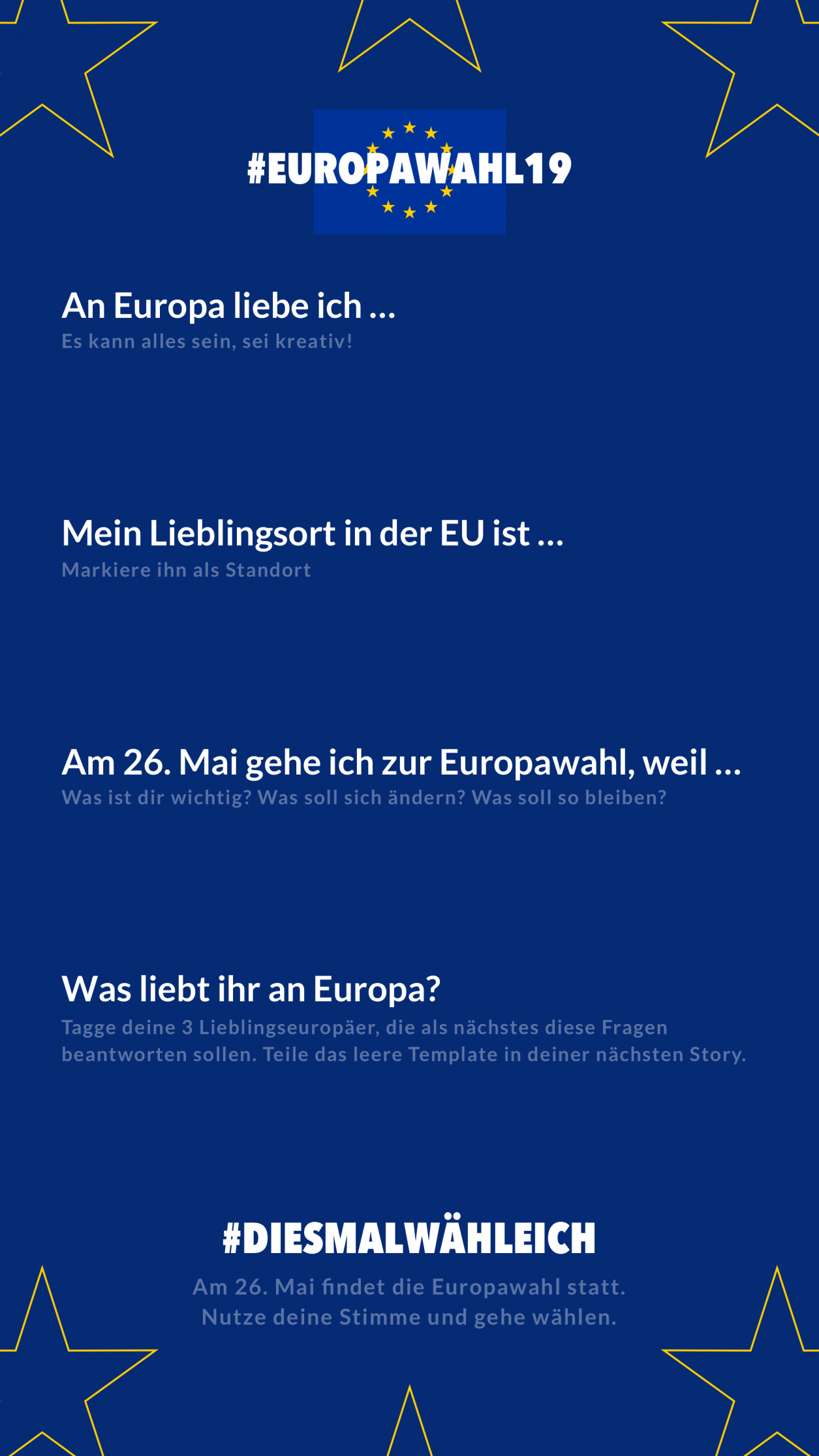 This post is also available in DE