.
The closer we are to nature, the closer we feel to the deity. Johann Wolfgang von Goethe
Did you know that my favorite color is green? Not just any green though, I prefer certain specific tones somewhere between sage and bottle green. I LOVE that specific tonal range, and that love is duly reflected in my entire flat. There are many other colors I really enjoy, but my affection for bottle green really knows no bounds.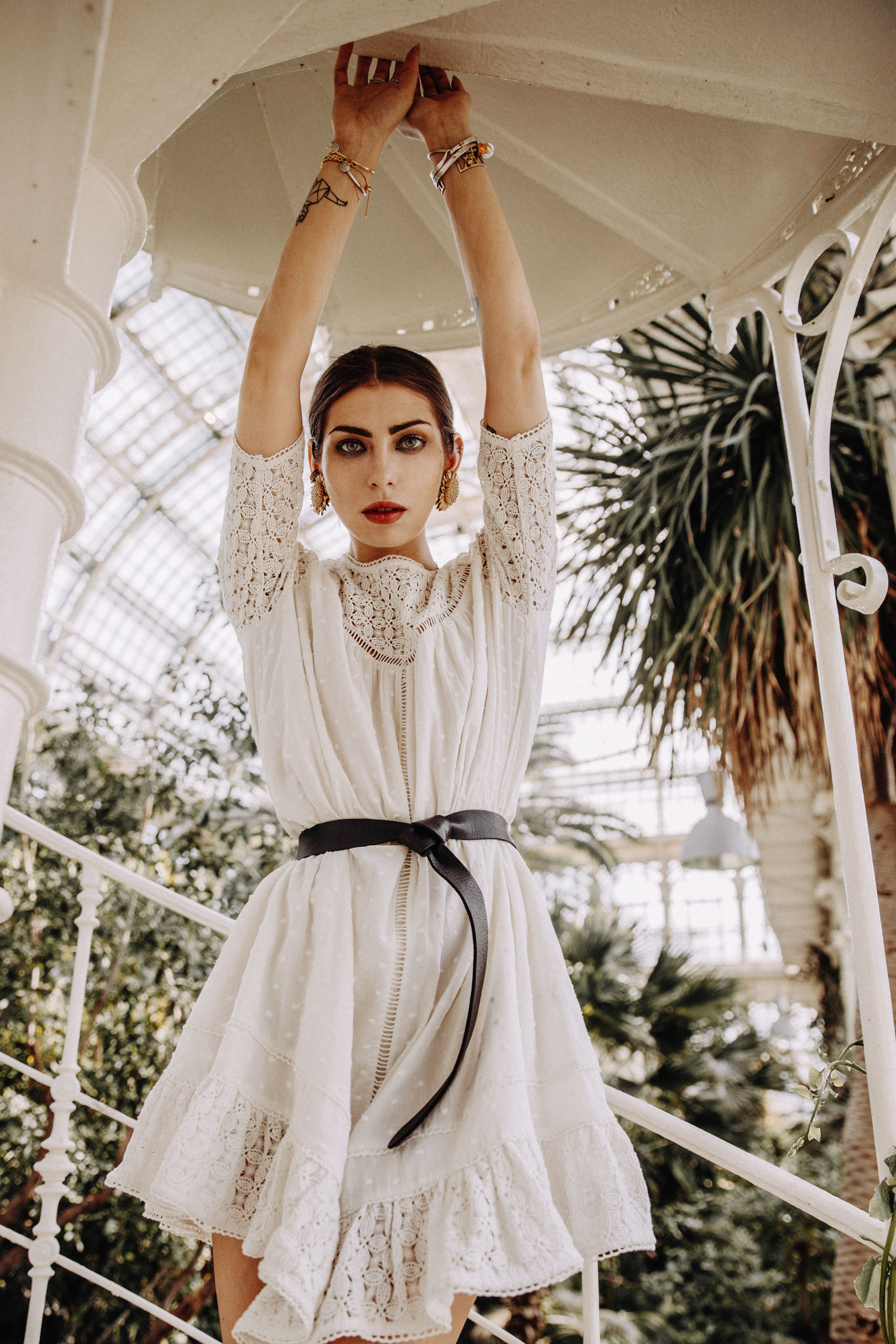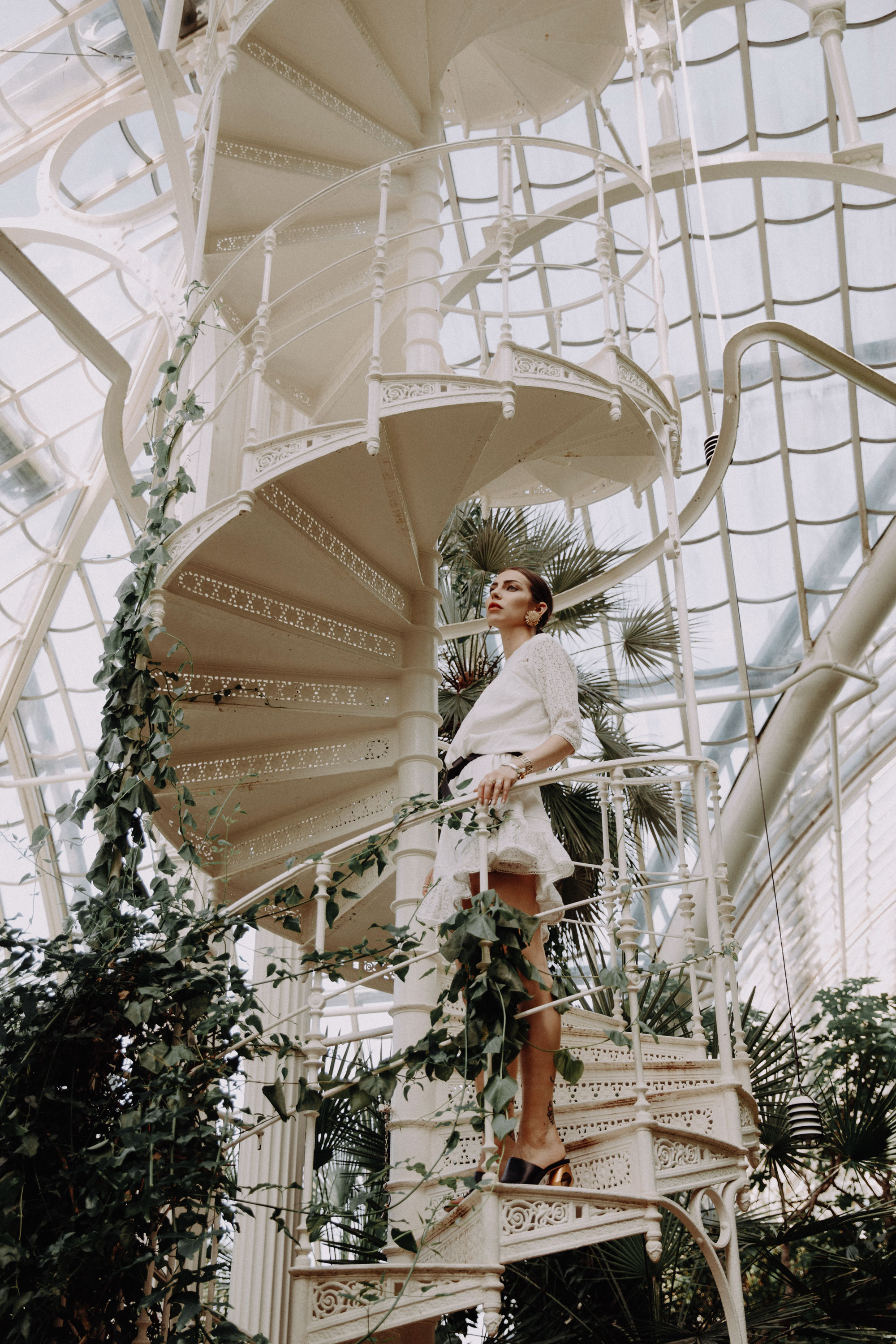 in cooperation with Peek & Cloppenburg (here are two distinct companies called Peek & Cloppenburg, headquartered in Düsseldorf and Hamburg, respectively. This article reflects a cooperation with Peek & Cloppenburg KG, Düsseldorf, the branches of which you find under www.peek-cloppenburg.de) photos: Theresa Kaindl
[parallax-scroll id="62849″]
kimono: Seventy pants: Seventy
The thing is, bottle green is a very calming tone to the eye. British scientists conducted a study over 18 years in which they surveyed tens of thousands of participants and came to the conclusion that moving close to a park makes 1/10 as happy as a new job, and 1/3 as happy as a wedding. Isn't it crazy how much of an impact a little bit of green can have on us?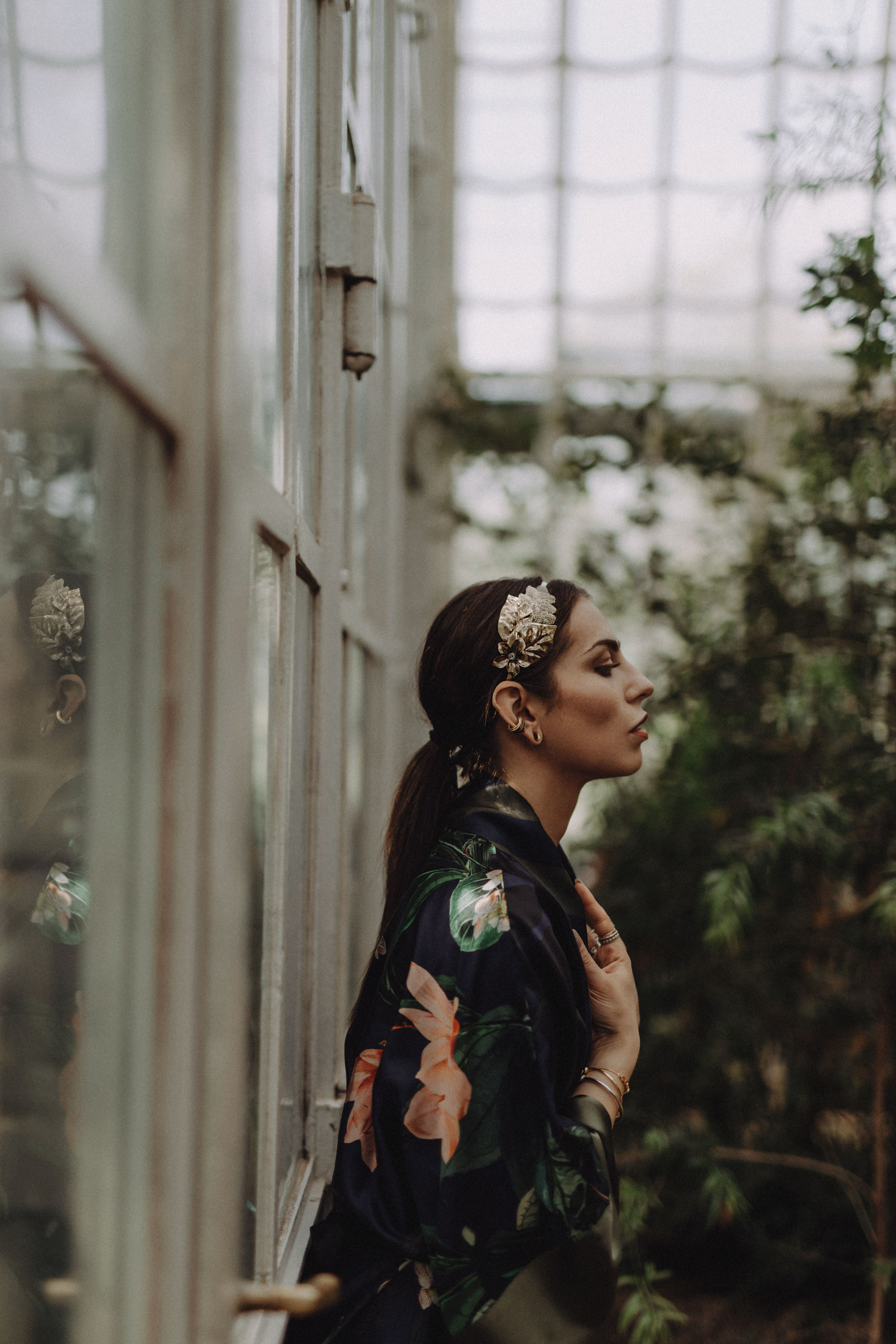 Makes sense, then, that we are drawn to nature. Who doesn't love the sound of bird twitter or the smell of moist forest earth, and who does not get euphoric when the trees start to sprout leaves as spring arrives? Most of us are living in relatively small cities, and we do not get to enjoy nature all that frequently. Just to clarify, I LOVE big cities, and especially Berlin with all its many parks and green spots – it's not like there isn't enough opportunity here. But still, the city does not provide me with the sense of being in a green oasis. I only get that when I head out of town. Don't we all have a spot in nature that we're drawn back to? I have been dreaming about a house at a lake for ages, surrounded by green, of course. As long as that remains a dream I put up plants in my flat and do my best to take frequent breaks from the city, somewhere out in the country where I can escape the blog.
[parallax-scroll id="62859″]
Green makes happy, and so does spring and these simple truths motivated Peek & Cloppenburg to invite me and a bunch of blogger colleagues for a special shooting to the Palmenhaus in Vienna. I always loved botanical gardens as photo locations and as oases of calmness, but I must say the Palmenhaus really exceeded all my highest expectations. It is by far the most beautiful botanical garden I have ever been to. How can a space in the heart of the city emanate such beauty and calmness? I fell head over heels in love.
dress: Essentiel
Die Luft ist blau, das Tal ist grün, die kleinen Maienglocken blühn und Schlüsselblumen drunter; der Wiesengrund ist schon so bunt und malt sich täglich bunter. Drum komme, wem der Mai gefällt, und freue sich der schönen Welt und Gottes Vatergüte, die diese Pracht hervorgebracht, den Baum und seine Blüte. Ludwig Hölty (1748 – 1776)
The Palmenhaus proved to be the perfect location for our shooting, yielding some of the most beautiful photos I ever took for my blog. The outfits are playful and very feminine, quite untypical for me. But my spring-kissed self loves this kind of fashion: a little floral, a little playful, a hint of innocence.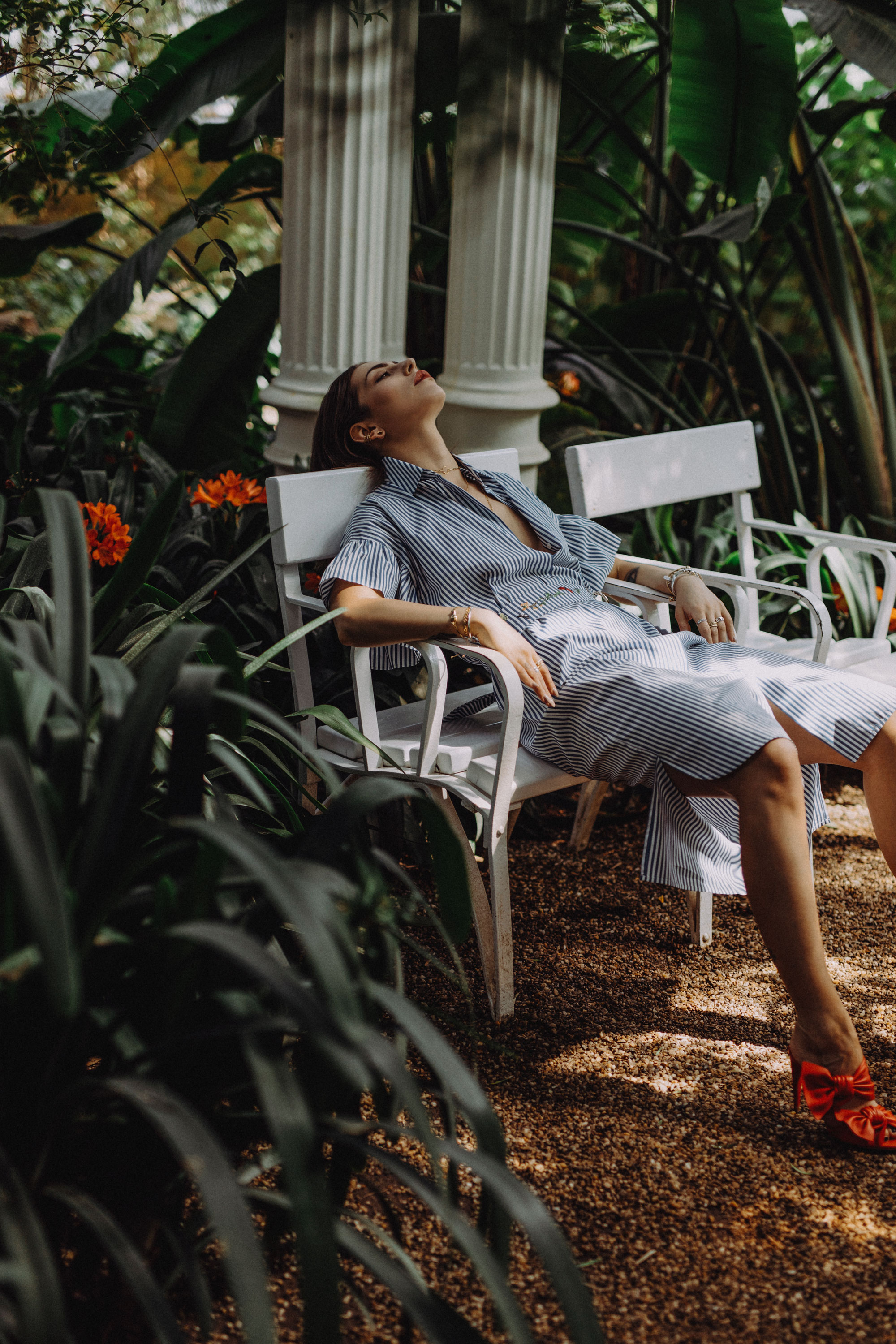 dress: Weekend Max Mara
I am a fan of the strict contrasts in the outfits, as seen for example in the blue and white striped blouse dress by Weekend Max Mara, with its strict cut that is playfully softened by the floral pattern. Another fav is the luxurious two-piece with wide trousers and kimono made from a soft and flowing textile with beautiful palm print, which I upgraded with an alice band and extravagant shoes as accessories. I loved the garment at first sight, but what was I going to combine it with to not look too childish? One thing was immediately clear: I couldn't let my hair lose with this outfit. So, with that in mind I opted for a strict hairdo and eye-catching earrings. I then added a leather belt to give the dress a silhouette, and topped it off with mules. In this way, the dress could unfold its full effect, all the while underscoring my femininity without making me look too childish. The look is that of a woman who knows what she wants, and who loves summer. It's the look of a woman who is thoroughly happy.