In collaboration with Accorhotel Group
IAs a frequent reader of this blog you will not be surprised to hear that I have a soft spot for beautiful hotels. Here's the thing: I work so much on the road that I spend a disproportionate amount of time in hotel rooms when I'm traveling. And that makes a hotel room much more than just a place to sleep for me. I want to feel at home, feel that I have a space to retreat. Over the years I stayed in many hotels in a wide range of categories, but this was my first experience at an SO Sofitel. Sofitel, the still young subsidiary of Sofitel, itself a luxury chain belonging to the Accor Group of hotels, offers the comfort of a typical 5 star house, while also adding the characteristics of a boutique hotel.
SO Sofitel has a younger, more modern, somehow more special vibe to it.
Every hotel interprets the city it is located in in a different way, always setting the bar high in terms of design – a feature that runs through the entire SO Sofitel concept like a red thread. This approach offers guests an exciting point of entry into new cultures, which are mirrored in new and surprising ways in every single room. For example, the walls of SO Sofitel Bangkok are adorned with writings in old Thai. Moreover, French designer Christian Lacroix and 5 Thai designers have interpreted the theme of 4 elements across the whole building, really giving free reign to their imagination and skill.
The Hotel
SO Sofitel in Bangkok is a design hotel par excellence. It is stylish, modern and at the same time extremely comfortable, with all the amenities and luxuries you'd expect from a 5 star hotel. The staff is very friendly and never intrusive. The hotel boasts a spa area (which I have not tried, so I can't rate it here), an infinity pool, a jacuzzi and a fully equipped gym. Both pool and gym are central to a great hotel experience for me. It just makes the vacation even nicer if you have the option to work out in the morning and to swim a few lengths before breakfast. Slipping into a bikini at night and taking in the lights of the city from the pool is a truly unbeatable experience, best enjoyed with a cocktail in hand.
Honestly, that part made it difficult for me to leave the place.
As far as the cuisine is concerned, the SO Sofitel gets top marks. Let's start with the breakfast buffet, which was out of this world! They had everything I could have hoped for, and more – even coconuts! One of the things I learned on this trip is that I am a major fan of coconut milk. I had no idea! Fresh fruit, Asian culinary delights and a great variety of bread. And then the evening buffet turns out even more delicious. I'm normally not that much of an all-you-can-eat-buffet kind of girl, not least because I tend to throw all restraint overboard all too quickly, provided the opportunity. But I must say that this buffet was among the best I have ever had the pleasure to enjoy. There was grilled salmon, pickled seafood, fresh sushi and even a choclate fountain! I basically went wild until they had to roll me into the elevator every night. The next stop after those binges was usually the top, yes, the very top of the hotel. As befits a classy hotel in Bangkok, SO Sofitel has an amazing rooftop bar. Once again, the view onto Lumphini Park is just stunning up there. Where other hotels fail to impress with a view onto naked facades, this one opened up a panorama of the skyline building up somewhat in the distance. Instead of staring at a wall, you gaze at the lake and that little temple in the park. Apart from the bar, there's also another restaurant on the roof, this one with an exclusive a-la-carte menu. And if that's too fancy for you you can always hop down to the street level and get yourself a pulled pork burger at one of the street food stalls. We did just that one evening, and it tasted incredible!
But even the outstanding buffet and the bar, fantastic as they are, are overshadowed by one crowning glory…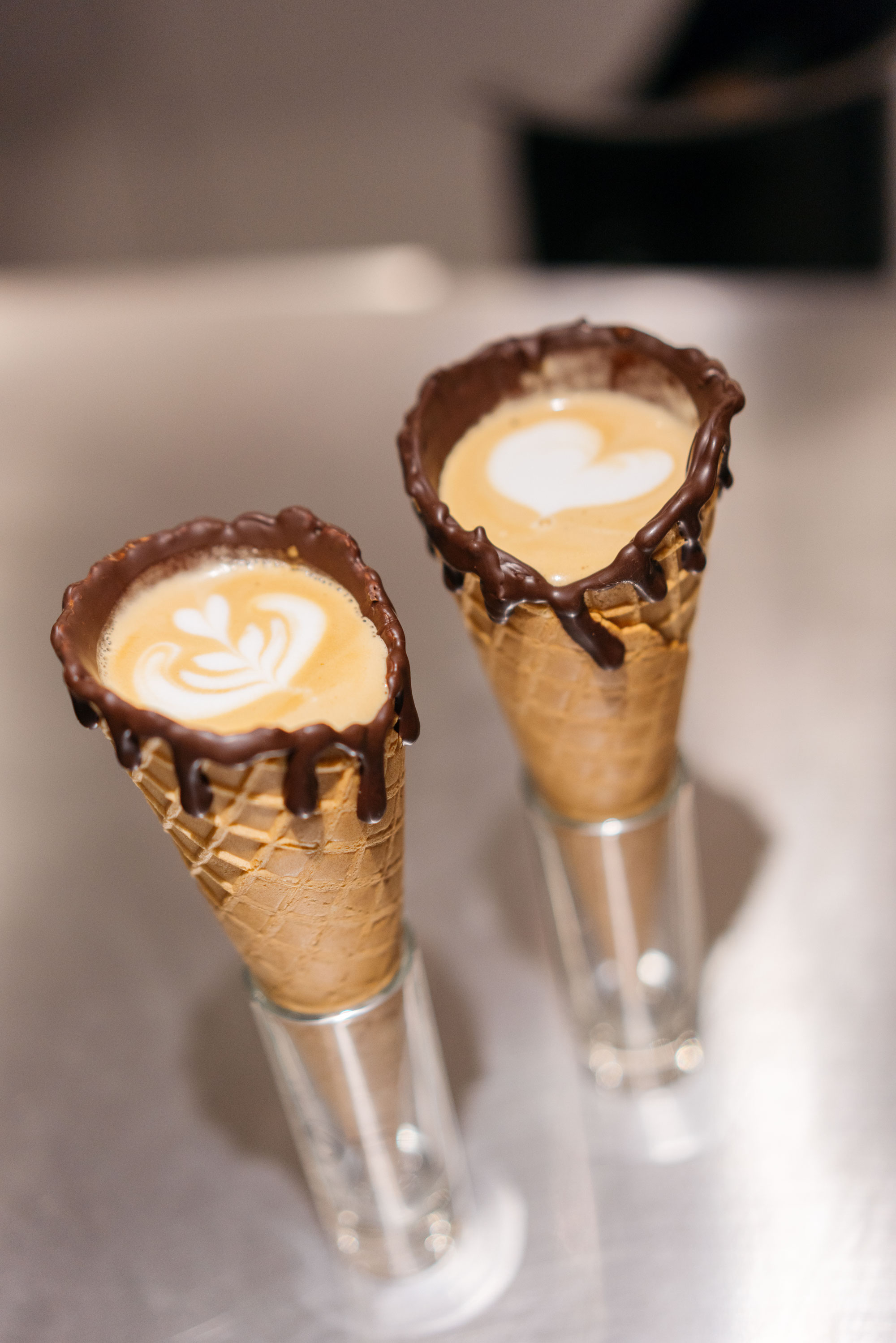 The hotel has its own chocolaterie! Yes, you read that right! You can watch chocolatiers make chocolate, and of course you can buy the heavenly delights right there. Isn't that incredible? And just when I thought it really couldn't get any better anymore, I bit into a chocolate waffle and noticed it was filled with coffee!! Let me repeat that: a waffle, coated with chocolate on the inside, filled with warm Cappuccino, which slowly melts the chocolate. Hands down the best invention since coffee! And somehow you even end up saving trash as you devour the container for your drink. Well, you're not saving on calories :)
On a culinary scale from 1-10, I award this hotel a clear 11!
The Rooms
The rooms are subdivided into 4 thematic categories: water, air, earth and fire. The individual interpretation of these elements resulted in entirely different looks for each of the rooms. For example, rooms of the 'air' category are held in white, whereas the element 'earth' is represented by the use of plenty of wood. The 'fire' rooms are on the elegant side, with lots of metal, and the 'water' rooms tend to have a playful note to them. That said, the general layout of the rooms is relatively similar across the board: there is a wellness bathroom with a large tub, and a super comfortable bed, all rounded off by floor-to-ceiling windows opening up incredible views over Bangkok and Lumphini park. Waking up to this stunning view in the morning is a major highlight in its own right, as is looking down at the colorful city lights on the streets of Bangkok right from the bathtub in the evening. The view alone was worth the trip for me. The room size was perfect for me – large, but not too big. I even had space for all the clothes I brought and bought.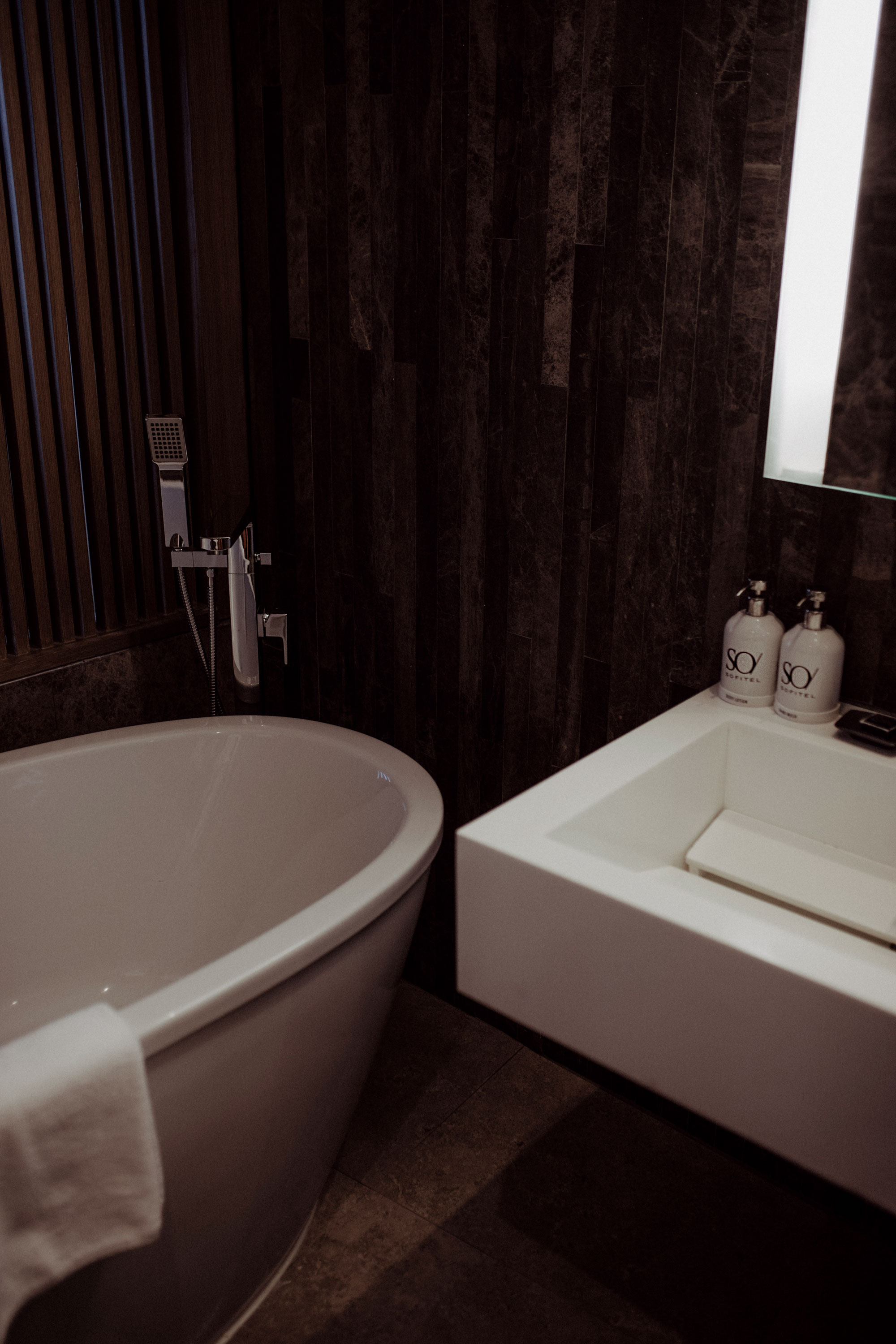 The Location
Bangkok is HUGE. Even after a whole week of exploring I had not quite figured out where exactly the city center is supposed to be. Somehow there were just too many interesting and bustling corners to pin down one. The SO Sofitel is located in a posh district of Bangkok, right next to Lumphini Park, somewhat shielded from the typical noise of the city. You are in a quieter spot, but nevertheless perfectly well connected. The MRT stops right in front of the door, there's a shuttle taking you to the closest funicular stop, and taxis are really affordable as well. If you prefer walking, you'll find that a casual stroll to 'silom'-road will only take you ten minutes. There you'll find pretty much everything your heart desires: street food, malls, ngihtlife. 'Silom'-road is like the heart of the 'new' Bangkok, and a place of lively activity no matter what time of the day. The street is lined with restaurants, bars and massage salons, and most of the major banks and lots of embassies are headqaurtered in the area as well.