This post is sponsored.
The first item on this week's favorite list is a brand that is part of the K-beauty phenomenon. K-beauty (short for "Korean beauty") is probably the most hyped and most revolutionary trend in the beauty industry. And for good reason, in my opinion: isn't the porcelain skin of Korean women the beauty ideal of pretty much every woman? The K-beauty phenomenon revolves around precisely these attribute, no pores, no wrinkles and an even tone, rounded off with a natural glow. Based on this (beauty) ideal, Korean label Dr. Jart+ established itself in the industry in 2004, promoting a vision of skin-care through specialist diagnosis, innovation and highly functional products.
Since its inception, the company has worked with a team of dermatologists, technicians, artists and designers to create progressive technologies and to combine them with effective substances, always with the aim to design products that are effective as well as visually pleasing. Dr. Jart+ offers a wide palette of products ranging from nurturing facial gels and special micro peelings to my absolute brand favorite: the famous "sheet masks" – an absolute staple of every Korean beauty ritual. But Dr. Jart+ wouldn't be Dr. Jart+ if all they offered were those sheet masks, which have become quite popular by now. Apart from those classics, the label also offers gel-like rubber sheet masks, each of which consists of an ampoule of highly concentrated serum and a rubber mask. Prior to putting on the mask yu apply the moisturizing serum, which helps to tighten saggy skin, and to revitalize lost elasticity.
Then you lay the sheet-mask on your face, which optimizes the efficiency of the serum and thoroughly moisturizes your skin. Little wrinkles are smoothed out, and the elasticity of the skin improves noticeably. What more could you want?
Clean skin? No problem with the PMD Clean! Especially when wearing make-up, cleansing your face in the morning and evening is an absolute must! The new PMD clean helps with over 7,000 revolutions per minute – called SonicGlow™ – to remove oil, dirt and clogged pores from the skin and to make it shine. It also provides a slight lifting effect. The perfect setting for every skin type can be found from four different modes.
PMD Clean is made of ultra-hygenic silicone and is therefore antibacterial, hypoallergenic and fragrance resistant. That means never buying brush heads again!
Water is also no problem for the device if one carries out his cleaning ritual in the morning or in the evening under the shower. At the front as a cleansing brush, the back of the PMD Cleanse is suitable for anti-aging facial massages that give serums and creams a more intensive effect. In general, the brush can be used with all kinds of beauty products – be it foam, a cleansing cream or oil. The PMD Clean has no battery and runs on a 1AA battery. This means you don't have to carry an annoying charger with you when you're travelling.
Interested? If you would like to try the PMD Cleaner, you can get a 30% discount on the assortment with Masha30 on the website HERE.
The perfect Instagram Story: The Unfold App If it comes to Instagram stories, minds are divided. Some prefer real and genuine peeks behind the scenes and personal moments, other have a better time watching snippets of the perfect world we've gotten used to on Instagram. To achieve the latter, i.e. professionally realized, perfect results, I have an amazing recommendation for you guys. Just recently I stumbled upon the Unfold App, and have quickly come to cherish it as the ideal toolkit for all storytellers and creatives among you. The app offers 25 templates and fonts, freely combinable to create the perfect story. The app supports photos as well as videos, all in high-res – a long cry from most free apps. This particular gem is downloadable without any conditions whatsoever. I can really recommend this one from the bottom of my heart!
Instagram inspiration: Marius Sperlich Talking about Instagram: I don't want to keep my current favorite on the platform from you. Berlin based photographer and artist Marius Sperlich regularly presents excerpts from his work on Instagram, turning his feed into a lovingly curated piece of art, with a loving eye for detail and the fascination of sometimes provocative content. I'm totally blown away by the associations and interpretations Marius works with! Far from the clichés of erotic photography, he focuses on details of erogenous zones without ever been placative or invasive. His whole body of work feels authentic, and the level of artistry is uniformly high.
Netflix-Tipp: Ali Wong Hard Knock Wife Comedy Special Two years after giving birth to a daughter, stand-up comedian Ali Wong is back on Netflix! Just as we hoped, she's back with a load of humorous and lively stories about what she experienced in those two years. Ali talks about the dark sides of being a new mother, the daily struggles it brings with it, and about her attempts to achieve a healthy work-life balance after her pregnancy. I cried of laughter watching "Hard Knock Wife"! Ali Wong has such a unique and authentic way to recount her every-day adventures. This is definitely another must-see!
The "DJI Mavic Air" drone It's small, portable, comes in classic black and is a perfect travel companion. What am I talking about, you ask? Yep, I'm banging on about my new drone, the "Mavic Air" by DJI. My ultimate tip for all the travel and photo freaks among you! As you probably know, I love experimenting with different photo and video techniques, and I'm always looking for a new perspective, a new angle. When I'm on the road, wanting to capture the character and atmosphere of cities and landscapes, I find the birds-eye view particularly inspiring and impactful. With that in mind, I was sure I was going to hop on the drone bandwagon sooner or later. A bit of research led me to the "DJI Mavic Air" drone, which convinced me on many levels the moment I tried it. The drone comes with various filters, and packs the choice of a wide range of photo and video options, inviting experimentation and creativity. Plus, it has a resolution of 32 megapixels and a reach of up to four kilometers. And on top of all that, the remote control is incredibly user friendly, genuinely easy to handle – just connect it to the smartphone and the captured image is displayed on your mobile phone.
Simple but ingenious.
Last Minute Summer Deal – SAKS OFF 5TH Hands up: Who doesn't love bargains here and there? And who would like to have Sale all year round? ME! Personally, I don't care if a piece is from the current collection or from the collection before. If I like something, if the quality is right, I like to add it to my collection. If I get it then also still somewhat more favorably, I am all the more pleased! At SAKS OFF 5TH I have always found something spontaneous – whether clothing or accessories. I don't even have to browse long until I find something suitable. Whether I need cool sunglasses at short notice or a last-minute summer dress – I don't have to dig around, I have a large selection of products from different designers in one store. The good thing about SAKS OFF 5TH: Great designers at a small price in a high-end department store without outlet character. The range also speaks for itself: large designer brands offer timeless classics such as trench coats, certain well-known bag models and cashmere sweaters. These work as a highlight to cheaper articles, which SAKS Off 5TH also offers. I like the idea that nothing is simply thrown away or destroyed (have you read the article about a designer brand that you can find HERE), but parts find a new home. Optionally also with me in the wardrobe.

Newcomer-Label: Polène Paris Founded by three siblings driven to carry on the traditional craft of their family, the young Parisian label Polène is deeply rooted in old, French artisan tradition. The three founders realize their vision of creating exceptional leather products in form of bags, which dazzle with eye-catching geometrical forms and lines, high-quality materials and an air of Parisian laissez-faire. In terms of colors, the label focuses mainly on neutral nuances like creme, beuge, black and red – the Parisian palette in a nutshell. And there's another huge plus I should mention. The label is completely independent, which is also reflected in its price point. Polène vowed to offer high quality at fair prices, and in order to achieve it the label cuts all middlemen like stores (apart from the Polène's own store) and whole-sellers. You find their products online and on 14 Rue Daval, Paris.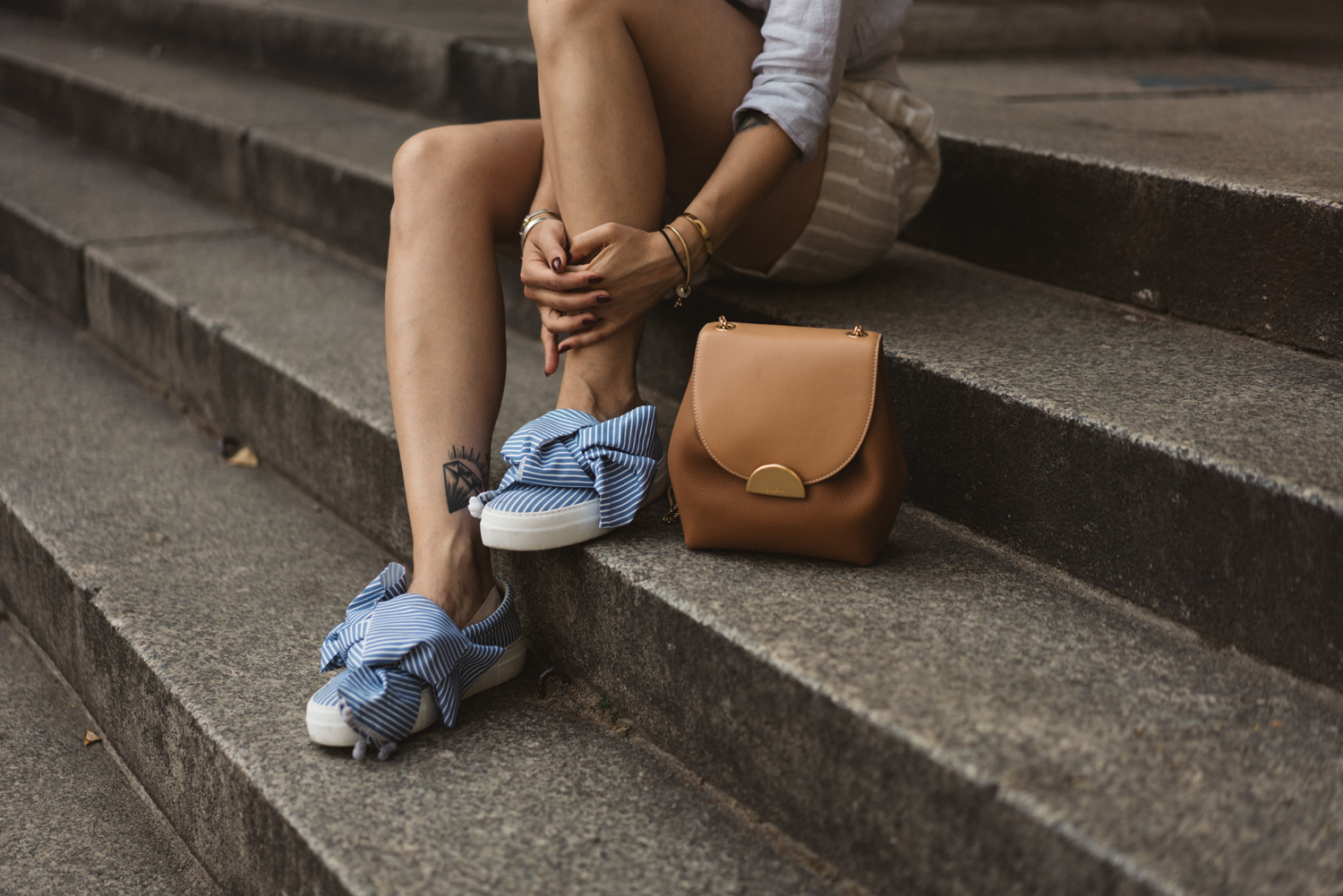 Exhibition Tip: James Turrell's Light-Art Presentation in Dorotheenstadt Cemetary, BerlinBerlin has a reputation for being a magnet for creative types, who find beauty in the ordinary and transform the ordinary into the exceptional. In a way, that may be one of the single most distinguishing characteristics of this city., While Berlin is obviously on par with many other European capitals when it comes to architecture and culture, it often seems like the cities biggest assets are the artists, musicians and creative minds who understood its essence and have used it in their work. This means that in Berlin you quite often stumble upon exhibitions and installations that maybe wouldn't receive as much popular attention anywhere else as they do here. This week's exhibition tip is the truly incredible light-art presentation by James Turrell, which has been on show on Dorotheenstadt cemetery since 2015 as a permanent installation. The American artist, world famous for his work with light, transforms the chapel into a surreally colorful, light-flooded space. The installation is highly representative of this amazing artist's work. The only way to attend is to join one of the hour-long chapel tours, which always start at the moment of sunset. But I guarantee it's worth your while, this installation is an absolute must-see!
Favorite Fragrance: Narciso Rodriguez – for her "OMG you smell so good!" I've heard this sentence quite a lot since I started wearing the scent by Narciso Rodriguez, and I notice that men seem to be particularly susceptible to this fragrance. It's a real classic, just recently the brand celebrated the fragrance's 15th anniversary. The scent's popularity is unbroken, it is a mysterious and timelessly elegant – yet modern – as on the first day. Narciso aimed to capture the sensuality every women, and to create a scent that carries that sensuality. Looks like he succeeded. Personally, I love the powdery note, which makes the fragrance sensual but not sweet, a lingering, fragrant aura.
Head note: peach, rose Heart note: musk Base note: amber, patchouli