Recently I've been getting more and more into this category and have been wandering the streets with open eyes, always on the lookout for products that I feel deserve more attention. I'm realizing more and more what an interesting approach this is, and how much fun it is to try new products in order to then recommend the best ones to you. What you don't see are the many products I try that don't make it into the post. But today I'll focus on products that I've been using frequently in the recent period, and some which I have trusted in for a longer time as well by now.
Für mehr Kreativität auf Instagram: Analog Acoustic by ordinaryfactory
In order to avoid simply adding to the broad mass of standard Instagram posts, I constantly try new image processing techniques and layouts. I'm always excited to discover new functionalities and apps, and to get creative when I write and design my posts. I have already introduced a bunch of such apps to you in the past, Unfold comes to mind, for example. I have actually found the "Analog acoustic" app by ordinaryfactory quite some time ago. The app's filters and frames spice up every single post with the certain something, making this little helper a perfect companion to Unfold. A must-have for all the creatives among you!
Hörbuch: Mademoiselle Coco und der Duft der Liebe
Not that the summer is drawing to the close and fall is approaching fast, I find myself looking forward to the cooler season with its comfy pullovers, warm drinks and good books. What can be nicer than spending a chilled out Sunday on the couch reading a good book? If you enjoy this thought as much as I do, I can wamly recommend the novel "Mademoiselle Coco und der Duft der Liebe" ("Mademoiselle Coco and the fragrance of love") by Michelle Marly, which I have recently listened to on Audible. It recounts the story of Coco Chanel in the early 1920s, and draws a tangible, emotional image of this icon. A beautiful and at the same time sad story, perfect for that relaxed Sunday at home.
Paula's Choice: Defense
She is free, tolerant, cosmopolitan, versatile, lively and emotional: my big love, Berlin. No matter how much I travel, no matter how many amazing impressions I get to soak up in awesome locations and how cool the experiences I get to make are week by week, month by month and year by year – I am always happy to return to my adopted hometown. But please don't get me wrong here: there are so many places out there which have better climate, nicer architecture, friendlier and more charming vibes, places I really learned to appreciate so much. But at the end of the day I could not think of a better place to live than Berlin. The atmosphere in this city is unlike any other in this world. I love that the city never sleeps. I love that there is such extensive cultural life here, and that Berlin, with all its museums, artist districts, old buildings, bridges and parks is one of the most historically charged cities in the world. I love that everyone can live authentically here, without fear of judgement by others. I love the local cultures bustling in each of the districts. And I love the tolerance and openness Berlin extends towards everyone in it. But much as I learned to love the big city life of Berlin, I have also had to make compromises over the past couple of years. One example is the smog and cigarette smoke one is subjected to all the time here – something which has become quite a challenge for my health and especially my skin. All the toxines in the city air lead to premature aging of the skin, giving it a pale, unhealthy sheen. So I was delighted to find out that one of my favorite skin-care brands, Paula's Choice, has launched a defense line. These products are designed to protect the skin from aging, and to protect it from the various airborne toxines we are subjected to as big city dwellers by supplying the skin with antioxidants, vitamins and superfood-extracts.
The line consists of four individual products, each of which created for that specific defense purpose and to take the skin from dryness to a healthy glow, moisturized feel and overall even appearance. As a first step, I use the Moisturizing Cleaning Gel, which packs green tea extracts, licorice and soy, which helps to not only clean the skin from the city toxins but also surprises with with amazing moisturizing properties. I then apply the Pore Purifier, which deeply cleanses the skin with azelaic acid and furthermore packs niacinamide, which contributes to an even and healthy appearance of the skin. Last but not least, after cleansing my skin that way, having removed all old skin particles, I apply the moisturizing cream with SPF30. It nourishes, smoothens and invigorates the skin with 12 antioxidants, perfectly rounding off the morning routine. And then there is the rich night cream, which repairs the skin overnight! This is the perfect product line for city dwellers who enjoy being out and about and wish to take great care of their skin at the same time.
Adidas x Raf Simons
Raf Simons and Adidas have been collaborating already since 2013. It all started with a new look for the classic tennis sneaker Stan Smith, continued with a make-over of the Trail Runner and eventually culminated in a dedicated Raf Simons line: the designers keeps convincing me over and over again with his urban creations for the German cult label – and this season I'm even more impressed. I couldn't resist for long and got myself a sneaker pair designed by the Belgian fashion-artist. These sneakers work perfectly with jeans but also with costumes, with a simple shirt as well as with a leather jacket. Sounds just like my daily looks are covered, doesn't it?
Instagram-Favorite: @flicka_elisa
If you follow me and if you enjoy reading my blog, I'm sure you'll love Elisa as well. Her content is a far cry from the monotonous Instagram mainstream fare. Instead, her images tell stories through a unique and very impressive aesthetic, making her entire feed look much more like a curated illustrated book than, well, a feed. Each of her stories radiates a certain independence, imbuing not only her pictures with an aura of strength but also the author herself.
Childhood nostalgia: The Stylo 4 Couleurs by Clarins
Who among you remembers the time in primary school when multi-color crayons were the big thing? For all of you who just said "me" I have the ultimate beauty tip. Clarins recently launched the 4-in-1 contour stick, which not only triggers a healthy dose of nostalgia but also turns out to be a genuinely practical item. The stick includes a fill with intense black for radiant eye make-up as well as a pink one for lips and eye contours. For all of you who tend to opt for smaller bags and who don't want to lug around entire make-up bags, this is the perfect invention. The practically sized Stylo by Clarins fits in every bag and refreshens every make-up look easily. A great combination!
Beauty Innovation: Beauty Tool: Mikroderm abrasion device
I'll freely admit that I was initially quite skeptical with this one. If you haven't figured out how to use this device it's quite a complex one. But I only heard good things about it, so I didn't want to give up just yet after my first attempt and the red lines in my face it left me with. Microderm abrasion is an effective yet tender deep cleansing of the skin using ultra-fine crystals. This little device removes the top layers of the skin, making it more elastic and receptive for care products, which in turn leads to a much younger look for the skin. Pores and wrinkles are minimized, and the skin's own generation of collagen is stimulated. The perfect alternative to cosmetic treatments, in other word. I'm super happy with it now, and so is my skin.
Fashion 2.0: Alphatauri
With Alphatauri , fashion meets function, timeless design meets innovative technology. Unique and functional designs are combined with revolutionary, high-quality textiles, resulting in a timeless aesthetic and highly practical garments at the same time. The label's mission is to raise the bar of expectation people have towards clothes, and they do so by tailoring the items to the requirements of a modern lifestyle. Only innovative textiles are used, the aim is to genuinely revolutionize the interaction of body and clothes. For example, the label uses technologies whereby the textiles reflect the heat of the body – which is of course perfect for those of us who don't want to freeze in winter and still look stylish.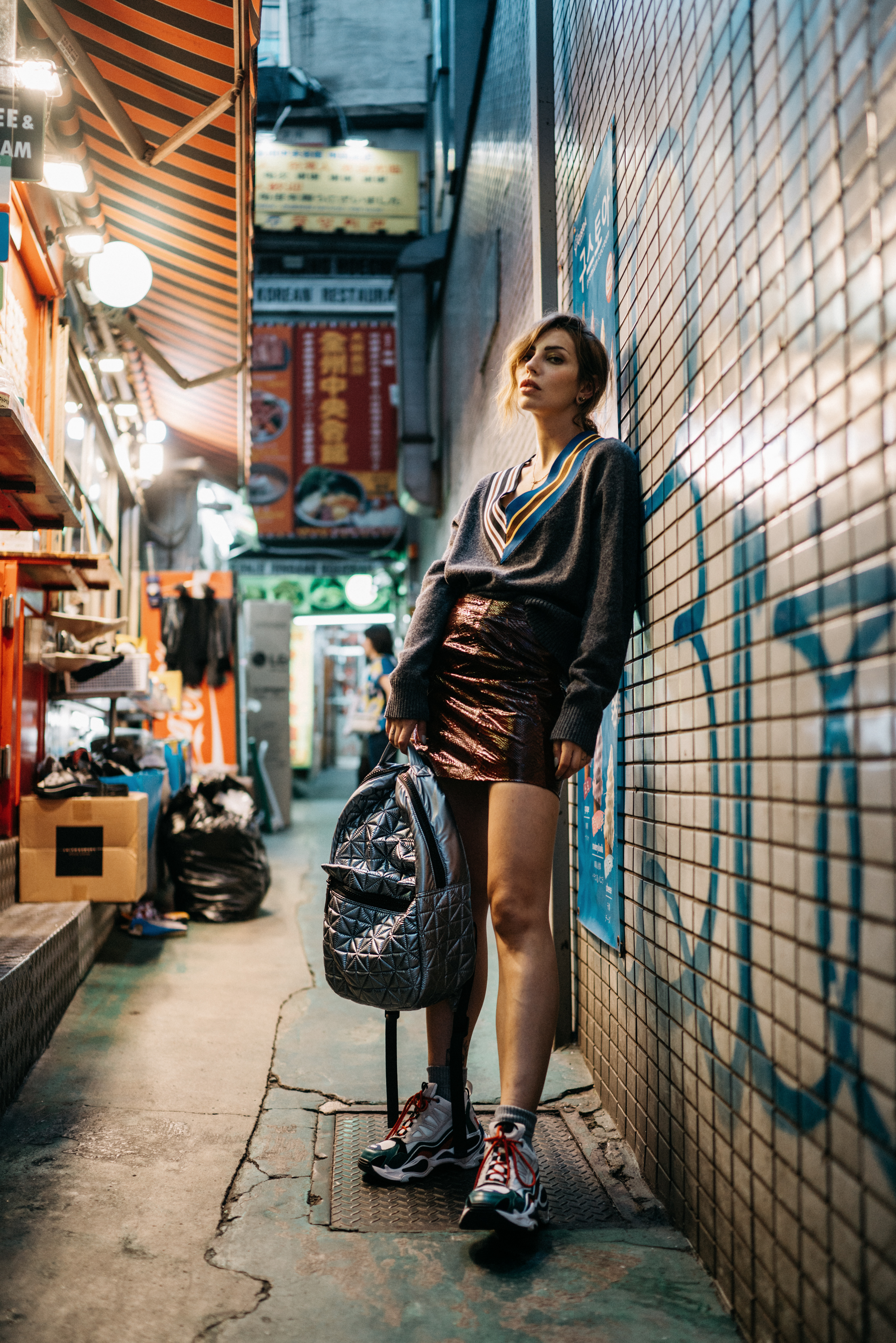 Label Love: "VeeCollective"
Berlin-based designer Lili Radu has launched a new label, which offers somewhat of a counterpart to her otherwise so colorful designs. The design universe of her label "lili Radu" revolves around colorful, feminine and classic bags, whereas "VeeCollective" embodies the urban, sporty and easy-going style of Berlin, which inspired her to create bags with an air of coolness and convincing functionality. The totes by "VeeCollective" are light as a feather, multi-functional and all-around ideal companions in daily life. Since all models are water-proof, these bags won't let you down even during the wettest Berlin autumn day.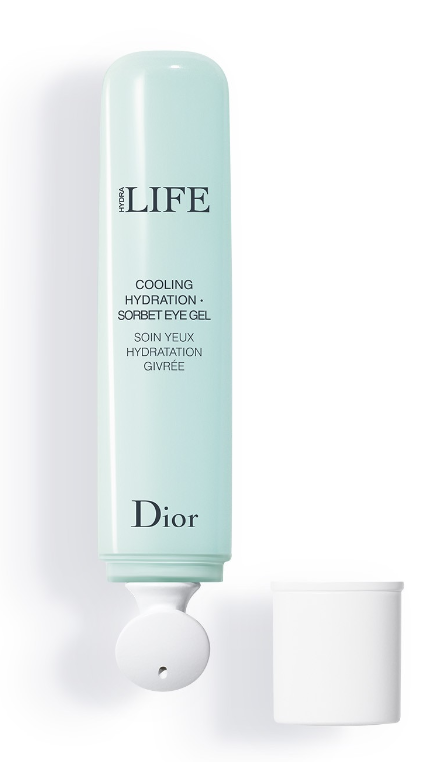 Cooling Hydration Sorbet Eye Gel von Dior
When it comes to care products for the skin around the eyes, I personally prefer gels an serums. On the one hand because I just have the feeling they're more efficient and more tender to the sensitive eye area, on the other because especially gels are absorbed immediately, giving the skin a more elastic and hydrated feel in a matter of seconds. So I just had to try the new moisturizing and cooling eye gel by Dior – and was thoroughly convinced by it. Euphoria set in the moment I applied it: instead of a small container that one would have to reach into (bacteria!), the gel comes in a practical tube, capped with a cooling ceramics applicator, which makes it extremely comfortable to apply this product. And the refreshing effect of the gel is immediately perceptible: it combats eye-pouches and makes the whole area around your eyes seem look fresher and more awake.