.
…and am bound for my summer holidays!
I can't wait: beaches, the sea, and white architecture everywhere. You probably guessed it: I'm heading to Greece! At good last I will get my chance to get tanned. I started packing pretty early to make sure I won't have to find out later that I forgot something crucial. So I figured, why not share my private list of items that are essential for a summer holiday?
in collaboration with SAKS OFF 5TH
Fashion
Oufits probably present the biggest challenge when packing for holidays. What to wear once you arrived at your destination? In holiday settings I am a big fan of readily combinable garments. Rather than planning my outfits (this on Monday, that on Tuesday,…) I try to pack garments that all go well with each other. That usually means I avoid too many patterns and extravagant colors. Combination garments like shorts, skirts or jackets should be chosen carefully, whereas you can really go wild with dresses. Materials play a big role, too: linen is very permeable to air and dries quickly, with the flip-side that it creases up easily as well. Silk feels light and wonderful on the skin, but can be tricky to take care of (still my favorite choice, though). Cotton and rayon are ideal as they are low maintenance and natural. Avoid polyester, nylon and acrylic, as those textiles are quite sticky in the sun and will lead to sweat patches. I also tend to play it safe when it comes to shoes: better to take shoes that are already comfortably walked in than buying a pair specifically for the holidays. By the way, I usually pack a pair of fancier shoes as well – you never know if you're going to need them, after all. Tip: make sure to always pack a sweater. Better to be prepared than freezing at night!
Many of the garments I'll take with me I bought just recently at SAKS OFF 5TH. The outlet originated as an offshoot of the Saks designer store on 5th Avenue in New York, which offers some of the most amazing designer pieces. Buyers from all over the world are flocking to the store, which is a real staple on the fashion landscape of the Big Apple. SAKS OFF 5TH is the premium outlet concept by Saks, right in the heart of town, offering high-end brands (like Fendi, Versace, Valentino, Jil Sander, etc.) with discounts of up to 60%. And about a year ago, Saks opened its first branch in Germany! From my own experience I can tell you that you get great bargains at SAKS OFF 5TH without any cutbacks in quality. And they really offer discounts of up to 60%. But the best thing about SAKS OFF 5TH is: there's no digging into bargain bins, and the stores don't appear like outlet centers at all. Everything is perfectly arranged and presented. You find loads of popular labels and brands, and it's easy to find your way around. Apart from fashion and accessories, SAKS OFF 5TH also offers sports wear, shoes, interior products and all the assorted bric-a-brac and nifty presents your heart desires. The best way to stay informed about specials and promo offers is to sign up for their newsletter.
Shorts (2) Tops (7) Skirt (1) Sweater (2) Jacket (1) Dresses or jumpsuits (2-3) Bikini or bathing suit (2-3) Shoes (sandals, sturdy shoes, high shoes) Socks (6) Underwear (8) Stain remover Sunglasses (3) Bags (a big one, a classy one, and an allrounder) Belt Jewelry Hat (straw hat, cap, sunshade)
.
[parallax-scroll id="63017″]
Beauty
I don't really need my full set of cosmetics when I'm on holidays. I tend to use less foundation, and find myself reaching for concealers and bronzers more often. Products that smear easily are better left at home. Instead I take water-resistant products, which is especially important for the mascara. I take the choice of sun screen seriously. Sun screen is important for the body as well as the face, and there are countless moisturizing products with high protection factor out there. By now there are also special products that protect your hair from the sun. From my own experience I can tell you that it's worth looking into those if you have dyed hair. Tip: Since I prefer doing my make-up in daylight, and knowing that there never tend to be enough mirrors in hotel rooms, I usually take a pocket make-up mirror with me, which I can place in my hotel room wherever the light is best. If you use contact lenses: I would always recommend taking an extra pair of contact lenses. You never know how easy it is to buy lenses in your destination country (often you only get them with a prescription), so if a lense gets damaged somehow you're prepared :) Tip: instead of buying mini bottles of shampoo and all the other products I plan to take, I have little bottles that I simply fill with shower gel, shampoo, etc. myself!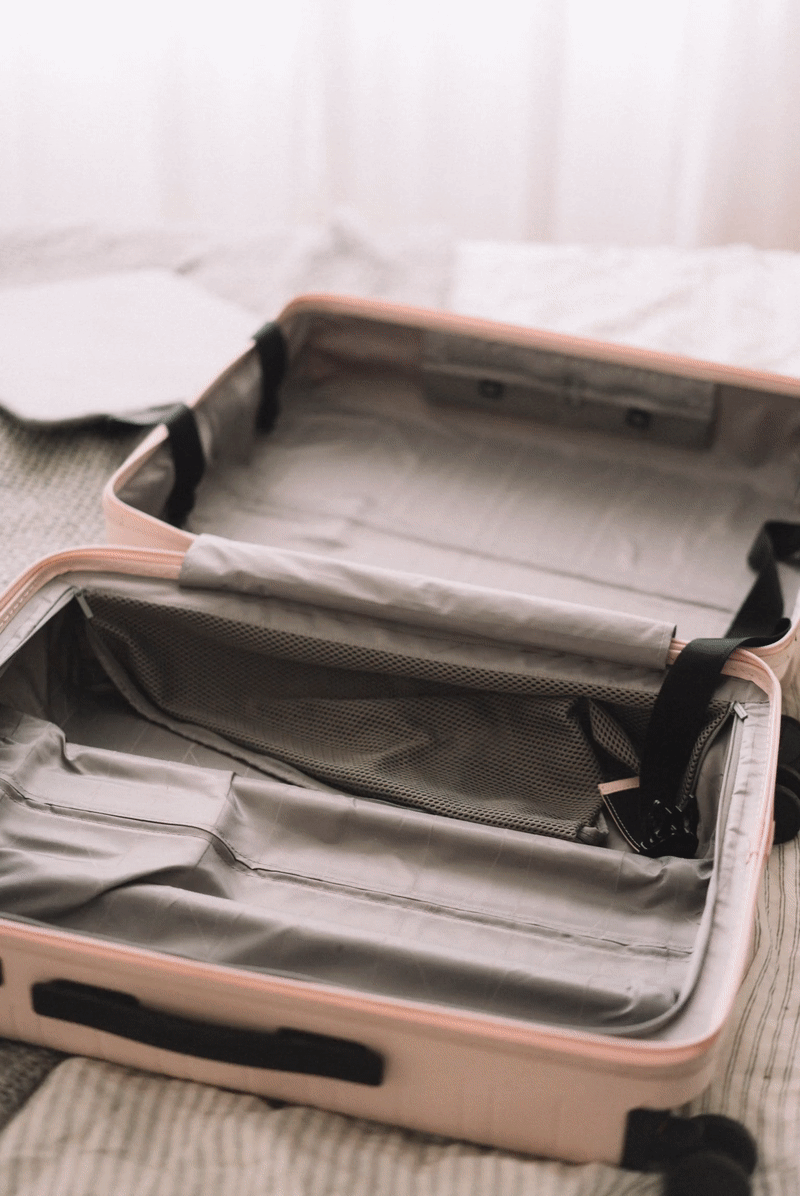 Tinted moisturizer with SPF Concealer Rouge Bronzer Eye shadow (water-resistant) Kajal (water-resistant) Mascara (water-resistant) Eyebrow-kit Lipsticks (kiss-proof and water-resistant) Tweezers Mirror Face wash Face lotion Deodorant Tampons Facial care for day and night Cotton pads Tooth brush & tooth paste Shampoo & conditioner Hair straightener Hair bands Dry wax Sun screen After-sun Sun screen for the hair Contact lenses and + liquid Brush
Others
Now comes the part where we should all focus. These are the items that we often forget. At least that's true for me! I cannot count the times I have forgotten to pack specific charging cables, important accessories or charging plugs! Sometimes I even pack a multi-plug, as I usually run out of sockets in my hotel rooms. So, the following list is a like a checklist of things I tend to forget most easily. I can tell you from dire experience that it is a really good idea to have a second wallet with only the most essential cards and ID in it. If you're unlucky enough to fall prey to a pick-pocket you will at least have a bank card and passport in the hotel room. That already saved me once! Another tip: instead of lugging around heavy books on your holidays, I save space (and avoid weight!) by downloading books, either as audiobooks (which have the added benefit that you can close your eyes and relax while listening) or as a downloadable app. One way or another, lugging books around is really not necessary in this day and age, and you can save a lot of space. You can then use that space for sports wear, inflatable pool animal sand stuff like that, which also means you won't be able to make excuses if the hotel has a gym!
Special tip: I' a huge fan of my instant camera, and can only warmly recommend you don't only take digital photos but also capture some moments on film. It makes a difference whether you can hold your most beautiful memories in your hands or whether they get slowly forgotten on some memory card.
Laptop & charging cable External cell phone charger (don't forget the cable!) Universal adaptor plug Headphones Collection of audiobooks Second wallet Little bag to keep bills and small parts safe Sports wear (2 sets & shoes) Travel pharmacy Mosquito repellent Camera + charger + memory cards Instant camera + films Bathing towel Inflatable pool animals :) Last, but not least: smartphone Keys and wallet!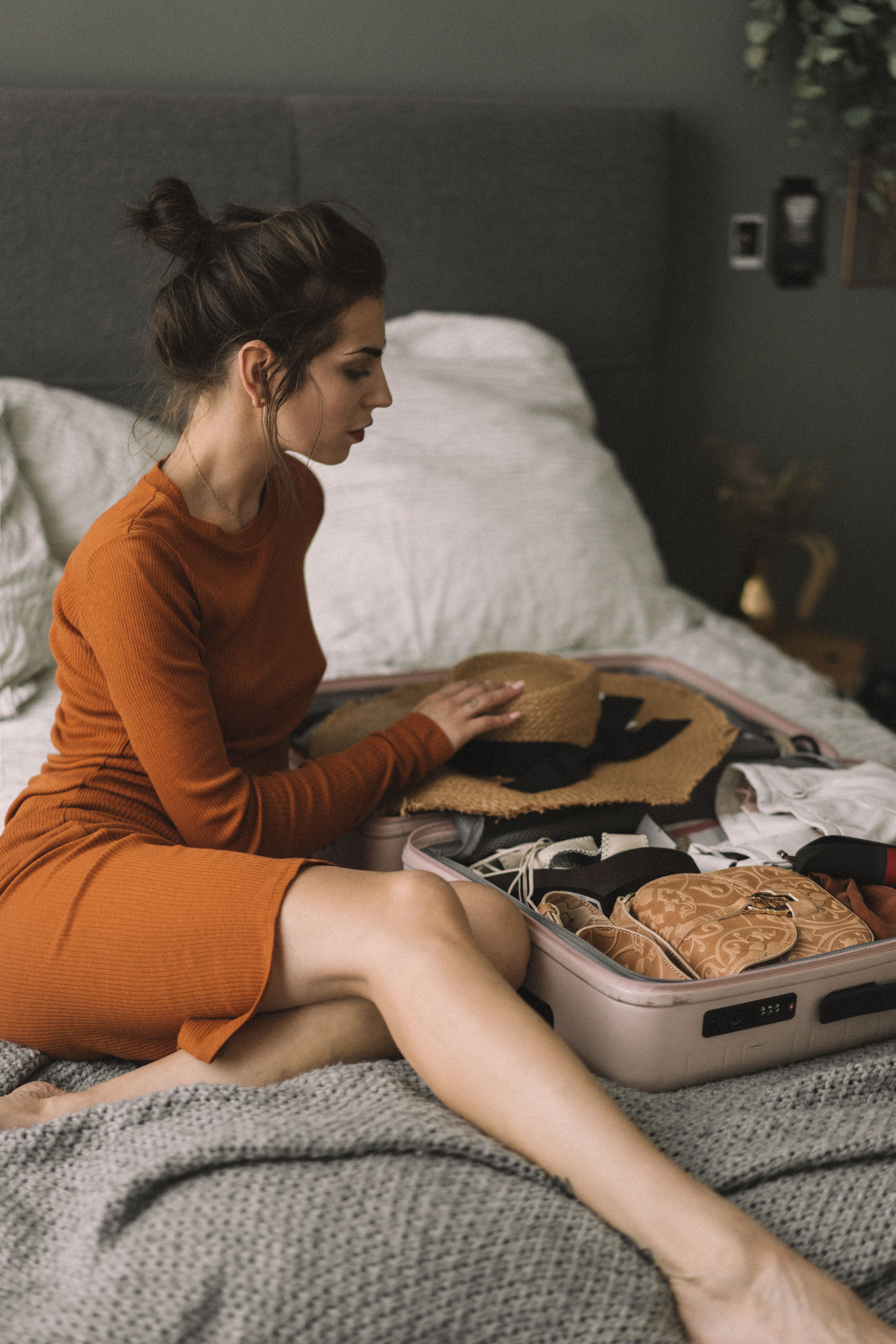 Happy packing!