.
'What an amazing view!' Theresa started to laugh. 'Is this really your first time on Brooklyn Bridge?' 'Nope', I replied, also laughing, happy about this perfect moment. 'It's my first time up here!'
I have to say, this trip really felt like I've never been to New York before. All of my previous visits were somehow work-related. I knew New York, and yet I didn't. This time around I engaged with the city from an entirely new perspective – literally! Among my numerous discoveries was DUMBO in Brooklyn. Generally speaking, people think of Brooklyn as the ugly step-brother of Manhattan. But is that really fair? Brooklyn has so much more to offer than one would imagine: it has its chic corners, and also plenty of roughed up charm. Brooklyn combines industry with design, and offers a lot not only visually but also in terms of cuisine and shopping. And at the same time it is much more relaxed than stressful Manhattan – and also somehow more authentic. Dumbo is a tiny area down at the waterfront, the name stands for Down Under Manhattan Bridge Overpass. This little speck of NY, in which we shot the outfits I am showing you in this post, offers a glimpse of a totally different side of New York. And, wonderfully diverse and multi-faceted as it is, you should definitely check out the area when you're in town. Here are 5 things you should do when in Dumbo:
pants: Weekend by Max Mara shirt: Jake's jacket: Levi's
the best view Simple fact: you get the best view on Manhattan in Brooklyn – where else? I especially recommend Brooklyn Bridge Park and Fulton Landing: right at the water, with an ice cream by Brookly Ice Cream Factory in your hand, you'll experience a perfect sunset in New York with view on the skyline of Manhattan (even including the Statue of Liberty).
Treasure hunting Every Sunday, there are numerous flea-markets all across Brooklyn. One stands out from the rest, and you should not miss it: the traditional Sunday flea market under Manhattan Bridge. Vendors sell all kinds of artisanal products, vintage stuff and loads of tiny treasures. You find more info here.
Italian Cuisine We found a good few delicious Italian restaurants in Dumbo. It's a bit of a thing in New York – if you know your stuff, you go out and eat Italian. A great example is Grimaldi's, which is rumored to serve the best pizza in all of New York – a claim that is underlined by the long cues that form in front of the restaurant from early in the day onwards. The thin base and fresh ingredients really transform Grimaldi's pizza's into culinary highlights. The Alamar, located at 111 Front Street, is more of an insider tip – but these guys serve outstanding, fresh pasta an all sorts of Italian specialties.
Foodtrucks Talking about food – there are a couple of food trucks making their round in Dumbo which I highly recommend you check out if you get the chance. Whether you're into burgers, tacos or Asian food, you'll find something to your liking. You find an overview of where the trucks stand and where they are headed at any given moment here.
Souvenirs! If you have a little bit of space left in your suitcase, I warmly recommend you pay The Modern Chemist a visit. It's actually a pharmacy, but one that stocks loads of pretty care and cosmetics products, all beautifully packaged. Finding a great gift for friends and family has never been easier.
[parallax-scroll id="56782″]
pants: Levi's shirt: Jake's blazer: Ralph Lauren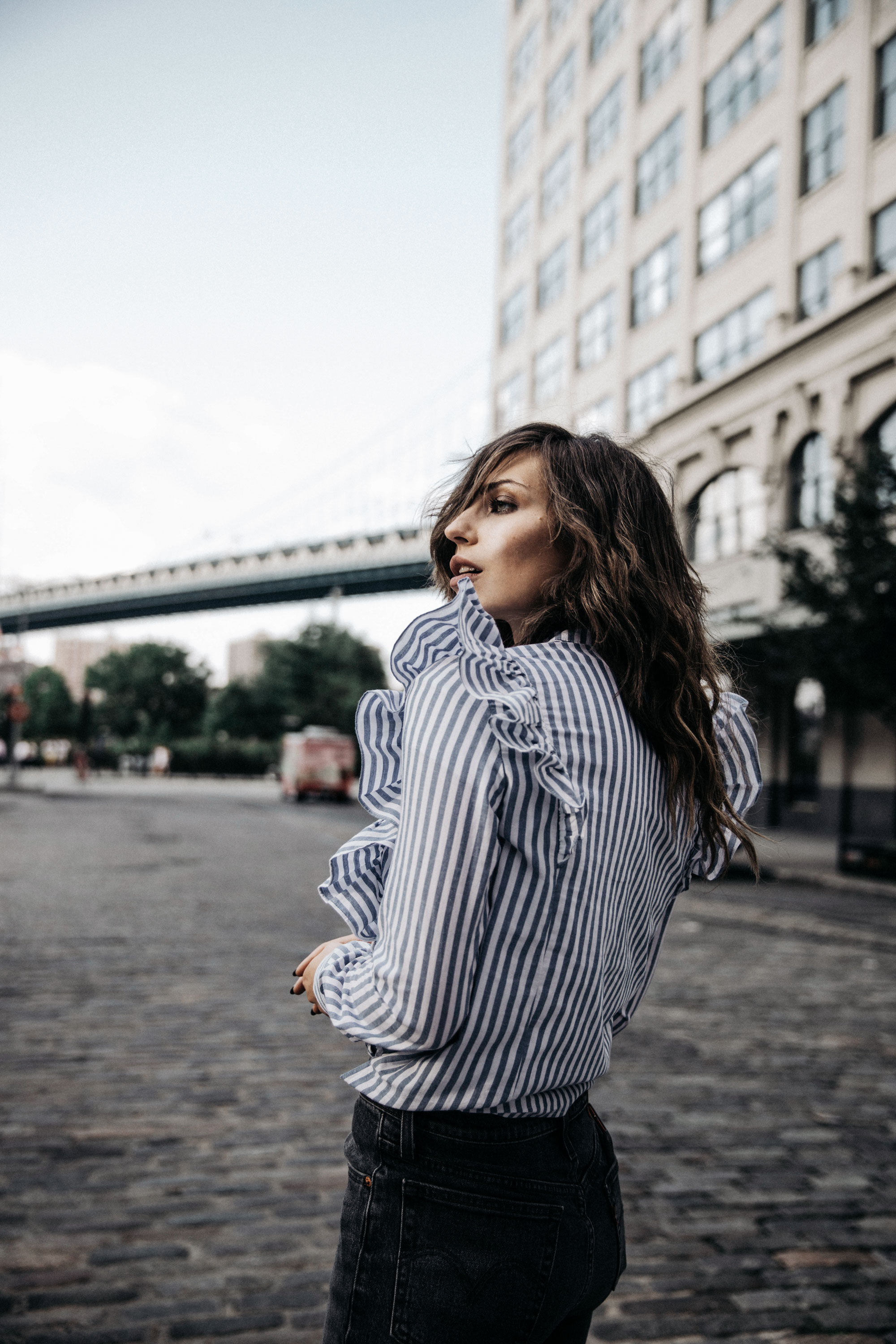 As I mentioned above, I shot all my outfits in Dumbo as well. Not only because the area is so amazingly photogenic, but also because my outfits just seemed to be the perfect match for the scenery: a mix of classic styles and up-to-the-minute trends, all combined in an amazing overall atmosphere. My style is more relaxed and more wearable than some of the crazy stuff you see in Manhattan, with a sporty note – basically ideal for a stroll through New York.
And the best thing is – each of these garments is a genuine favorite of mine! The cool logo sweatshirt, the black denim skirt, the classic blue blazer with its golden buttons – I love them all to bits. The clothes are as American as the labels: Levi's, Tommy Hilfiger and Ralph Lauren, to name but a few. All of it transports the flair that is so typical for New York, this mix of chic and sporty. I picked all clothes for these outfits from Peek & Cloppenburg (there are two independent companies Peek & Cloppenburg in Germany with their headquarters in Düsseldorf and Hamburg. This is a blog post released in cooperation with Peek & Cloppenburg KG, Düsseldorf. Its store locations can be found on www.peek-cloppenburg.de). I must admit that the T-shirt played a part in our choice of location. After all, Peek & Cloppenburg agrees that Brooklyn is by far the coolest area in New York. And I, for my part, could not agree more!
In cooperation with Peek & Cloppenburg
shirt: Tommy Hilfiger skirt: Levi's shoes: Vans