Why do you stay in prison, when the door is wide open?
Summer has officially arrived in Berlin, and I can't quite believe that almost half the year is over again. To me it feels more like we're still somewhere in mid-March, but nope, the calendar says June. When that sunk in, I realized that I hadn't had a single day yet this year in which I could just relax and take it easy. I did manage to spend more time with my family, but that doesn't necessarily mean relaxation in my case – more like extra responsibility. And then there are all these weekends I worked through, always the next task that bears no delay, all this work that needs to be done today, no later. I guess it's not all that surprising that I felt so tense over the past couple of weeks, somehow constantly dissatisfied. For months I have been under incredible, permanent (time) pressure, and I simply never took a break, not even in phases when the bad news just kept coming in, one after the other, piling up in my life. So I finally pulled the plug and blocked 5 days for a trip. I need to get out of here for a few days, to get a clear head, without all the hustle and bustle, all the responsibilities of my regular life. The truth is, I would have needed this kind of break months ago. Just to get out of here.
But what happens then? What will happen once I'm back?
Am I simply going to be sucked back into my regular, stressful routine? That's well possible. So, what can I do to switch to a lower gear during every-day life, at least every now and again? How do I avoid ending up where I find myself now, all over again? I thought about it, and decided to take the following preventative measure:
From here on out, I will consciously do one thing, every single day (!), that makes me happy.
It can be a somewhat bigger choice, like spending a day at a lake, or a smaller decision, like getting myself an ice cream. The main thing is to do it every day, and, above all, consciously (!). Something that makes me happy, something to look forward to every single day. Sounds like a great plan to me. Let's see if I'll be able to pull it off.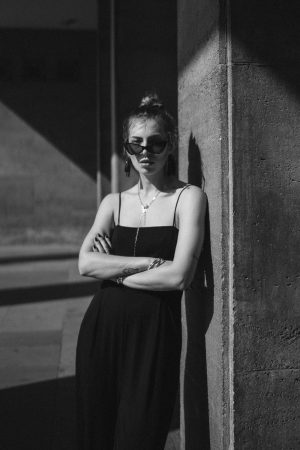 Highlight:
The Max Mara's Resort Show took place in Berlin – and I was honored to be invited! It was a genuine highlight, most certainly the by far most impressive show I've ever seen in Berlin (sorry everyone!). In fact, it may have been the best show I've ever seen, full stop. This overwhelming success was partly to do with the location: the Neue Museum (New Museum) in Berlin is a must for every visitor to this city – not least because it houses the world-famous bust of Nefertiti. On top of it, the building itself is a UNESCO world heritage site. Berlin's Museum Island is one of my favorite spots in the city, you've seen it forming the backdrop for many of my shots over the years. Receiving the honor of being one of 180 international invitees felt almost like I was being knighted, all the more since Max Mara is hands down one of my favorite labels. Timeless elegance combined with cool, masculine elements – it's simply right up my alley. Plus, I have a huge thing for beige tones and high-quality materials. In short, I fell head over heels in love with the collection.
---
I think I will remember this show until the end of my days.
Food:
It's proven that fasting is good for you, but I remember vividly my last go at it, and how happy I was that it was over after a five day stretch of fasting. Still, I'd love for fasting to become a regular part of my life. At the same time though, I want to keep eating everything I desire.
The solution to this conundrum: interval fasting.
I first read about the concept in the "Nutritional Compass", and of all the diet concepts I heard about, the following is easiest for me to adhere to: I divide my day in two parts of 8 and 16 hours. During the 8 hour period, I consume food (usually between 1pm – 9pm). So far, so simple. And so I don't miss out on social breakfasts and brunches, I only stick to my interval fasting schedule during the week, when I usually don't need big breakfasts anyways. The side effect is that I enjoy shared breakfasts on the weekend all the more. I guess now I'll only have to cut back in sweets, and I'll be fine :)
Planned:
And since I talked about holidays above: another thing that would make me really happy is a decent looking balcony, one that I'd be genuinely happy to spend time on, to read a book, for example, or just to chill in the breeze. Sadly, the current state of affairs is far from presentable. In fact, I don't have much to show fr apart from dirt and a bunch of dead plants. I hope to change that this weekend. The idea is to turn the balcony into a place for breakfast and shared glasses of wine again, and hopefully soon!
Heard:
Gedankentanken (German for: Recharging Thoughts). I listen to a lot of podcasts these days, and one that really stands out positively is Gedankentanken. The general thrust is one of self-actualization, and the podcasts consists of great talks by amazing speakers. As always, some episodes speak more to me than others, but there are two new episodes every week, and I can only warmly recommend you check them out!
New Label to watch:
Yuul Yie.
I'm completely smitten with this shoe label! It was founded in 2010 by Sunyuul Yie, and is basically going through the roof right now. No wonder: best materials and Korean design make for a fantastic combination. I love the uniqueness and extravagance of the designs, the fact that the shoes are extremely comfortable to wear and that they're not too crazy for regular (office) life. What can I say, it's the perfect combination!
Watched:
Can we please talk about how awesome THE OA is? I watched the first season when it came out, but it left me with a bit of a lukewarm feeling. The plot seemed pretty chaotic, somehow too over the top, at least in some moments. But the second season really caught me by surprise. I found myself really getting into this sci-fi world, all the way to the (fantastic) end. After 2 days of binge watching I was really sad that it was over. But hey, there's a bunch of cool new seasons of other shows coming out this month (unfortunately no more Game of Thrones…), so I don't think there's any real danger of boredom.
---