.
It's been quite a while since I posted the last round of random facts about myself, so I guess the best time is now!
Photos: Theresa Kaidl
I'm persistent Oh, how persistent I am. If someone (or something) is really important to me, I can be incredibly headstrong. I don't give up until I reached my goal, whether they be professional or more along the lines of convincing other of my abilities. I tend to analyze the situation as well as I can before making a move, and if for some reason I cannot take the direct path, I find alternative routes. Once my fighting spirit is awoken, I do not tend to throw in the towel. Let's see who is more tenacious here.
I need to walk on the right side. I have no choice, it's obsessive. I need to walk on the right side, with my company to the left. Everything else makes me nervous, even upsets me. No idea where this obsession originated, but I guess its a mixture of general habit, hairstyle (I have my hair parted on the left, which means I don't have a full field of vision to the right), as well as the specific habit of carrying my bag at the right and talking to the left.
.
[parallax-scroll id="57871″]
Life is too short for lens cans I always get into trouble for carrying my cameras with unprotected lenses, i.e. without lens caps. Here's the full disclaimer: me and lens caps, we just don't work together. I am way too spontaneous for these things, and always lose them. I'm just not the lens cap type. Fortunately there are glass filters, that can be screwed on to do the job just fine. That's the end of the lens cap discussion for me. Utterly pointless, those things.
Better don't talk to me in the morning! Do you know these peculiar people that wake up in the morning and are in a great and chatty mood straight away? The type that can't wait to confront the day, buzzing with energy even if they slept only 4 hours? I'm not one of those. In the mornings, my replies tend to be monosyllabic at best, and I hate to sleep less than 7 hours. On such mornings I tend to need more than one cup of coffee to really get going, and after such slow starts my most productive hours tend to be during noon and in the evening. This is not to say that I'm always in a bad mood in the morning – but it's usually more likely than the opposite.
My driving style is very… efficient I once asked Lina how she manages to snooze so peacefully next to me, in the passenger seat. 'I have simply accepted my fate', she replied, laughing. Few people are as relaxed as her when it comes to driving with me. Driving is like a competition for me, and the question is: who will arrive first? It's less about speed (not really possible to drive that fast in Berlin with all its traffic lights), and more about the fastest route (I LOVE short cuts) and the right lane. In my mind, I am not driving dangerously, just swiftly and without wasting time. I love life on the fast lane.
I took Aikido classes for many years … but in the end it turned out that it wasn't the right martial arts form for me, and at some point I was just plain bored with it. Aikido is extremely passive, almost harmless if you will. The aim is to not hurt your opponent, instead to disarm him and to leave the scene as quickly as possible. I think the entire first year consisted of training to drop to the ground and rolling off efficiently. At some point I just wasn't feeling it anymore and stopped going. Well, 'learning a martial arts form' is still on my bucked list for the next couple of years. But it won't be Aikido, that much is certain.
[parallax-scroll id="57897″]
jacket: 3.1 Phillip Lim sneakers: Acne Studios skirt: Levi's
My hands are tiny Seriously. My hands are simply disproportionately small compared to the rest of my body. I have tiny palms, short fingers and slender wrists. I have met very few people in my life whose hands are as small as mine at comparable heights. People's hands tend to be twice as big as mine. But if you think this means I'm particularly gifted in arts and crafts and DIY, you're sadly mistaken: in my case, small hands equals zero motor skills.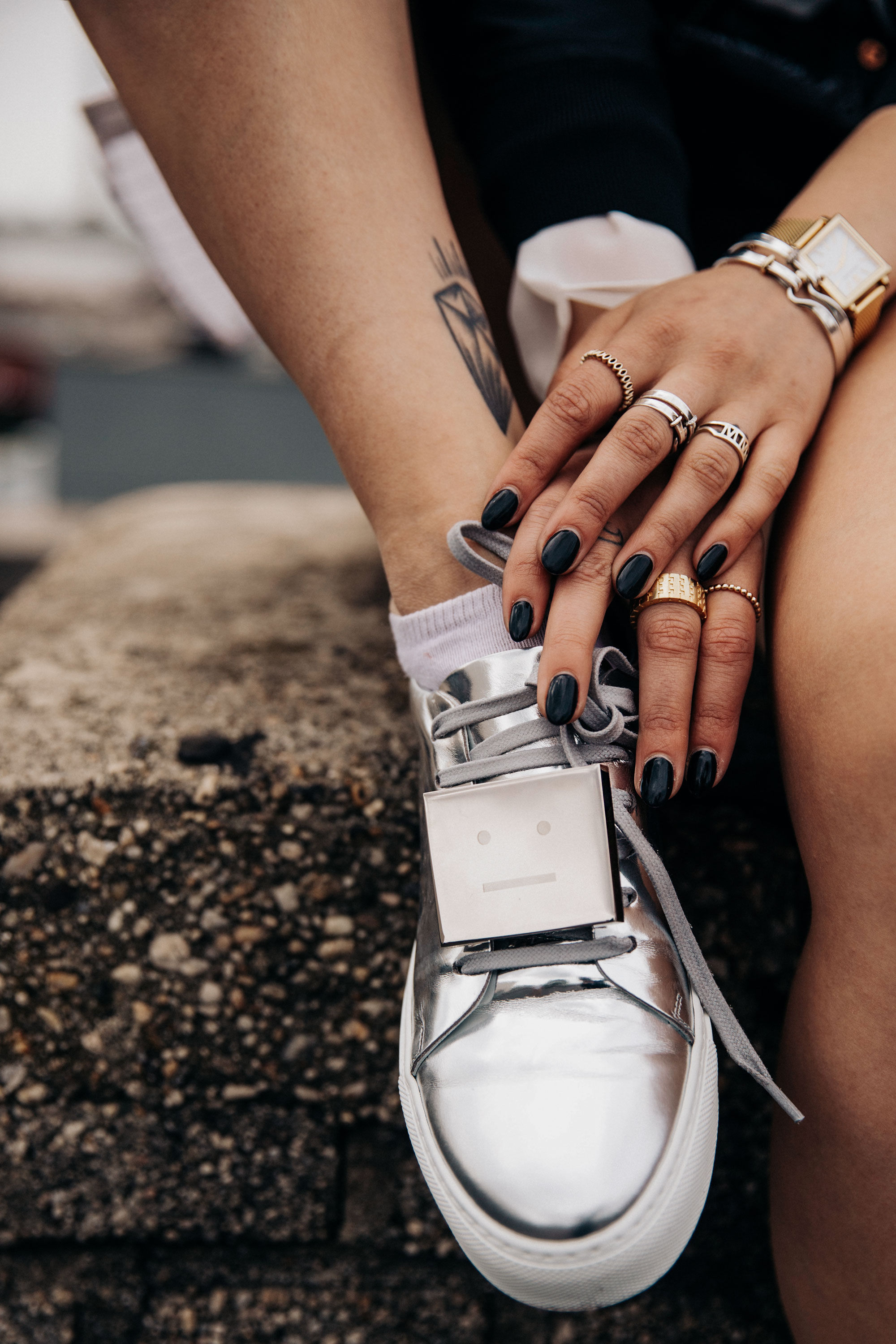 I talk Russian in my sleep Why?? I consider German my mother tongue, but it seems my brain switches to Russian when I sleep! I don't tend to notice it myself, but people tell me I'm extremely talkative in my sleep. Unfortunately, for whoever I share the room with, it's unintelligible if you don't speak Russian yourself. Well, I guess I'm not only communicative during the day but even during the night. Also, there's a small chance it is actually German that sounds like Russian because I'm mumbling so much. I think this random fact merits deeper investigation in the future.
I get bitchy with lifeless items I tend to be very straight to the point in my communication with people. The same goes for lifeless objects. For example, if my laptop doesn't do what I want it to, I let it know. Unlike with people, I get pretty rude with things pretty quickly. If you're ever at the airport and ask yourself who's that nutcase shouting at her suitcase to pull itself together and roll – c'est moi.