In most cities you have one bar for long Friday nights, another for after-hour, and the token place with a pretty courtyard that makes it ideal for cocktails. Berlin, however, does bars the way Berlin does these things: there's not one but hundreds of great options for going out. The city is sprinkled with countless bars and endless options for evening drinks.
The entire microcosm of a bar scene of any given city is often encapsulated in a single neighborhood here in Berlin. And that makes it quite challenging to answer the question often posed by visitors: "I'm here in Berlin for a few days, can you recommend a good bar?" I'm usually tempted to ask back: "Which part of town are you in?", or "whereabouts will you be hanging in the evening?" But even then, it's typical for Berlin that there are just so many options, pretty much no matter where and when you are out. That said, some places stand out as reliable classics that never disappoint, bars in which the atmosphere, the favorite drink on the menu (in my case it's my birthday drink, the Campari Amalfi) and memories of deep conversations well into the night merge into a tempting, wonderful whole.
To make the decision easier for you next time you're out and about, I'll introduce my favorite places in town in this post, all bars which I have visited recently to sip my favorite drink or a variation thereof (call it research and quality control). This post is for all visitors to Berlin who don't know where to go yet, and all Berliners who may be looking for something new.
Recipe: Campari Amalfi

Ingredients
Campari (4 cl)
Schweppes Original
Bitter Lemon (8 cl)
Ice cubes
Grapefruit juice (1 squirt)
Grapefruit slice (1 piece)

Preparation
Add ice cubes, Campari and grapefruit juice to a long-drink glass. Fill with Schweppes Original Bitter Lemon and garnish with a grapefruit slice.
Auguststraße 43, 10119 Berlin
Monday – Sunday, 17 – 2:00
1
Auguststraße, famous for its many galleries, is also the address of Amano Hotel. If you take the elevator to the top floor, you'll find yourself in Amano Bar, one of my absolute favorite places for a cool Campari Amalfi in the evening. This is a place to sink into a sofa, to gaze out over Alexanderplatz and the nightly city. It's perfect in summer after a hit day, a top rooftop bar experience and an amazing place to cool down with a drink – the menu offers a wide range from timeless classics to more extravagant creations. The stylish interior of the bar is typical for Berlin: noble understatement, dark hues, fancy drinks that are made to your specifications if you have something special in mind. And I won't lie, it's also an amazingly Instagram-able place.
2
Potsdamer Straße 58, 10785 Berlin
Tuesday – Saturday, 19 – 12
The concept store by Andreas Murkudis, the Blain Southern gallery, Victoria Bar or the flagship store of Acne Studio – Potsdamer Straße clearly has so much more to offer than the betting cafés and kiosks that hit the eye first. Fashion, art and culture are slowly taking over this part of town, and right amidst this network of things we love is the Golvet, a place that combines a bar with a restaurant concept. It's a place for special evenings, perfect for a celebration of life over several courses and selected wines.
. I'm there quite often, enjoying the view of my beloved city, sipping on a glass of Amalfi. The vibe is chic but not stiff, and the 13 meter long bar is more than inviting. The drink menu takes you on a veritable trip across Europe, with specialties from all over our continent. Rumour has it that the Golvet offers the best drinks above the roofs of Berlin
3
Budapesterstraße 40, 10787 Berlin
Monday – Sunday: 12 – 2:00
Located right on Ku'damm, Bikini Berlin is a mall that is more like a giant concept store housing smaller shops, restaurants, cafés and workspaces. On the ground floor, a huge panorama window opens up a view right into the monkey cage of Berlin Zoo. On the upper floor of this remarkable place, you find Hotel 25hrs Bikini Berlin. Connected to it, on the tenth floor, a terrace presents a wide vista over the city (and the zoo), providing an outstanding backdrop for a drink in relaxed atmosphere. DJs and the occasional live act underscore the experience with a fitting soundtrack as you watch the sun go down over Berlin. Despite its location, Monkey Bar is as far from a tourist trap as you can imagine. If you're in town for a weekend and find yourself in the Ku'damm area, this is a wonderful option for you at the end of the day.
Sredzkistraße 62, 10435 Berlin
Wednesday – Saturday, 19 – Open End
4
This bar in Sredzkistraße is visible from afar by its big, bright cocktail sign above its door, beckoning visitors from near and far. Once inside, you'll first notice the black walls red accents. A large table, the heart of the bar, brings people together and invites exchange with other patrons of the place. The quality of cocktails is high, they're mixed with love and skill – it's the kind of place where asking for a drink recommendation is a great idea. The drink menu consists of 50 cocktails, all of which are curated by other barkeepers, the Cocktail Heroes that gave the bar its name. If you're out on Kollwitzkietz and nor sure which of the many bars to check out, I can highly recommend Fifty Cocktail Heroes Bar!
5
Krusnickstraße 1, 10115 Berlin
Tuesday – Saturday, 18 – 2:00
If you're roaming close to Monbijoupark and feel like an extravagant drink, you can't go wrong with Mr. Susan. The bar, located between Museumsinsel and Torstraße, invites you to get comfortable on its blue velvet stools at a marble counter, where unusual creations are served. For all of you who need a break from omnipresent standards like "Sex on the Beach" and "Mojitos", for all of you who are up for discovering something new, Mr. Susan is the place. The closest public transport stop is Oranienburgerstraße, which is just a few steps from the bar itself. You're guaranteed to be in the hands of barkeepers who really know what they're doing. My personal recommendation? Try the "Summer of Love" with Campari-raspberry-sorbet.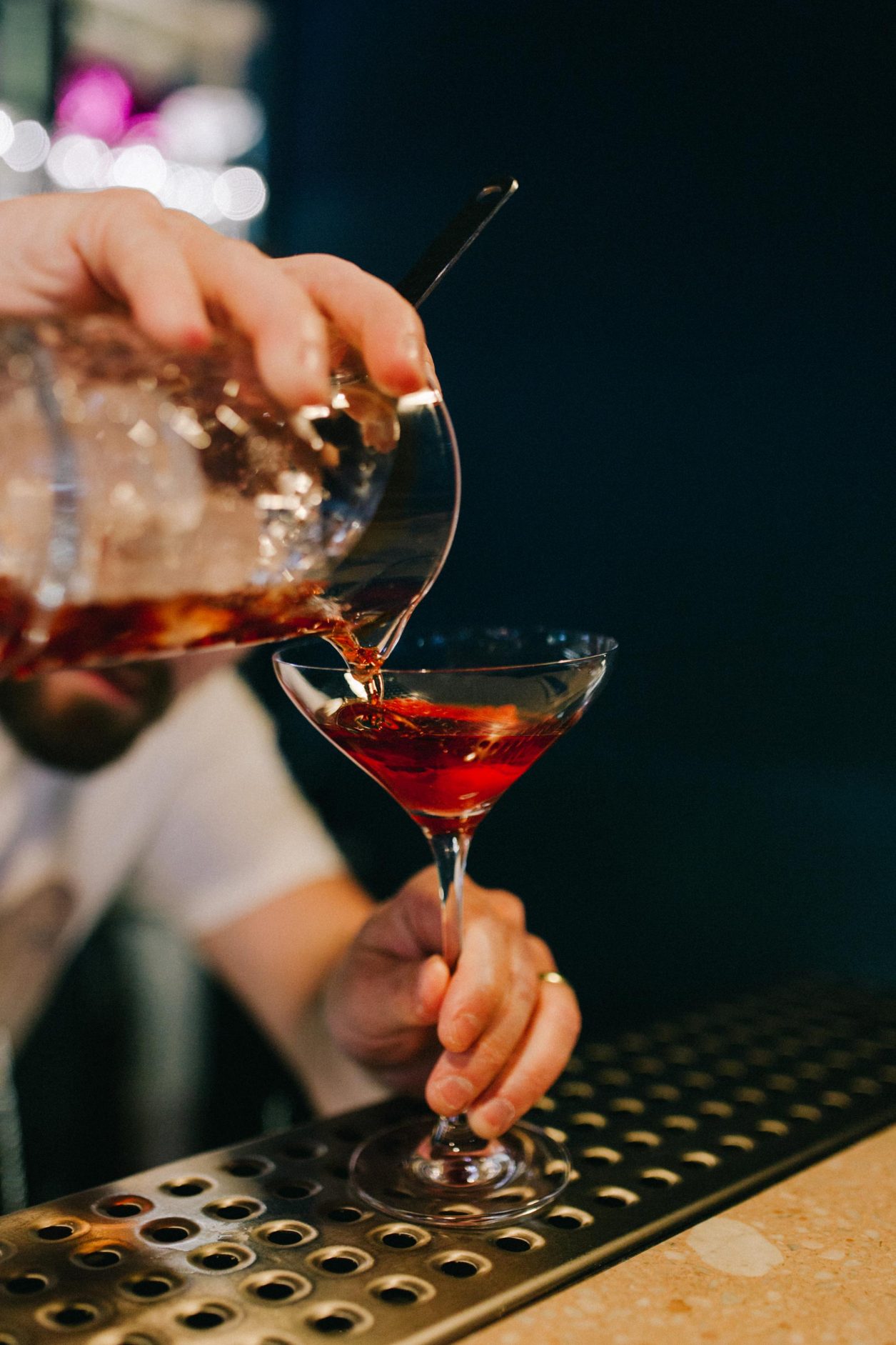 6
Goltzstraße 32, 10781 Berlin
Wednesday – Sunday, 18 – 1:00
We often associate high-quality cocktails and multi-course menus with overly stiff atmosphere and clumsy attempts to hold fork and knife the "proper" way while trying hard not to be too casual about placing an elbow on an immaculately white tablecloth. At Bonvivant, all these clichés of fine dining are avoided. Instead, the place offers tasty, vegetarian food in easy-going atmosphere. The Bonvivant combines a bar with a restaurant, drinks with "soulfood", as they call it. Depending on your inclination, the bar lends itself to everything from nerd talk to the enjoyment of simple, high-quality drinks. If you're looking for an uncomplicated atmosphere and a very tasty cocktail, the Bonvivant in Schöneberg is the perfect place for you.