Vor kurzem war ich zusammen mit my best brands in Marrakesch, wo wir zusammen mit einigen anderen Bloggern (Jana, Vicky, Anni, Caro & Özlem) eine Art Workation machten, also irgendwas zwischen Urlaub und Arbeit. Das bedeutet, dass wir nicht nur ein paar Outfits schossen, so wie das, das und das, sondern auch, dass wir uns auch eine schöne Zeit machten und ein paar nette Dinge unternahmen, um die Zeit dort perfekt abzurunden.
Leider waren wir nur zwei volle Tage dort und ich muss sagen, selbst in dieser kurzen Zeit habe ich mich in Marrakesch verliebt, was natürlich zu einem großen Teil an dem Hotel lag, in dem wir geschlafen haben, aber natürlich auch an der Stadt selbst, die so voller versteckter Schönheiten ist. Außerdem ist sie eine wirklich super fotogene Stadt, was mir vorher nie so ganz bewusst war, aber die ehrlich gesagt hat mich bisher tatsächlich kaum eine Stadt so sehr inspiriert wie Marrakesch.

Leider ist die Zeit wirklich wortwörtlich verflogen und ich habe den Entschluss gefasst wirklich so bald wie möglich wieder nach Marrakesch zu fliegen, denn es gibt noch unheimlich viel was ich noch sehen möchte, vor allem was die Kultur angeht. Dazu kamen wir leider nicht, denn ich habe meine Prioritäten erstmal auf meine zwei Grundbedürfnisse runtergeschraubt:
Essen und Shoppen, deswegen gibt es heute von mir 3 Hotspots in Marrakesch, die es sich zu besuchen lohnt:


Hotspots in Marrakesch
Schlafen – El Fenn
Ich fange direkt mal mit einem weiteren Hotel an, das ich von innen gesehen habe und ganz angetan war: das El Fenn. Es ist günstiger als das La Mamounia und liegt mitten in den Souks hinter einer mysteriösen kleinen Tür und dahinter verbirgt sich wirklich eine Art Paradies. Ich war wirklich überrascht, als wir das kleine Hotel betraten, denn es strömte eine unheimliche Ruhe aus mitten im Getummel. Selbst wenn man dort nicht nächtigt, lohnt sich der Besuch zu einem Abend- bzw. Mittagessen. Die Gerichte sind wirklich sehr lecker und vergleichbar günstig.



Shoppen – Souks
Eine kleine Shoppingtour in den Souks ist ein absolutes Muss! Dort kann man wirklich richtige Schätze finden für relativ kleines Geld.
Es gibt dort wirklich alles Mögliche, von Schmuck über Teppiche, Gewürze und eine Auswahl an Datteln, so wie ganz viele Mitbringsel.
Ich habe u.a. einen Rucksack aus Leder für ca. 15 EUR, Tonschalen für ca. 4 EUR/Stück und ganz viel Schmuck gekauft. Allerdings muss man wirklich feilschen, was nach einiger Zeit echt anstrengend werden kann. Prinzipiell kann man sich ca. an der Hälfte des genannten Preises orientieren und versuchen auf diesen Preis runterzuhandeln, aber dabei immer nett und freundlich bleiben und nicht vergessen: das Ganze ist kein Wettbewerb. Jana meinte mal ganz treffend zu mir: Zahl einfach so viel dafür, wie viel es dir wert ist.



Dinner – Nomad
Zugegeben, das Nomad hat mal als Geheimtipp angefangen, ist aber längst darüber hinausgewachsen und zu einem echten Hotspot mitten in den Souks geworden.
Es ist ein nettes Restaurant mit moderner marrokanischer Küche und einer wundervollen Dachterrasse, über die man auf die halbe Stadt blicken kann. Es liegt total versteckt und leider verirrt man sich ziemlich schnell, wobei genau darin auch ein bisschen der Reiz liegt :)
Die Preise sind eher europäisch, aber die Gerichte sehr lecker. Wir haben beispielsweise lauter Vorspeisen bestellt und überall ein bisschen probiert.

Sonstige Tipps:
– In Marrakesch sind sehr viele Touristen unterwegs, deswegen sind die Menschen die westliche Kultur gewohnt, was u.a. auch bedeutet, dass man sich ganz normal kleiden kann und sich nicht ganz so streng nach Arabischen Kleidungsvorschriften orientieren muss, wie zB. damals in Abu Dhabi

– Vorsicht mit dem Wasser!
Viele, die ich kenne kamen zurück aus Marrakesch mit Magen-Darm. Um Probleme dieser Art zu vermeiden versucht möglichst aus Einweg-Bechern, statt aus Gläsern zu trinken (zB. bei den Orangensäften in den Souks) und den direkten Kontakt mit dem Wasser zu vermeiden, also zB. die Zähne mit stillem Wasser zu putzen.

– Vorsicht mit dem Essen!
Die marokkanische Küche ist sehr speziell, deswegen fragt ruhig sicherheitshalber noch mal nach, was die einzelnen Gerichte auf der Karte genau bedeuten. Ich hatte beispielsweise in meiner "Auswahl an marokkanischen Salaten" Lammhirn und Niere am Start. Beides Dinge, die ich eher ungern essen möchte und die auf meiner persönlichen Speisekarte eher nicht so weit oben stehen.


Marrakesch bietet wirklich unheimlich viel zu entdecken und ist teilweise auch sehr günstig, wobei die Preise bereits stark nach westlichen Standards angepasst wurden.
Trotzdem ist es eine Reise wert und mein Tipp ist: Fahrt da unbedingt hin!
Ich weiss jedenfalls, dass ich dort nicht das letzte Mal war…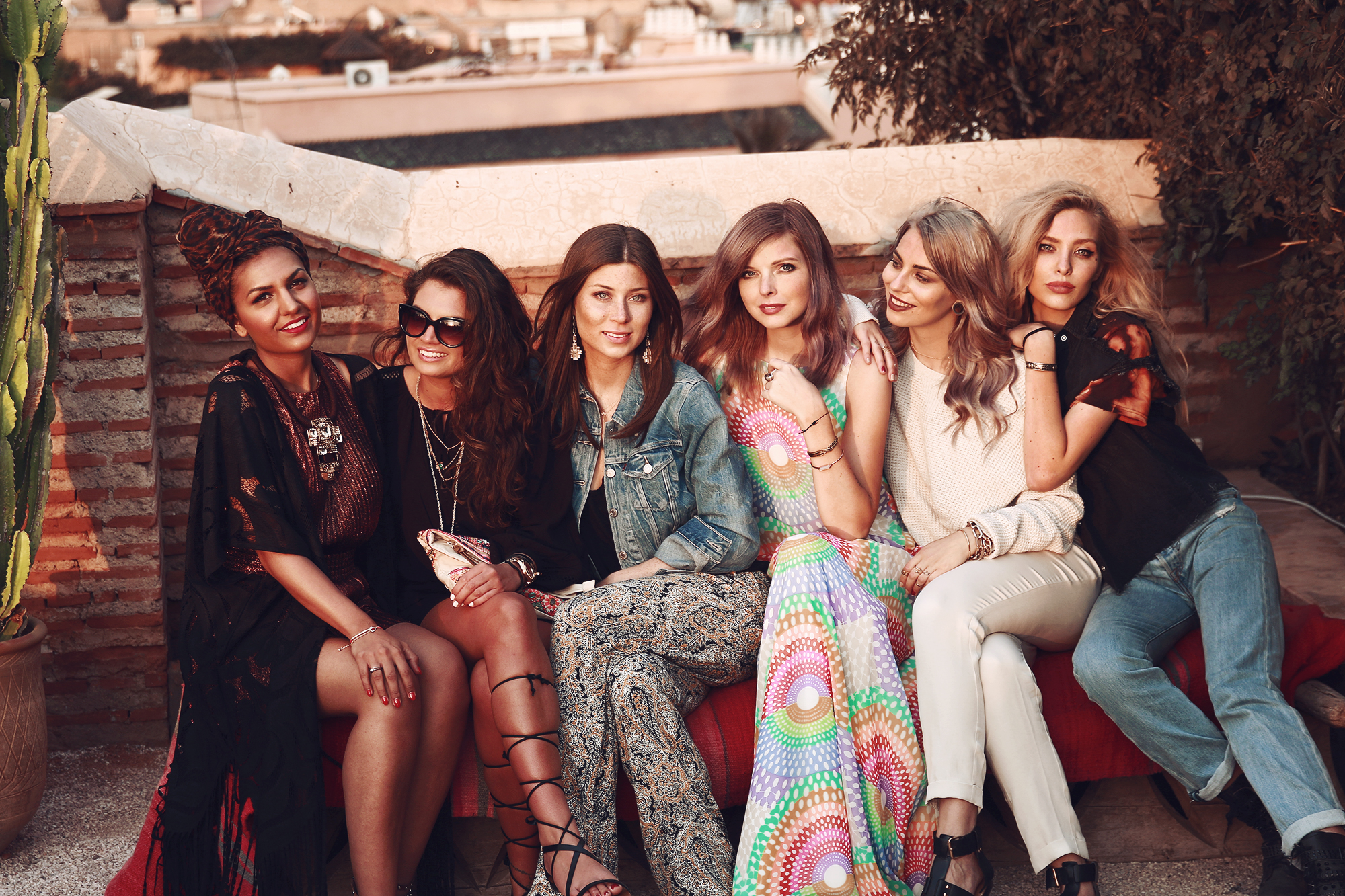 Last week I went on a trip to Marrakesh with my best brands" target="_blank">my best brands, together with a bunch of blogging colleagues (Jana, Vicky, Anni, Caro & Özlem). The whole thing turned into kind of a workation – something between work and vacation. In other words, we shot some outfits, like this here, andthis and this, but also had a chance to take some time off, explore the city together and make the trip truly unforgettable.
Sadly, it only lasted for two full days. I have to say that even in this short amount of time I fell head over heels for Marrakesh. In part it was of course due to the hotel we stayed at. Also, Marrakesh is a very photogenic city. I don't think I ever thought about a place in those terms before, but I guess few cities ever inspired me as much as Marrakesh.

Time flew by, and I knew soon that I would have to return to Marrakesh as soon as possible. There is so much I still want to see, especially culturally. We just did not have time for much… and the precious hours we had were completely filled out by taking care of my basic needs: eating and shopping. But what I did see I want to share with you, so here we go –
3 hotspots worth visiting in Marrakesh:


Sleeping – El Fenn
Let me start with another hotel in the list of great places I had the chance to see from the inside: the El Fenn. It is more reasonably priced than the La Mamounia and is situated right in between the souks. A mysterious little door opens, and you enter a veritable little paradise. Coming from the hustle and bustle of the market, I was really surprised to be engulfed by calmness when we entered the oasis tht was this little hotel. Even if you don't end up staying there it is well worth a visit, for example for lunch or dinner. Food is super tasty and comparatively cheap.



Shopping – Souks
A little shopping tour through the souks is a must! With a bit of luck you'll find real treasures for little money. On offer is – everything. Jewelry, carpets, spices, dates, heaps and heaps of souvenirs and presents- I bought a leather backpack for 15 Euros, clay bowls for about 4 Euros each and tons of jewelry. However, bargaining is expected, and can become a bit of a chore after a while. A rule of thumb: the value you should end up paying is usually about half of the initial offer. It can be quite challenging to go through the lengthy bargaining routine and to keep friendly in the process. Also, bear in mind that it's not a competition.
Jana hit the nail on the head with her advice: be prepared to pay as much as you feel it's worth to you.



Dinner – Nomad
There was a time when the Nomad was a local secret, but those days are over. The place is now a proper hotspot amidst the souks. The Nomad is a lovely restaurant with modern Morrocan cuisine and a wonderful rooftop terrace, that gives you a view over half the city. The restaurant is quite hidden, and it's pretty easy to get lost while trying to find it, but in the end that's also part of the charm :) Prices are rather European, but the food is very tasty. We ended up ordering loads of starter plates and had a little bit of everything.

Other tips
– Marrakesh is full with tourists, which means that the locals are used to western culture. In other words, it's ok to dress as we are used to in European cultures, and the otherwise strict Arabic rules concerning clothing are not enforced as rigidly as what I remember for example from Abu Dhabi.

– Careful with the water!
Many of my friends came back from Marrakesh with a stomach flu. We tried to play it safe by drinking from one-way cups instead of glasses (like for example the orange juices in the souks) and did our best to avoid direct contact with water (which meant brushing our teeth with bottled water).

– Careful with the food!
The Morrocan cuisine is quite special, there's no harm in asking what the dishes contain if you're not sure. I learned the hard way, when I ordered a 'Selection of Morrocan Salads' and ended up with lamb brain and kidney. You guessed it, I'm not a fan, and wasn't too happy with my choice.


Marrakesh has a lot to offer. On the whole, it's also still possible to find good bargains here, despite the fact that prices have approached European levels in many places. But the place is absolutely worth a trip, and I highly recommend it. I know it won't be long before I'll roam the streets of this beautiful city again…