.
"After women, flowers are the most divine creations"
Christian Dior
Today is International Women's Day – and what a cause for celebration it is!

Unfortunately, the day doesn't get much attention in Germany, but in Russia it is of huge importance – more of a thing than Mother's Day or Valentine's Day. I grew up being congratulated and celebrated for being a women every year.

'To be a woman is amazing' – I learned that early, and really internalized it. I always felt it was a wonderful tradition, and with every year that passes I find it more important. The best thing is that it's not only the men who show their affection and appreciation for us, women show appreciation to each other as well and celebrate their femininity together.
Isn't that a wonderful tradition?

I would love for this tradition to live on, so Lisa and I decided to celebrate International Women's Day by making a gift to each other – a colorful bunch of spring flowers. Feminism or not – there will be few women out there who don't cherish a bunch of flowers. Not only are flowers beautiful, they express appreciation without breaking the bank.
Flowers express: 'You are important to me'.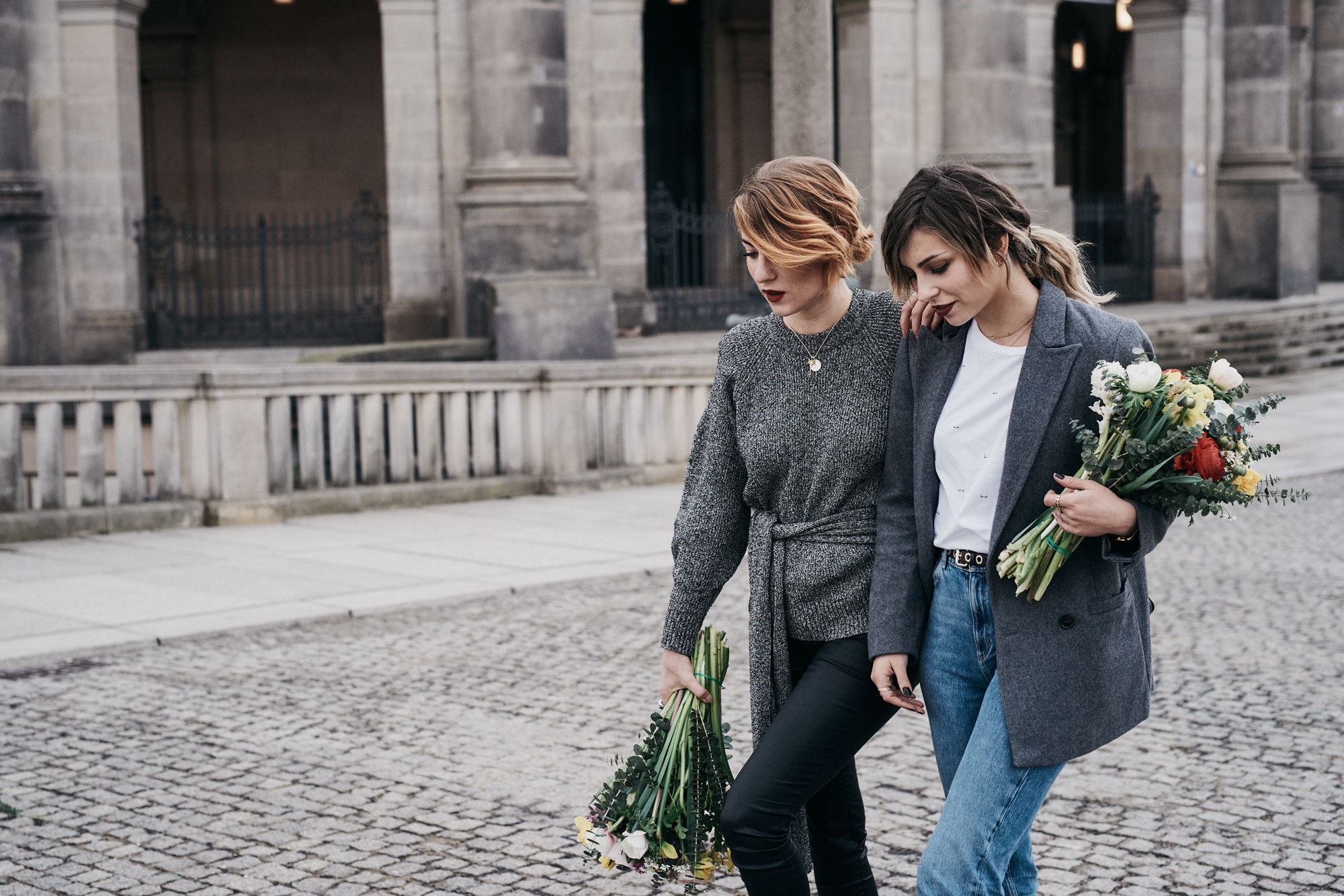 So we celebrate our femininity, enjoy the flowers, take in the scent of daffodils, buttercups and hyacinths (what fragrant flowers they are!) and take delight in looking at them. A celebration of pure womanhood.

Spring is finally approaching, bringing flowers back into my life. I love flowers, and if it was up to me I'd love some in my flat at all times, be it cut flowers or potted plants, a beautiful bunch or a prickly cactus. Flowers are often the final touch to complete the sense of home, and, simply as that, they make happy!
Sadly, gifting flowers is sometimes seen as uninspired, impersonal or a last-minute-idea, which is a real shame. There is so much more to a fragrant bunch of flowers. 'Does she prefer tulips or roses?' 'Red or pink, what works better in her flat?' Questions like these come up inevitably when choosing the perfect bunch of flowers.
And that's not personal? I beg to differ.

It's a little bit like with jewelry, the question sometimes is: why should we always wait to receive what we desire as a gift? And who says that only men are supposed to gift flowers? Why shouldn't we give ourselves and our girlfriends a little present from time to time?
Exactly. So Lisa and I decided to take International Women's Day as an opportunity to give each other flowers.
I love to be a woman.
shirt: Kauf dich glücklich x Jane Wayne
shoes: Ayde
jeans: &otherstories
blazer: Ganni
bag: Kenzo
It's easy to forget how wonderful it is to be a woman. Only we can feel the magical creation of new life in us, and, generally speaking, we are the ones more in touch with our intuition and our gut feeling. What's more, and I agree with Christian Dior here – the female sex is simply more beautiful.

Men are making an extra effort on International Women's Day to impress the women in their lives. And that's exactly how it should be. We give birth to children, we help you through your immense suffering when you have a cold, make you a warm soup, caress and comfort you, and we give you a belly rub when you overate at Christmas dinner again.
We tend to give our men so much empathy and take care of them, often on top of working full time and running the household. A well-composed bunch of flowers will always work as a classy token of respect for this female presence.

So, dear women and men – instead of overthinking, instead of worrying too much what your beloved partner, family member or friend may like, why not go for an obvious but always effective present like a pretty bunch of flowers?

And if you lack inspiration, fear not, I can highly recommend tollwasblumenmachen.de. There, and also on the company's Facebook and Instagram account, you will find all the beautiful ideas for flower presents you need to make someone really happy.
In collaboration with tollwasblumenmachen.de